Switzerland is very famous gastronomically speaking, for being a country that brings together many cultures, German, French and Italian. His specialties you already know are cheese and chocolate, but today we are not talking about the Switzerland food guide. The only problem is perhaps the price, this country is famous for being sometimes too expensive, thinks that an Mc Donald menu can cost you 19€ in Lugano.
CHOCOLATE
All cities in Switzerland, from the largest to the smallest, have a craft chocolate shop. One of the most expensive I have seen is in Bern, the Swiss capital, and it is the Läderach brand. Pure Swiss chocolate but very expensive, if you want to make a gift be prepared to spend from € 30 onwards. You can also find this brand in Lugano, Zurich, and Luzern.
A much more commercial and accessible brand is Toblerone, born in the city of Bern, as the bear symbol that characterizes the logo. The same symbol of the city, which you will surely see in many corners of Bern. As well as the Lindt brand which I absolutely advise against buying in Switzerland as it is much more expensive.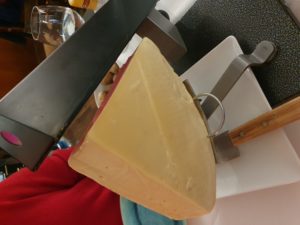 CHEESE AND MORE CHEESE
The typical dishes of Swiss cuisine are certainly those containing cheese, for example, Emmentaler, Appenzeller, Le Gruyère, and Tête de Moine. Typical dishes we can meet Cheese fondue, or the lesser-known Älplermagronen (macaroni, potatoes, cheese, cream, and roasted onions).
One of my favorites is the Rosti, try it at Le Mazot in Bern, where you can find many types even if the base is always the potato and the cheese. Even the Raclette is of fundamental importance to try it, maybe choose a place that offers it as a free buffet, to have endless boiled potatoes.
CHRISTMAS TIME
Switzerland is one of the top destinations for those who love Christmas, check Christmas time in Bern. Christmas markets, ice rinks, and chalets to eat make the city beautiful in this period. Is it important to take cash with you, those Christmas markets don't accept cards and sometimes Euros too. Remember that if you pay in Euros they will refund your with Swiss franc.
Chalet Alpenland: This impressive chalet, located on the Kornhausplatz (Granary Square), was built especially for the winter. Here 100 guests can enjoy a cozy alpine atmosphere and delicious food. Flammkuchen, fondue, and raclette are served.
Restaurant Platzhirsch: Delicious fondue and raclette specialties are served here. The space is open, so a little bit cold and nos so many places to sit down, try to go early, or just for a Gluhwein (hot wine). More information about where to sleep? Check my new post The Bristol hotel.
(Visited 308 times, 1 visits today)