Don't go home without trying at least one of these traditional Dutch foods, this is my 15 Foods you must try in Amsterdam list. From mini pancakes to croquettes from a vending machine, Amsterdam offers the hungry traveler plenty of unique culinary experiences.
15 FOOD YOU MUST TRY IN AMSTERDAM
Kibbeling
Snert
Fries
Dutch Pancakes
Stroopwafel
Febo
Poffertjes
Apple pie
Raw herring
Gouda cheese
Bitterballen
FEBO
Dutch beer
Mussel
Stamppot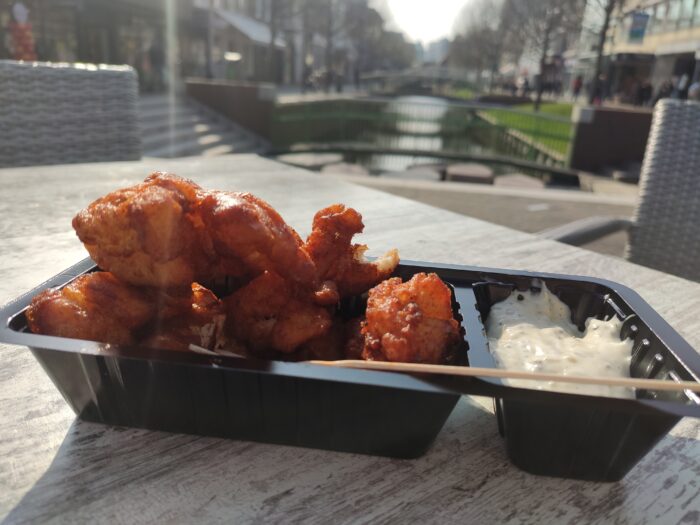 SALTY
Kibbeling: If you're not feeling quite brave enough to try raw herring (see above), then you can still get your fishy fix from kibbeling battered and deep-fried morsels of white fish; usually cod. They're every bit as delicious as they look, and usually served with a mayonnaisey herb sauce and lemon (very similar to a fish and chips dish). Where? Many sites of the city, are street food.
Snert: Holland's version of pea soup is a thick green stew of split peas, pork, celery, onions and leeks, and contrary to its name, it's completely delicious. Widely consumed all over the Netherlands, Snert makes for a hearty winter snack. Where? There is a Dutch restaurant in the center Restaurant 't Zwaantje very good and good price. 
Fries?? Yes, but not just any fries. Ask for 'patatje oorlog' for a dollop of peanut satay sauce, mayo and onions, or a 'patat speciaal' for a mix of curry ketchup, and mayonnaise and onions. Where? My favorite one: Fabel Friet (prepare yourself for the queue)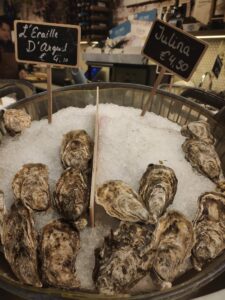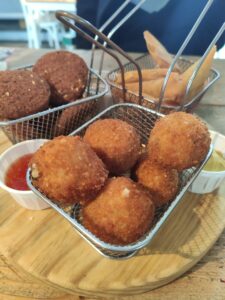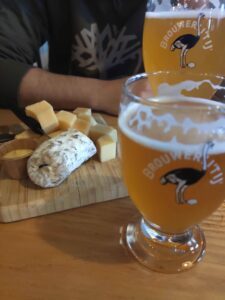 Bitterballen: Delicious, deep-fried crispy meatballs traditionally served with mustard for dipping – they're the ultimate in Dutch pub snacks and can be found on the menu at most Amsterdam drinking establishments. Where? Any bars have it. Try with the best dutch beer the Brouwerij 't IJ.
Head into any FEBO and you'll see an array of hot snacks including hamburgers, kroketten and frikandellen displayed behind glass doors. Put some coins into the slot and voila; dinner is served (is a very dutch experience).
Raw herring: Every visitor to Amsterdam should give it a go. You'll spot haringhandels (herring carts) serving up this Dutch speciality all over the city – ask for a 'broodje haring' to get the fish served in a small sandwich with pickles and onions. The best time to try raw herring is between May and July when the herring is said to be at its sweetest.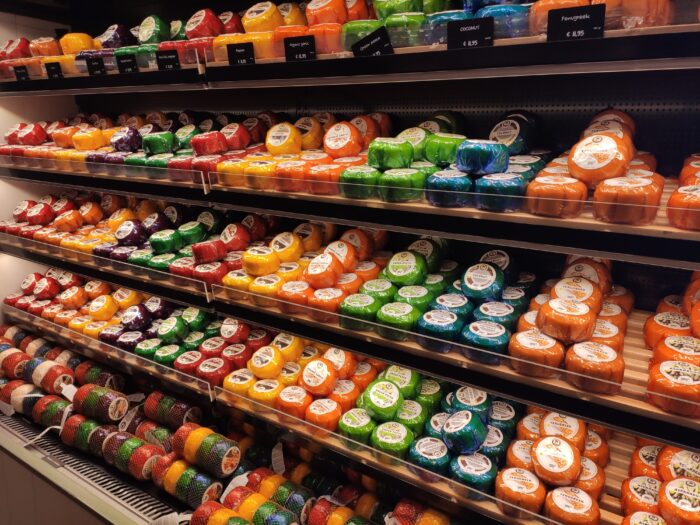 Cheese is big business in the Netherlands, so don't go home without visiting one of Amsterdam's many 'kaas' shops or markets and tasting some Gouda, Geitenkaas, or Maasdammer. For an introduction to the most popular Dutch cheeses, stop by one of the Henri Willig Cheese and More shops (very expensive). Where to buy it as a souvenir?
SWEET
As if you needed a reason to dig into a comforting slice of apple pie. The deep-dish Dutch version is infused with cinnamon, dotted with raisins, and served until a smothering of whipped cream. Where? Winkel 43 in the Jordaan neighborhood is said to serve one of the best (very long queue).
Dutch Pancakes: Unlike the thick and fluffy American variety, Dutch pancakes have a thinner, crepe-like consistency with more surface area for delicious toppings. Order yours laden with fruit, cream, and syrup from our picks of the best pancake restaurants in Amsterdam. Where? There are a lot of restaurants which serve pancakes, I suggest you try the salty ones.
Stroopwafel. Two thin waffles stuck together with a layer of sweet syrup; these delectable delicacies are best enjoyed hot and gooey from a street market or bakery. Where to buy it as a souvenir?
Poffertjes: These little fluffy clouds of buttery goodness are served up at restaurants and pancake houses all over Amsterdam, but nothing can beat a bag of hot, buttery poffertjes from a street market vendor. Sprinkle them with powdered sugar and let the good times roll.
(Visited 109 times, 1 visits today)