The Netherlands tulips route can be found in the Noordoostpolder in Flevoland. Over 100km through nearly 2500 acres of colorful fields make this one of the world's most beautiful routes.  The Tulip Route is available annually from mid-April through May.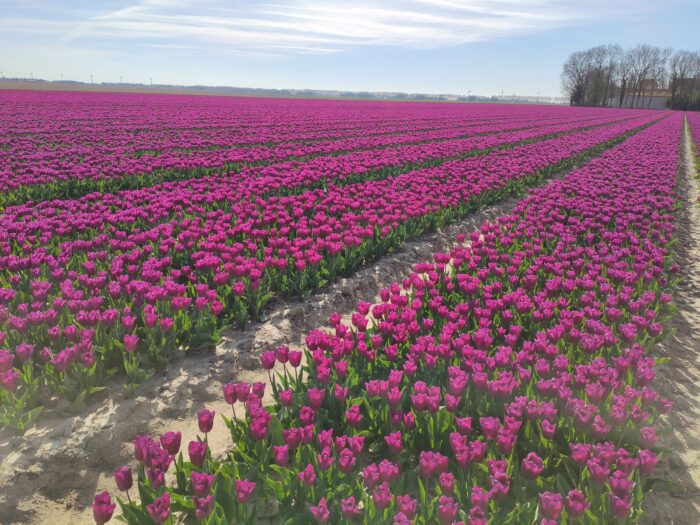 NETHERLANDS TULIPS ROUTE
With nearly 5,000 acres worth of red, yellow and purple flower-bulb fields, Flevoland is Holland's biggest flower-growing regions! The fields can be found in East and South Flevoland and, most importantly, the Noordoostpolder. Every year in spring, there is a spectacular 'Flower-bulb route' encompassing over 100km through nearly 2500 acres of flowering fields. The route has become the longest and most colourful route in Holland and even, according to National Geographic, one of the world's ultimate road trips! Check the route here.
The basis of the Tulip Festival are the (free) car and bike route. By following the signposted route you will come across the many tulip fields which the Noordoostpolder is rich in. A fun addition is the Tulip Festival app that provides information about the area, tulip growing and the history of the Northeast Polder through video and audio clips while driving the route. In addition, during the three-week event there are various activities for young and old.
WHEN and WHERE
Discover the Tulip Festival in Flevoland from the Apr. 16 – May 7 in Noordoostpolder 1h from Amstardam
 Keukenhof park: 24 March – 15 May 40min from Amstardam
23 April 2022  Flowerparade in Keukenhof
HOW
By car is the easiest way (which one I made it). Renting a car can be expensive for one day is perfect, so go to the central station and rent a car and go to see the tulips. The first stop is Espel from here you just need to follow the signals for the Tulip Festival and stop whenever and how much you want.
Another wonderful idea is to explore the Noordoostpolder on a bicycle. We recommend the 'garden route', which is about 19km long. An excellent way to discover beautiful plants and flowering tulips. The following gardens are part of the route:
De Stekkentuin. Noordermiddenweg 13, 8311 PZ, Espel
De Tuinen van Lipke Schat. Polenweg 9, 8314 PL, Bant
De Goldhoorn Gardens. Klutenweg 13, 8314 PB , Bant
De Pegasushof, Klutenweg 5, 8314 PB, Bant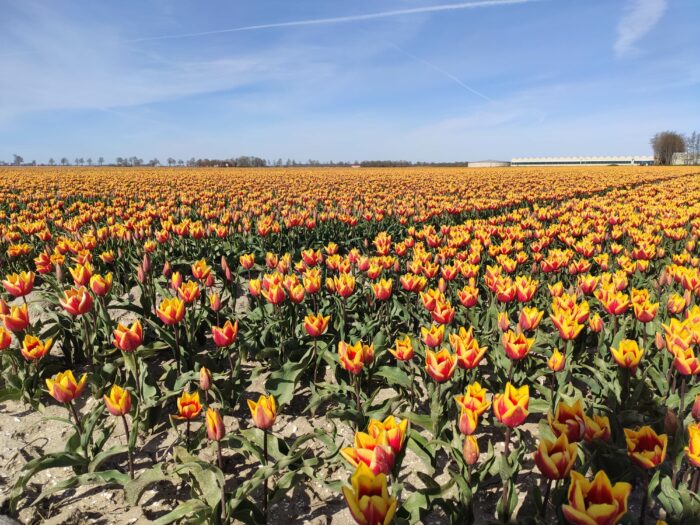 The Helicentre and The Travel Club are joining their wings so you will fly a beautiful round over the tulip fields from the tulip experience field in Creil. The flights will currently only take place during the Tulip Festival on Sunday, April 24 (Subject to change). With much interest, this date may be extended.
The flight takes about 7 minutes and the price is Euro 79, – p.p. with 3 persons per flight. Contact daphne@thetravelclub.nl for more information or bookings. It is your unique chance to fly above the flower fields in the Netherlands and see the colored tulips from a bird's eye view.