Since ancient times, Cretan cuisine has been based on several basic elements: olive oil, herbs, fish and seafood, goat or lamb meat, vegetables. Later, Venetian and Ottoman influences were added to them, which created a special cuisine. Crete has many dishes that are found everywhere in the mainland of Greece, but also some specific only to this area. Today, the traditional Cretan diet is considered one of the healthiest in the world, so you can't leave without eating in Cretan taverns. This is my 15 Foods You Must Try in Crete list.
15 FOODS YOU MUST TRY IN CRETE
Pork, lamb, or chicken are always present in a Cretan menu. I'm not a meat fan and when a friend just explain to me that seafood was imported to Crete only for tourism I was devastated.
Olive Oil.
Dakos: Like a Bruschetta, Chopped tomato, fresh cheese, herbs and olive oil placed on top of a Paximadi (rusk)
Cretan Cheeses: Myzithra or Galomizithra is a soft, white spreadable cheese from Crete. It is lightly salted, made based on a recipe from Chania.
Sarikopitakia (Cheese Pie)
Kalitsounia: The pastry is carefully handmade and shaped into tiny cups and filled with sweet cheese. The cheese type can change depending on what region of Crete you are in (feta is the only cheese not used inside)
Saganaki: the famous fried Cheese is one of my favorites

Saganaki

Loukoumades: Are fried dough served with ice cream, nuts & honey, sometimes they serve for free in a restaurant with water and fruit (very lovely tradition)
Tzatziki: a Greek sauce made from strained yogurt mixed with cucumbers, garlic, salt, olive oil
Kleftiko: Lamb slowly cooked in a special, clay oven (kleftiko). So tender that the meat falls off the bone.
Stifado: A rich, warming beef stew cooked in red wine and served with rice.
Cretan Salad
Souvlaki is often served with salad and pitta bread
Dolmathakia: The vine leaves are used to make little packets containing rice and/or minced meat, pine nuts seasoned with mint, and sometimes finely chopped vegetables. If the season's right a zucchini (courgette) flower might be folded into the vine leaves for a splash of yellow.
Moussaka: A Greek classic, which is delicious in both meat and vegetarian options. Moussaka is baked with layers of aubergine, potato, and minced lamb with a thick layer of béchamel sauce.
Cretan breakfast
CRETAN BREAKFAST
Breakfast is the most important meal for me, especially if I'm traveling, we take all the hotels with breakfast, and all of them have been spectacular. Eggs are always present, but, mix with the Cretan cheese and tomatoes (like a salad). Greek Yoghurt + Honey + Fruits/Nuts is very good also.
In a Cretan breakfast buffet, you find also: Kalitsounia, Dolmathakia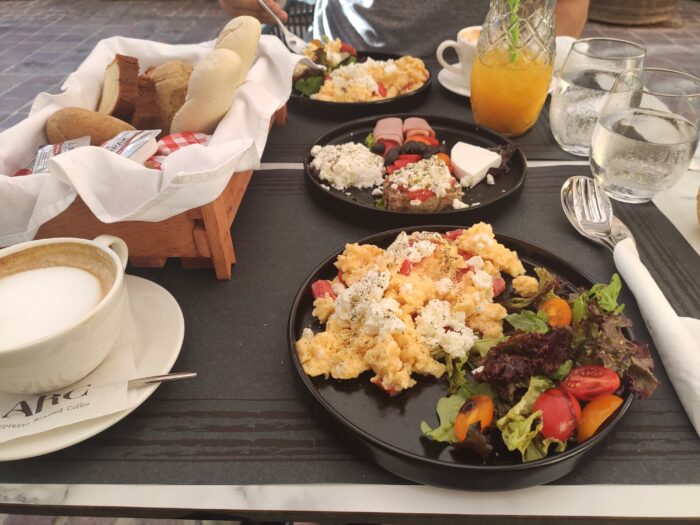 WINE&SPIRITS
Crete is one of Greece's biggest wine producers and we had some very good wines. We also had, shall we say, rustic local wines but all quaffable. The Greeks have been making wine for millennia; the quality of the wine has increased a lot in the last decades.
During our visit at the Agia Triada Tzagaroli Monastery, we discover a great winery and we buy a bottle of white wine, amazing.
Raki is an alcoholic beverage that is served after a meal in Crete, usually on the house. It is made in Autumn after the grapes are harvested. It comes from by-products created from the winemaking process. (too hard for me)
(Visited 77 times, 1 visits today)