Welcome to the biggest cheese buffet, but don't worry Les Grands Buffets is not only cheese but so much more. An overwhelming range of cheeses! Camembert, St-Nectaire, Comté, Salers, Cantal, Laguiole, Morbier, Reblochon, Brie, 4 varieties of Roquefort, Gorgonzola, Munster, wheel of Parmigiano Reggiano… Venus from the four corners of France, logs, tommes, wheels, and other delicious Dairy delights with fleshy curves are at the rendezvous at the Grands Buffets. In total, a selection of 45 kinds of cheese reflects the enormous diversity of our land.
LES GRANDS BUFFETS
The restaurant is open every day of the year from 11:30 am to 1:30 pm and from 7 pm to 9:15 pm
Menu Price: 42,90€ per person
Parking free
Online booking
No show penalty: 20€
Wine list bottle from 12€ to 100€
3 rooms:
La Clape: located inside near the buffet, it has 2 private dining rooms with respective capacities of 10 and 20 people that you just have to ask for when making your reservation.
Les Corbières: located near the rotisserie where you can admire our unique collection of 18th-century silverware.
The flower garden: located outside, under the restaurant's flowered pergolas, during the day you can enjoy the flowers and plants and at sunset, you can admire the brightly lit fountain and its artworks.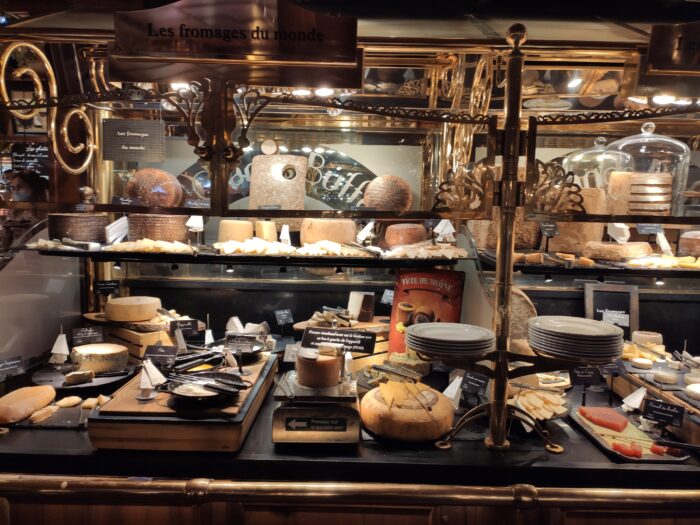 HOW DOES IT WORK
Les Grands Buffets Restaurant invites the public to experience the revival of what had been a dying tradition: the classic feast à la française, in the form of buffet tables filled with an array of exceptional dishes.
Their formula, which is unique in France, brings together all the treasures of our gastronomic heritage: foie gras in any number of ways, lobster plain grilled, or à l'américaine, slow-cooked tripe, calf's head brawn with gribiche sauce, cassoulet, black pudding with apples, old fashioned veal blanquette, bone marrow with fleur de sel, cuttlefish à la sétoise…
There is a dizzying choice of foods, popular regional dishes stand side by side with the essential dishes of traditional French cuisine. Give your appetite free rein and put together your ideal menu. Start your gastronomic journey by stopping at the whole universe of hors d'œuvres, check out the seafoods, and then make your way to the rotisserie, finally let yourself go with our spectacular cheese selection.
All you need now to conclude your banquet is a visit to the final table with its countless cakes and pastries. To accompany you as you make your way around the tables savoring all they have to offer, choose from our wine list with 70 different wines offered by the glass.
NARBONNE
The 2,500-year-old City of Art and History of Narbonne has a rich heritage; it was the capital of the Narbonne region of Gaul, the place where the Visigoth kings resided and the site of the Archbishops' palace. In the heart of the historic center, two buildings, listed as Historic Monuments, merit a visit: the cathedral of Saint-Just-et-Saint-Pasteur and the Archbishops' Palace. Unfinished, the 13th and 14th-century Narbonne cathedral have retained an absolutely spectacular choir; with 41-meter-high arches, it is the highest Gothic choir in the south of France! Discover more…
(Visited 451 times, 1 visits today)