Warning: Trying to access array offset on value of type null in /customers/8/a/2/mytravelingcam.com/httpd.www/wp-content/plugins/contextual-related-posts/includes/content.php on line 49
I have to admit it. I didn't expect much from Ibiza. An opinion marked by stereotypes that, fortunately, vanished almost at the first moment, this is my Top 10 beaches in Ibiza at least, my favorites. And, I warn you from the beginning, the beaches of Ibiza have little to envy those of the neighboring islands.
Ibiza's beaches tips
Note that it is advisable to bring food and drink as most of the beaches don't have any service.
Showers are not always present
Try to avoid july and august, the island is very crowded.
Check the wind, Ibiza people do that when they need to know where to go.
Beaches and discos are very close concepts, so be prepared, the beach can be your day and night.
If you have a few days to visit the island you can easily visit 2 beaches per day. Check the complete guide to Ibiza.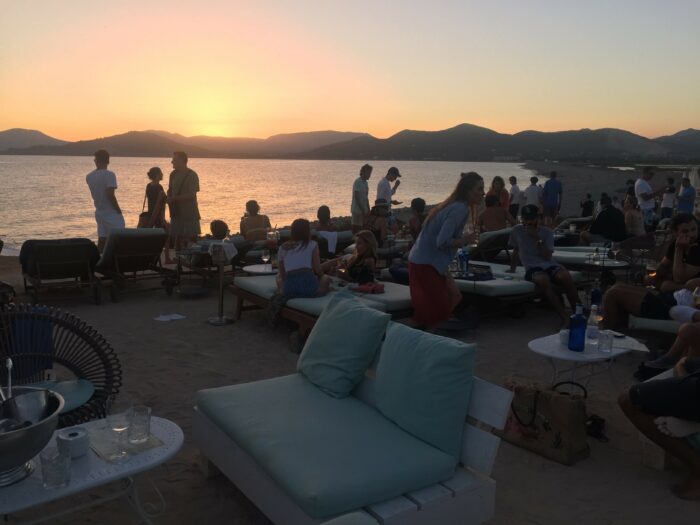 Top 10 beaches in Ibiza
Cala Saladeta
Cala Comte
Cala d'Hort
Ses Salines
Sa Caleta
D'En Serra Cove
Cala Llentrisca
Cala Tarida
Cala Xarraca in Ibiza
Cala Carbó
Cala Saladeta
It is very important that you understand that we are in front of super famous and frequented beaches. In fact, during the months of high season, the parking capacity is controlled and limited. When the maximum number of vehicles is reached, access is closed and can only be reached by bus or boat from the town of San Antonio.
The lowering of the barrier can be reached shortly after 10 am and the beach itself is not very large, so we could say that this is an overcrowded beach. My recommendation is that you get up as early as possible, enjoy it early in the morning and, when the bulk of tourists begin to arrive, you go to other quieter beaches of Ibiza. I did it this way and it was a real pleasure. Crowded or not, this beach is brutal.
Cala Tarida
Ibiza's paradise. Very attentive because, beyond the obvious, there are some hidden bathing areas of insulting beauty. You only have to walk over the cliffs to the north to find in a few minutes a couple of tiny and amazing coves. In addition, as they are less accessible, they tend to be much quieter – a real treat!
In any case, although it is a beach with high occupancy, you can find space without problem. At least, that was my experience in the middle of the day and just in the hours of high demand. Of course, you must remember that my visit took place at the end of June.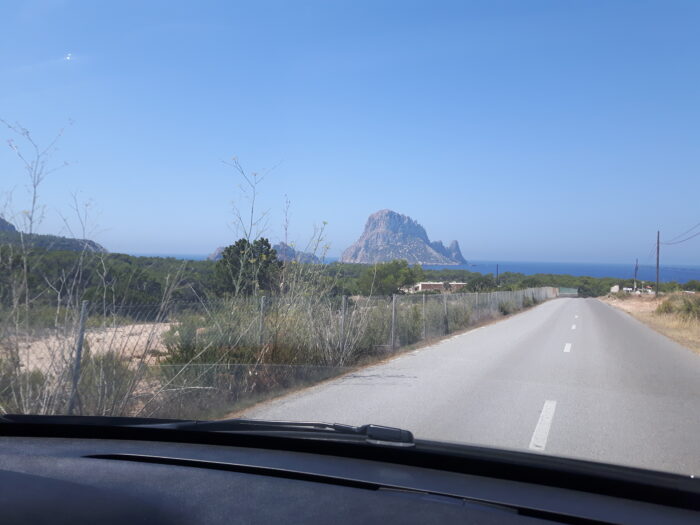 Cala D'Hort
Access: by car to the beach itself
Occupancy: very high
Semi-urban sandy cove
Let's go with another of the most emblematic beaches and also one of the most visited and popular of Ibiza. And it is that this impressive sandy beach of intense turquoise and emerald tones, and with unique views towards the islets of Es Vedrá and Es Vedranell, is a favorite for all kinds of tourists.
Cala D'Hort has it all. It has a couple of restaurants, a store, lifeguard services, a bay with clear and shallow waters, a beautiful natural environment and a seabed ideal for snorkeling. In addition, just 500 meters from the beach itself we can admire the views of the entire bay from the Mirador Cala d'Hort. A natural balcony also ideal for sunsets in front of Es Vedrá.
The Salinas
Located in the Natural Park of Ses Salines, the beach of the same name is selected every summer as one of the best beaches of Ibiza. The reasons are several, but the clearest is that it is a beach with an ideal natural environment. With fine golden sand and clean fresh water, to get there you have to cross some dunes full of vegetation and the only buildings there are some of the lively beach bars (Malibu or Sa Trinxa) that have made it one of the most popular among celebrities and footballers who visit Ibiza every year.
Ses Salines enjoys a very familiar atmosphere since it is a comfortable beach for children. The entrance to the water is made by a small slope of sand. Finally, the area near the beach bar Sa Trinxa is chosen by many who practice nudism as one of the best nudist beaches in Ibiza.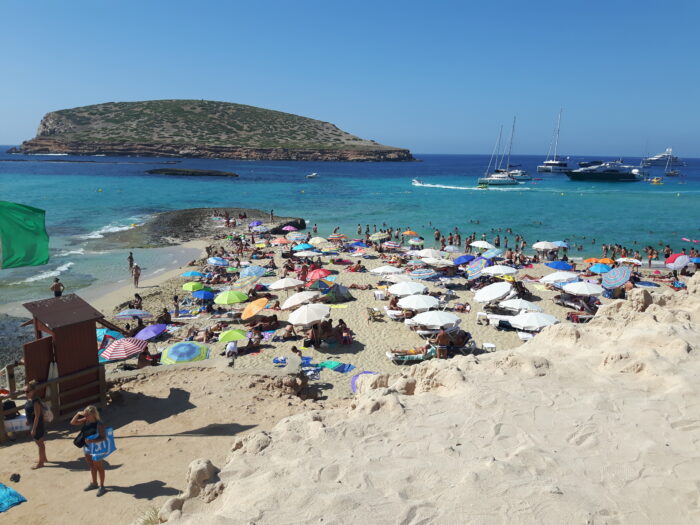 Cala Comte
Cala Comte or Cala Conta is one of the most famous beaches in Ibiza. Located 15 minutes drive from San Antonio and with more than 800 meters of fine sand, it is one of the most popular and chosen by many families visiting the island.
In addition to its easy access, the beach is famous for its calm waters of an incredible turquoise color, perfect for the little ones to swim, and the view of some islets that characterize the coast of Ibiza. Cala Comte is ideal for snorkeling and enjoying a beautiful sunset while listening to chill out rhythms from some of the beach bars in the cove. In addition, there is a more hidden area of the beach where nudism is usually practiced.
Cala Llentrisca
A deserted paradise in Ibiza. You only have to follow the road from Es Cubells towards the last urbanization. You will find a barrier but, after telling the guard that you are going to Llentrisca, he will let you pass and will give you the indications to park just at the end of the road. From there, a path will take you downhill for about 10 to 15 minutes (with appropriate footwear), which will take you straight to paradise.
In addition to its obvious beauty and wonderful colors, they say that Cala Llentrisca is one of the best for snorkeling and diving. I could not corroborate it because I found a couple of jellyfish on the shore and decided to take a quick swim and not tempt fate. But it certainly looks great.
Its own location and the fact that it has no access by car, make it one of the quietest beaches in Ibiza. Quiet but not lonely because the people who come on foot must be added those who do it by boat.
Sa Caleta
Services: sun loungers, umbrellas, restaurant, boutique
How to get there: By car, on the road from Ibiza town, past the airport towards Cala Jondal. To park, use the stony ground next to the beach and it is full to the flag in August.
To the east of Cala Jondal and accessible only by a dirt road, the beach of Sa Caleta, also called Es Bol Nou, is located in an environment of great beauty. The beach is protected by reddish earth cliffs, creating a feeling of complete isolation due to its horseshoe shape. It is of fine sand, with clean and shallow waters, ideal for families with children, and it is also great for snorkeling. Sa Caleta is very popular with the locals on weekends and, as it is small, it fills up quickly.
D'En Serra Cove
Access: by car to the beach itself
Occupancy: medium-high
Virgin cove of sand and stones
In the northeast of Ibiza and a few kilometers from the town of Portinatx, Cala D'en Serra appears before our eyes as a beautiful bay of turquoise waters completely embedded between mountains and beautiful cliffs. The first image as you drive along the last few meters of unpaved road (no problem to drive carefully with a normal car) is very impressive, a real beauty!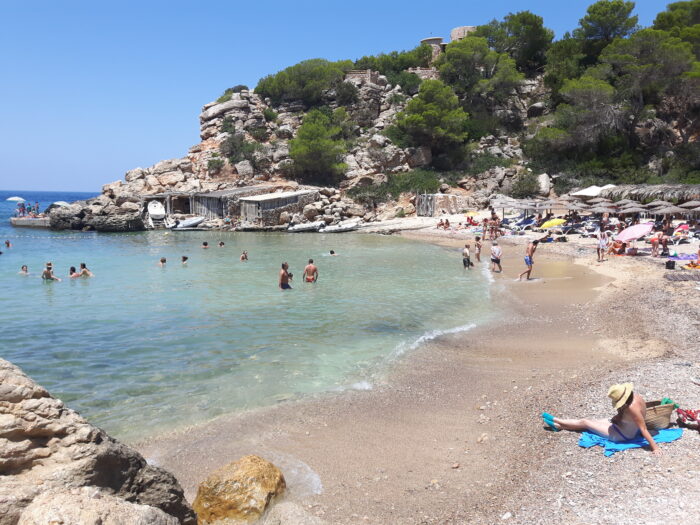 Cala Carbó
One of the small charming beaches in the south of the island is inside the Natural Reserve of Cala d'Hort. Its family atmosphere, the irregularly shaped rocks that surround it, and the transparency of the water make it a very pleasant corner. It has two high-quality fish restaurants (Balneario and Can Vicent), hammock service and a small clothing store.
Despite its small size, it is never crowded. Not even in the months of greater tourist affluence. In August, swimming to the exit of the cove to watch the sunset is an unforgettable ritual.
Cala Xarraca in Ibiza
Crystal clear water in Cala Xarraca.
Actually, Xarraca has several distinct sections. The first part of sand is accessible from the parking lot that is usually crowded with towels and bathers. And two other areas to the left and right are more rocky, quiet and with the spectacular seabed.
It is worth mentioning two other beaches very close to this one and also of great beauty that you can visit on the same day. They are the beaches S'Illot des Renclí and Cala Xuclar. The first one is also very beautiful but has very similar characteristics to Cala Xarraca. Cala Xuclar, however, is a tiny rocky cove. Very tiny but very beautiful and, although it has a beach bar, it is usually a little less frequented.
Ibiza beaches out of the TOP 10
So far I have highlighted my favorite beaches of Ibiza, the ones that left the best taste in my mouth. But there are many more and I was lucky enough to meet some of them. Here I leave you with a short list of beaches that I also found very beautiful and worth mentioning. All of them are accessible by car.
Cala San Vicente: large, urban, beautiful and familiar.
Cala Sa Ferradura: small, beautiful, very quiet and with sea inlet on both shores.
Cala Gració and Gracioneta: adjoining beaches with lots of charm (Gracioneta is very small, fills up quickly and should be visited very early).
Playa Jondal: large natural pebble bay full of restaurants and elegant beach bars on the seafront.
Es Bol Nou: super beautiful cove of reddish sand.
Cala Mastella: small, very picturesque and with a highly recommended restaurant, the Bigotes.
Cala Benirrás: famous for its sunsets to the rhythm of drums and also for its turquoise waters.
Cala Martina: very beautiful, familiar, quiet and next to a restaurant with delicious paellas, Cala Martina Restaurant.
Cala de Portinatx: small cove next to the famous hotel Los Enamorados. Very small but very coquettish.