Warning: Trying to access array offset on value of type null in /customers/8/a/2/mytravelingcam.com/httpd.www/wp-content/plugins/contextual-related-posts/includes/content.php on line 49
Public transport in Netherlands is very easy to use, comfortable and can save you money in order to visit the country without renting a car. Bicycles are a famous way of transport in this country, but if you are used to it I suggest you take care of yourself and use public transport.
TRAINS
You can easily travel around the Netherlands by train, is easy and not expensive as you probably think. Some of the famous destinations in Amsterdam are:
Rotterdam 34€ a/r
Delft 30€ a/r
Zaanse Schans 7€ a/r
Zaandam 3€ a/r
Download the NL app and you can book and pay a ticket with some discount, or just to organize your travel.
Traveling during off-peak hours is only valid during off-peak hours, i.e. weekdays before 06:30, between 09:00 and 16:00, and after 18:30. At weekends and all day on public holidays. The Off-Peak Group Ticket is not valid on King's Day (27 April). An Off-Peak Group Ticket is not valid for travel during peak hours, even when the journey started before the peak period.
SCHIPHOL AIRPORT (AMSTERDAM)
The cheapest/faster way is to take the train from the airport to the central station, in 20min and 4,70€ you are in the center of Amsterdam. If you download the NL app you can buy the tkt in off-peak time to 2,50€.  Another way is to buy the "I Amsterdam" card.
GVB TICKETS
OV/E-Purse is the local way to use public transport, a rechargeable chip card, i.e. not personalized with a passport photo, costs 7.50 euros (without credit). But if you are a tourist avoids it.
With GVB flexible tickets you can use all trams, buses, underground trains (day and night) and GVB ferries in the whole of Amsterdam, without any limitations. The GVB day ticket is very flexible. It is offered with a lifetime of 1 to 7 days, i.e. from 24 to 168 hours.
The period counts from the first use. Check-in and check-out are mandatory.
You can buy your 1h ticket on the bus or tram (only card, no cash).
Downloading the GVB app and buying it, is very easy.
For children from 4 to 11 years of age, there is a very economical day ticket. The children's ticket is valid for one day only. If necessary, several children's day tickets can be purchased.
This ticket is not valid on regional buses of other companies, such as Connexxion, EBS or on the train. It is therefore not suitable for transfer to/from Schiphol airport.
With the GVB 1 h ticket you can use all GVB lines within one hour. Current price 2022: €3.20 for adults
Rates: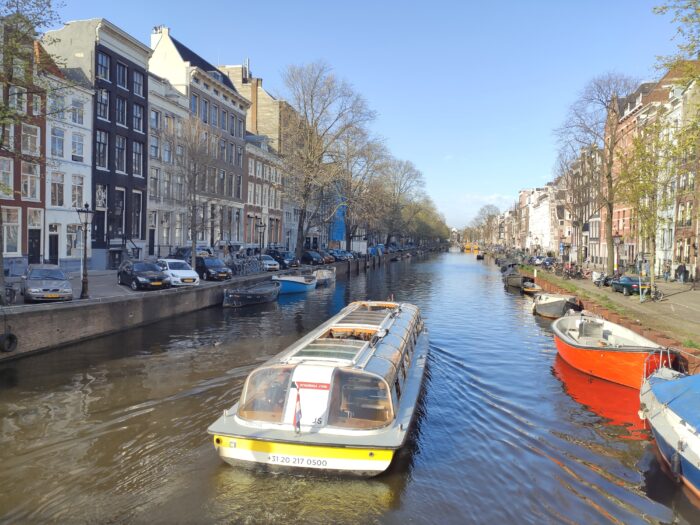 1 day / 24 h: 8,50 Euro
2 days / 48 h: 13,50 Euro
3 days / 72 h: 20,00 Euro
4 days / 96 h: 25,50 Euro
5 days / 120 h: 29,50 Euro
6 days / 144 h: 34,00 Euro
7 days / 168 h: 37.00 Euro (5.30 Euro per day)
I AM AMSTERDAM CARD
Local transport pass + free/discounted entry to tourist attractions
The "I amsterdam" card is the official city pass of Amsterdam. It aims to help visitors to the city through the maze of public transport fares and entrance fees. The name comes from the English pun "I am Amsterdam". It is a combination of a day ticket for public transport and a discount card for entrance fees.
If you want to visit the sights of the city during your stay in Amsterdam, then the "I Amsterdam" card is an interesting way to save time and money.
1Free and unlimited use of the local public transport of the municipal company GVB. Includes metro, city buses and tram. Ferries are generally free.
2Free entry to more than 50 sights and museums, including major tourist attractions such as the Van Gogh Museum, the Rijks Museum, the Royal Zoo Artis, the NEMO Science Museum or the Amsterdam Tulip Museum … (see details below).
3discounts of 25% on many events (opera, ballet…), attractions, bike rentals and participating restaurants.
Prices for the "I amsterdam" card (from 2022): book here
1 day – 24 hours: 65 €.
2 days – 48 hours: 90 € (45 € per day)
3 days – 72 hours: 110 € (37 € per day)
4 days – 96 hours: 125 € (31 € per day)
5 days – 120 hours: 135 € (27 € per day)