Warning: Trying to access array offset on value of type null in /customers/8/a/2/mytravelingcam.com/httpd.www/wp-content/plugins/contextual-related-posts/includes/content.php on line 49
One of the communities we most wanted to visit and knew well was the Basque Country. This past Easter we took the opportunity to make a 5-day route through these two provinces, sleeping in Bilbao and San Sebastian, this is my 5 days Basque country itinerary.
ITINERARY:
San Juan de la luz
San Sebastian
The Basque Coast (Zumaia-Getaria-Zarauz)
Bilbao
Laguardia
DAY 1
I want to start with the French Basque Country, is only 30min from San Sebastian and it really surprises me, (i need to organize a itinerary only for the french side). Tucked away on the rugged coast of New Aquitaine there is a small picturesque village called Saint-Jean-de-Luz (Saint-Jean-de-Luz in French) that has nothing to envy to its famous sisters. It has a bay, it has stained glass windows, it has surf… And a button garden on a cliff overlooking the Bay of Biscay that is a delight for the senses.
DAY 2
San Sebastian is the most known city in Basque Country, for its culture and it's beauty, today we list 7 things to see and do in San Sebastian. Discover 7 things to see and do in San Sebastian.
DAY 3
Travel along the Basque coastline toward the city of Bilbao, just over 100 kilometers away. This stretch of coast along the Bay of Biscay is lined with charming villages, dramatic coastlines, and world-class surfing beaches. Stop at Zarautz if you're into surfing or carry on to Getaria to the Cristóbal Balenciaga Museoa if fashion is more your thing. Stop by Zumaia to admire its beautiful beaches.
Pass the beautiful beach villages of Mundaka and Bermeo, before visiting the island of San Juan de Gaztelugatxe – the film location for Game of Thrones' Dragonstone. Check admission before going, otherwise, you can only see this and not cross it.
From here, make your way to Bilbao for day three.
DAY 4
Bilbao is a surprising city. Gone are the years of a cold, dirty and even decadent city. Today Bilbao is a great cosmopolitan city, bright and with endless things to see and do. Although the ideal is to spend two or three days visiting Bilbao, in a 5-day route we can only spend 1 full day in this city.
The ideal would be to visit the Guggenheim Museum in the morning, with the Zubizuru Bridge in the background, and stroll leisurely through its modern area reaching Doña Casilda Park, the green area of Bilbao.
WHERE TO EAT: Plaza Nueva, here you can find the best pintxos, try Victor Montes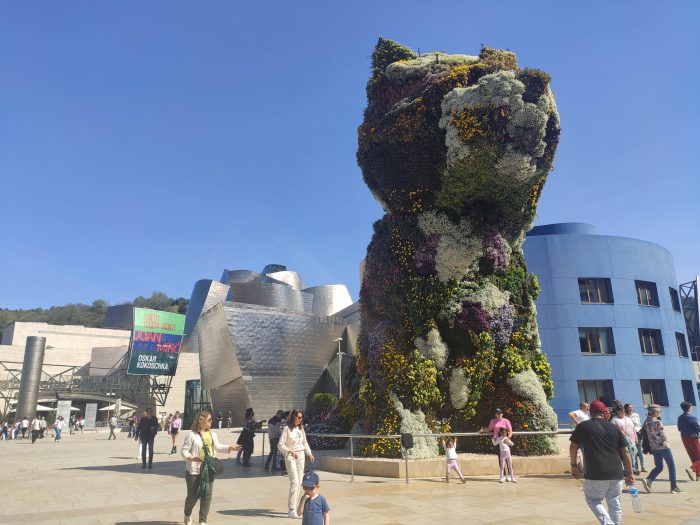 DAY 5
Organizing a trip through La Rioja vineyards is amazing and visit Laguardia much more. A little city located 18km from Logroño. Here we are in the Basque country however the wine is called Rioja. There are still five access doors to the city. Its streets and corners preserve a great medieval flavor and its economy is based on the wine industry, with its own production and numerous wineries. Are you ready to visit Laguardia?