Let yourself be captivated by magical desert landscapes with this tour which visits the majestic Masada fortress. You will also have the opportunity to magically float on the surface of the Dead Sea!
To arrive at these two areas we pass through the Israeli desert, passing the Judean Hills and the Inn of the Good Samaritan.
DEAD SEA
Not as known as the Dead Sea, yet south of the Old City is Hamat Tiberias National Park, offering unique natural therapeutic springs, with 60 degree Celsius waters, with as many as 100 minerals with unique therapeutic qualities. The site is known for its healing capabilities and has been present for over 2,000. years attracting visitors since Jesus' time.
Floating effortlessly in the hypersaline water, you can read or just lie back and relax – you don't even need to know how to swim! Mud from the Dead Sea is especially used in massage treatments and therapies using seawater, which you can experience for yourself right from the beach!
The waters from the natural springs feed the Tiberias Springs spa. The spa offers several thermo-mineral pools, luxurious body treatments, and unique health treatments as well as a quiet atmosphere and an incredible view of Lake Kinneret.
MASADA FORTRESS
Next it's on to the imposing Masada fort which the Romans unsuccessfully besieged for many months. For us, it will be a little easier to gain access, as we will ascend in the Masada cable car known as the Cableway.
At the summit, we will learn all about the history of the ancient inhabitants who decided to commit suicide rather than surrender to the invader. We will also visit the remains of the synagogue that the Roman troops tried to destroy.
Masada is a dramatically located site of great natural beauty overlooking the Dead Sea, a rugged natural fortress on which the Judaean king Herod the Great constructed a sumptuous palace complex in classical Roman style. After Judaea became a province of the Roman Empire, it was the refuge of the last survivors of the Jewish revolt, who chose death rather than slavery when the Roman besiegers broke through their defences. As such it has an emblematic value for the Jewish people.
It is also an archaeological site of great significance. The remains of Herod's palaces are outstanding and very intact examples of this type of architecture, whilst the untouched siegeworks are the finest and most complete anywhere in the Roman world. Check the entire Israel itinerary.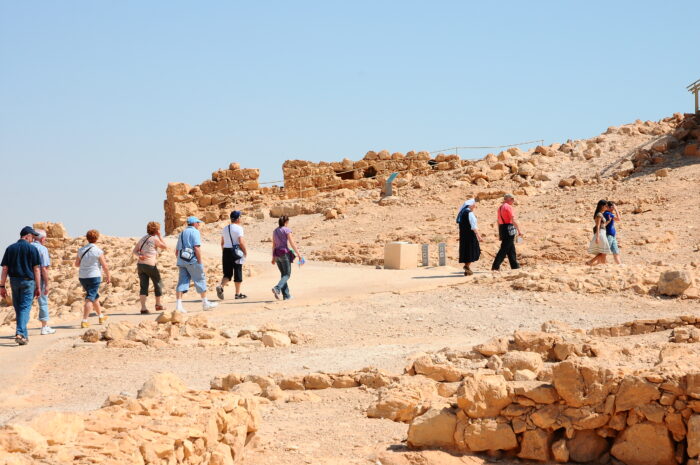 (Visited 51 times, 1 visits today)