Logroño is a good choice if you have decided to visit La Rioja. Logroño is the capital of the region and washed by the Ebro river, home to almost half the population of the entire region. It has historically been a place of passage and border, the most famous street, the way of Santiago de Compostela. Today we are going to discover one of the most important gastronomic cities in Northern Spain. Its proximity to the many wineries in the area makes this city an important starting point for excellent wine tastings.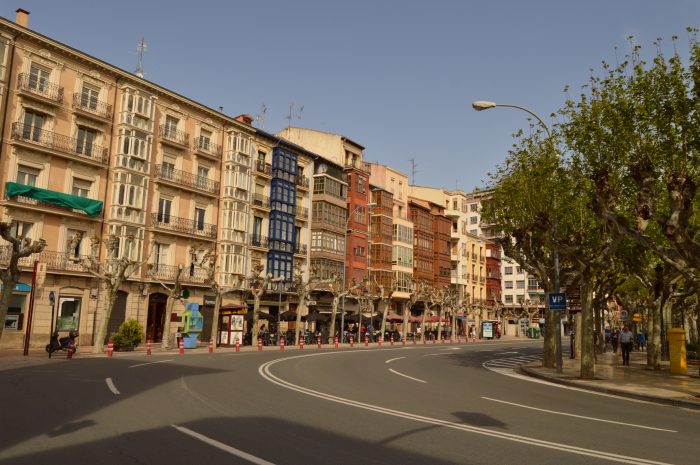 LOGROÑO DAY TRIP
Logroño is located in northern Spain, the nearest airport is Bilbao (Basque Country). It is located 150km from the airport, while if you prefer public transport, there is the ALSA company that offers bus service in 3 hours. Logroño has an airport (RJL) but the flights are not as frequent as Bilbao.
If you are coming from Spain the advice is to reach the city by train, from Zaragoza, Barcelona, Madrid, Pamplona. Trains do not cost too much, but if you want to spend less you can always watch with Flixbus. Once at the station the city center is just a few steps away.
A day is ideal for visiting the city, starting from the center the first stop will be the Cathedral of Logroño. Another very important church is the San Bartolomeo church. During your visit, you can go to the La Rioja Museum or the House of Science.
WHERE TO EAT
The north of Spain is known for good food, one of my favorites thanks to the famous "Pinchos". The streets of the city are full of restaurants that offer this option so good and cheap. Calle Laurel is the most famous in the city, for tapas and Pinchos.
Another option is to try a Michelin restaurant, there are 3 starred restaurants in the city. I had the opportunity to try the restaurant with 1 * Michelin IKARO. I loved it, quality/price with the right balance. Want to know some secrets about Michelin-starred restaurants? Read here!
TASTE LA RIOJA WINE
I had the opportunity to get to know Logroño, organizing a trip through the Rioja vineyards. The perfect time to visit these areas is from April to October. The wine of this area is one of the best in Spain and well known abroad. La Rioja is a wine that includes 3 regions: La Rioja, Basque Country, and Navarra. My advice is to rent a car and visit the area in 4 or 5 days. Have you ever heard about Laguardia village? Read Here!
The best wineries I have had the opportunity to visit are Campo Viejo, Cvne, Luis Cañas, Marqués de Riscal, Ramon Bilbao and Roda. If you want more info on how to organize your trip to La Rioja read here!
MAPS OF WINERIES
Are you a huge wine lover?? Maybe are you interested to visit the Penedes area (Catalonia)
(Visited 97 times, 1 visits today)