Relax, mountains, and spa all this can be found in the QC Terme Monte Bianco. A 4* hotel very close to the French border and at the foot of Mont Blanc. A place to find relaxation, comfort and disconnect with the outside world in one of its outdoor pools. For ski lovers, The QC Terme Monte Bianco is less than 2 km from the ski resorts of Courmayeur and La Thuile. Make a reservation on Booking.com.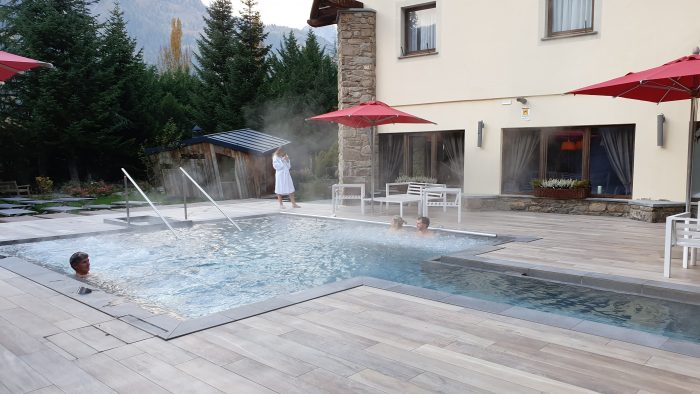 HOW TO GET TO QC TERME MONTE BIANCO
The nearest airport is Turin at 151km, or at Geneva (Switzerland) at 121km. I recommend the Italian airport because renting a car in Switzerland will cost you more. While arriving from Milan Malpensa they are 2h30 by car.
In case you do not want to rent a car, you can reach Aosta (there is a train station) and then take the 581 bus that leaves you a few meters from the hotel. Journey time 1h15, ticket price € 3.20, all the information can be found on this website.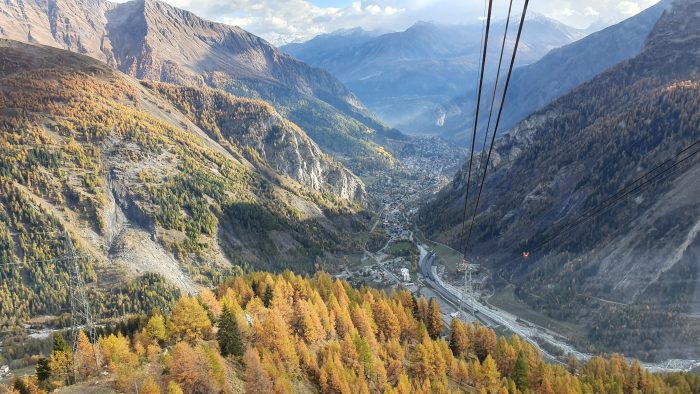 ROOMS
The rooms are very simple, but spacious, the beds very comfortable. It should be noted that the hotel has been renovated in order to provide all the comforts of a 4 *. All rooms have a private bathroom, balcony, mini-fridge, television, Nespresso coffee machine.
The Welcome pack is complete, every day a bottle of water, apples, beauty masks, and bathroom items are left. No toothbrush and toothpaste are given (if you have forgotten you can ask for them at the reception).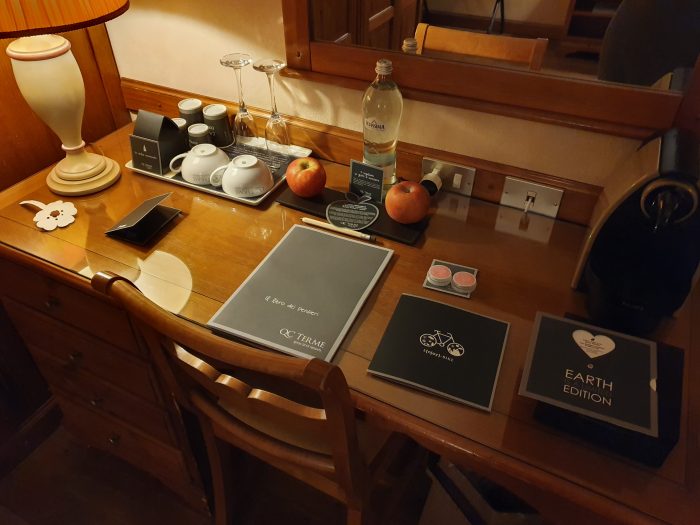 Price per room € 250 per night, with tourist tax included (€ 6). The price includes breakfast, entry to the spa on the check-in and check-out days and if you sleep two nights also the Skyway. Want to learn more about the Skyway? Read here!
Breakfast is very good, nothing is missing from savory to sweet. You have the possibility to prepare a fresh juice with the ingredients of your choice, not from all 4 * hotels. Fresh cheeses and homemade cakes a full breakfast is available from 7am to 10am.
SPA AND SERVICES
The hotel has parking and a free shuttle to the QC Terme di pre-saint-Didier. Apart from this in the breakfast room, you can have lunch and dinner, they change the menu depending on the season. One of the things I appreciate most about these spas is that tea, fresh and dried fruit is always free and available.
As for the spa, you can find:
Whirlpool baths and jets of all kinds. Floor hydromassages, to tone the back and buttocks, and water jets to stimulate microcirculation.
Sensory pools and waterfalls to relax the muscles of the shoulders and back. More than thirty relaxation practices, including chromotherapy sensorial pools, tubs with music therapy, Kneipp therapy, Vichy showers, and foot baths.
Bio sauna themes with different beneficial effects. Steam baths dedicated to the mountain theme. QC Terme Monte Bianco also offers many relaxation rooms, from the one with water mattresses, another that I recommend is that of fireplaces. All very relaxing thanks to the low turnout compared to the pre-saint-Didier QC spas that are always full. Make a reservation on Booking.com.
CONCLUSION
Location: 

Breakfast: 

Price: 

Comfort: 

Facilities: 

Cleanliness: 
Check QC Terme Chamonix here…
(Visited 346 times, 1 visits today)