Chamonix is a French municipality in Haute-Savoie, in the Alberne-Rhone-Alps region, It is one of the most famous ski resorts in the world. and one of the cool one (and expensive one). Raclette and Fondue are the typical dish and it's amazing, try the La Caleche restaurant in the very city center, place and food are spectacular.
GENERAL INFO ABOUT CHAMONIX:
By car is connected to the municipality of Courmayeur, Italy, through the Mont Blanc Tunnel. Italy and France connected by the tunnel, one way 48€, return ticket 60€. By bus, you can buy a ticket on Flixbus is cheapest.
The closest airport is Genevé (Switzerland) connected by train or bus. Lyon airport is another option (France).
Chamonix train station is conneted by: Geneve, Lyon, Annecy, Lausanne, Bern.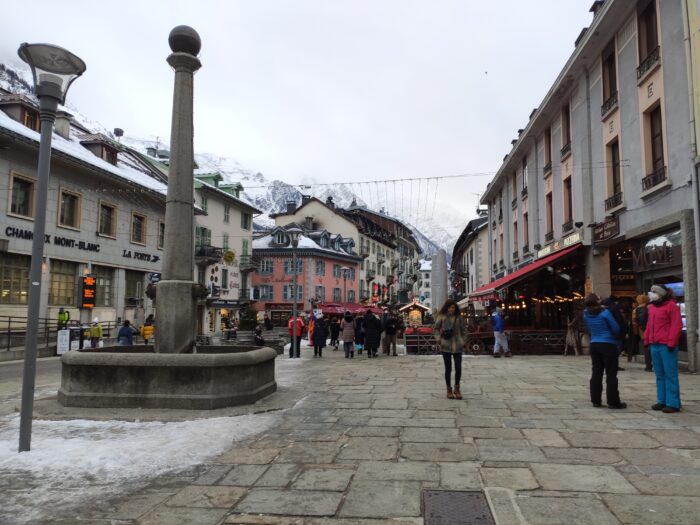 There are different parking around the city:
High Season Summer (from 15th June to 30th September);
High season Winter (from 15th December to 30th April);
Low season (spring from 1st May to 14th June / autumn from 1st October to 14th December).
So, in Chamonix the prices to park a car vary according to the season (ex 24h during high season = 16€). Free car parking all year long: Planards Car Park, Biollay Car Park, Gendarmerie Car Park.
QC TERME CHAMONIX
Powered by the magic of water, a primordial architectural element, the mountain and urban havens of QC Terme Chamonix will leave you feeling revitalized. Discover the enchanting world of spas, thermal centers, and charming hotels that combine the allure of breathtaking landscapes with a concern for bodily and psychological well-being. Every QC Terme experience is a journey into beauty. Check here QC Terme Monte Bianco on Courmayeur…
OTHER ACTIVITIES
St. Michael's Church: dating from 1709, St. Michael's Church is one of the most important buildings in Chamonix. Inside there is a precious organ made by a craftsman from Grenoble in the 50s of the last century.
Mer de Glace Glacier: it is the second-largest glacier in the Alps, second only to the Aletsch glacier in Switzerland. It is located on the north side of Mont Blanc. It is composed of three small glaciers: Tacul, Talèfre, and Leschaux, 12 km long and about 400 meters thick, it has a total area of 40 km². The Ice Cave is also located here. The glacier can be reached from Montervers by a panoramic train.
Alpine Museum Chamonix: a museum that hosts permanent and temporary exhibitions dedicated to Chamonix – history, territory, traditions, and folklore. It is housed in a historic building from the early 1900s.
Aiguille du Midi cable car: From the top of its 3777 m, the Aiguille du Midi and its terraces fitted out for the visit allow you to enjoy a panoramic view of all the French, Swiss and Italian Alps. There is an elevator to the summit terrace, at 3842 m, where you will enjoy an unforgettable view of Mont Blanc.
WHERE TO SLEEP