In recent years the quality of the Tuscan wine has improved a lot and has moved towards the production of quality wines and not simply to increase production. Thus Chianti and the rest of the myriad of Appellations of Origin in the region have diversified, achieving very good qualities and very varied flavors.
Chianti Classico
The DOCG Chianti Classico category is reserved for wines from the oldest area of origin of the largest Chianti wine production area, i.e. the entire administrative territory of the municipalities of Greve in Chianti, Radda in Chianti, Castellina in Chianti and Gaiole in Chianti and part of the administrative territory of the municipalities of San Casciano in Val di Pesa, Tavarnelle Val di Pesa and Barberino Val d'Elsa and Poggibonsi and Castelnuovo Berardenga.
Visiting the production area of Chianti Classico means discovering beautiful landscapes, but also villages and places of great beauty such as Radda, the castle of Brolio, San Felice. The new rules provide for the possibility of using Sangiovese grapes from a minimum of 80 to 100% for Chianti Classico (in this case we are talking about pure Sangiovese). It is a great wine that pairs well with the great dishes of Tuscan cuisine, starting with bistecca fiorentina (or short rib).
Where: Antinori winery is the most famous and touristic place, my suggestion here is: taste different Chianti during your meal and then decide 😉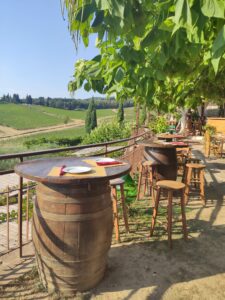 Scansano di Morellino
Morellino di Scansano is one of the most famous red wines of Tuscany and certainly the most typical of Maremma. A wine born in an environment that combines the advantages of the hill and the scents of the sea, and where the Etruscans already cultivated the vine. After the high quality standards achieved and the affirmation of its own identity and image, also on foreign markets, in 2006 Morellino di Scansano was able to boast the DOCG.
A wine for the whole meal, if it is young, however, it is indicated for roasts and game, if it is of great vintage and aging. Ideal to accompany the dishes of the Maremma cuisine, such as aquacotta, wild boar scottiglia, "drunk" pork (maiale ubriaco). Even a vegetable pizza can be an unusual but tasty combination.
Where: I suggest you a very good restaurant in Scansano, where you can eat a very good Fiorentina, Osteria Il Rifrullo in the same street there is an Enoteca where you can buy wine but cheaper. 
Nobile di Montepulciano
Vino Nobile di Montepulciano is born in the hills between the Val d'Orcia and the Val di Chiana, in vineyards nestled in a beautiful landscape adorned with monuments, villas and farmhouses. The history of this wine has its origins in a centuries-old winemaking tradition, which as early as the 17th century saw Nobile defined as the "King of Tuscan wines" (Francesco Redi, Bacco in Tuscany).
Surely a drink loved by nobles and lords (hence its name), this wine has transmitted its fame to the present day. It is especially in recent decades (the DOCG dates back to the 1980s) that the quality levels of this wine have increased significantly, thanks to the renewal of the vineyards and the modernization of the winery's equipment and techniques. Today, Vino Nobile is considered one of the most prestigious Italian red wines.
Where: In Montepulciano is very easy to taste wine and FOR FREE, so go to the different shops and taste as much as you can before buying something, the Nobile is a very strong red wine. Another option: Wine tasting for 29€.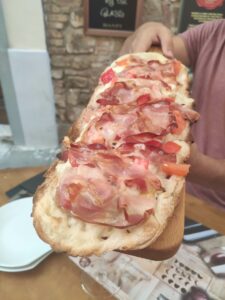 Brunello di Montalcino
Coming to Montalcino and not tasting its Brunello wine or not being interested in learning about its production is like going to Dublin and not visiting the Guinness brewery, or like going to Scotland and not taking the distillery route; ergo…a sin.
Montalcino, famous for its wines up to the 15th century, became even more so when in 1888 Ferruccio Bondi Santi set out to produce an eclectic wine. Today it is the Consorzio del vino Brunello di Montalcino that oversees production. Brunellos of excellent quality are produced from vintages that spend at least five years in oak barrels. If they remain less than this period they are known as Rosso di Montalcino.
One of the usual activities is the visit to the wineries, among which we have some such as Ciacci Piccolomini d' Aragona, Il Cocco, Altesino, Agricola Poggio Rubino or Poggio Antico that carry out tastings and tours of their vineyards.
Where: Locanda Demetra (try their wine is amazing) and Enoteca della piazza (Montalcino), is where you can taste a good Brunello and make an aperitivo Toscano. Just remember, Brunello is an expensive wine, good bottles start from 45€.