The spanish capital this year is spectacular, you can't miss Christmas time in Madrid. Markets on Plaza Mayor, lights and Christmas threes everywhere, and the new Pl. España.
Turrón (almond nougat), marzipan, glacé fruit, mantecados (traditional powdery sweets), roscón de Reyes (a large ring-shaped bun eaten on January 6th). There is no doubt that Christmas is the sweetest date on the calendar. Put your diet aside for a few days, and take a tour of the oldest patisseries in Madrid. 10 free things to do in Madrid
CHRISTMAS TIME IN MADRID
From the end of November till the beginning of January, the city's streets, buildings, and squares twinkle with eco-friendly colourful lights created by renowned Spanish architects and graphic designers. This year, the city welcomes back some new decorations which were put up for the first time last year: "luminous nativity scenes" installed on various emblematic monuments such as the Alcalá, Toledo and San Vicente gates, the viaduct of Calle Segovia, and the arches leading on to the Plaza Mayor. Huge Christmas trees have once again been put up in some of the city's most popular sites, including the newly refurbished Plaza de España (from 26 November to 6 January).
Theatres and cultural centres across the city stage a host of Christmas shows and concerts such as the New Year's Concert at the Teatro Real opera house, a Gospel Festival and the production Christmas at the Circo Price. Another must for kids are the ice rinks set up in some central squares and the carousels located in front of the Royal Palace and behind Sol. If you want to take a tour of the city's lights, hop on the Naviluz and enjoy a 45-minute ride in an open-top bus.
On Epiphany day (6 January), Spanish kids traditionally wake up to find the reward to their last year's behaviour: presents for the well-behaved, charcoal for the naughty. These are left in their homes by the Three Wise Men from the East, who travel the streets of Madrid the day before (5 Jan) in a spectacular parade.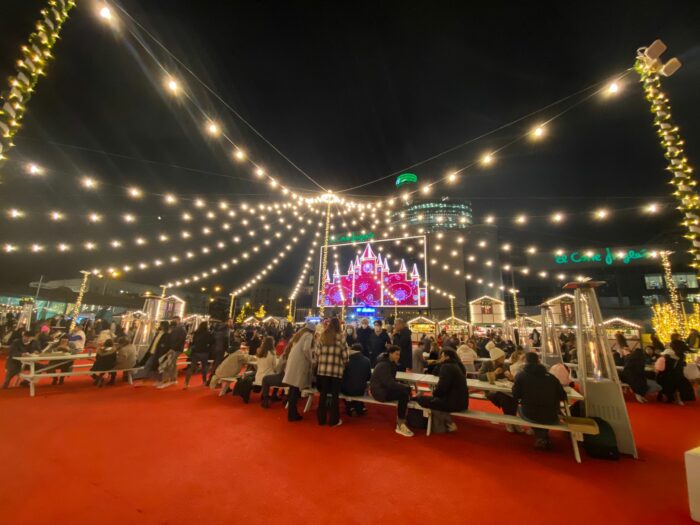 MARKETS
Head over to the beautiful Plaza Mayor square which hosts the city's most popular Christmas market to purchase all kinds of Christmas decorations and figurines for the traditional nativity scene. Dotted around the city you will find various design and crafts markets, including the Madrid Arts and Crafts fair, which are great places for last-minute gift buying.
Each year as Christmas rolls around, Madrid's main square turns into a sprawling market featuring 104 stalls filled with nativity scene figures, musical instruments, toys and joke items.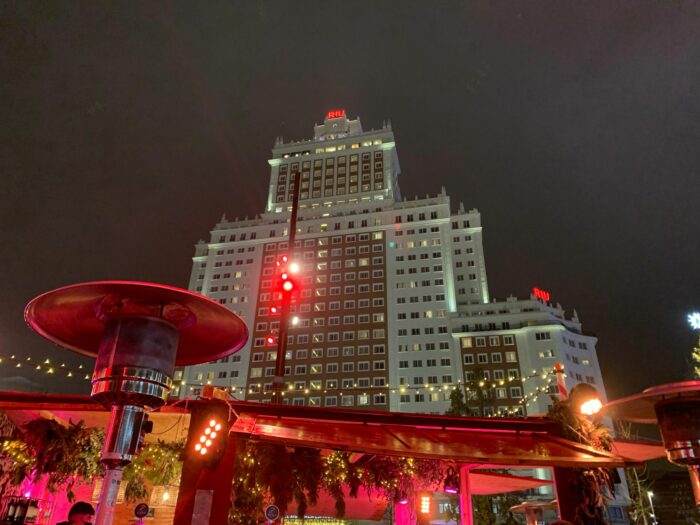 Organised by the Plaza Mayor Christmas Market Association, this hundred-year-old fair is one of the city's most beloved traditions. The 104 stalls run by individual vendors sell Christmas favourites: figurines to make your own nativity scenes, Christmas decorations and gag gifts.
Back in the 17th century, stalls selling fruit and vegetables as well as decorations and presents would pop up around Christmas in the neighbouring Plaza de Santa Cruz. Two hundred years later, an ordinance was approved to legalise the market, and it became the place to go if to you were looking for nativity scene figures, Christmas decorations or toys. If, however, it was sweets or a turkey you were after, then you would head to the market on Plaza Mayor. (From 26 November to 31 December 2021)
Situated in Madrid, less than 1 km from Prado Museum, Four Seasons Hotel Madrid features accommodation with a restaurant, private parking, a fitness center, and a bar. Boasting family rooms, this property also provides guests with a terrace. The accommodation offers a 24-hour front desk, airport transfers, room service, and free WiFi. Four Seasons Hotel Madrid has a wellness area that includes a hot tub.
Thyssen-Bornemisza Museum is 1.5 km from the accommodation, while Reina Sofia Museum is 1.9 km from the property. The nearest airport is Adolfo Suarez Madrid-Barajas Airport, 13 km from Four Seasons Hotel Madrid.