Epic place Barbastro has been the scene of great historical events. The nearby sanctuary of Torreciudad and its wineries are two places of pilgrimage for very different reasons. Do not miss the history and the best things to see in Barbastro.
BARBASTRO CITY
Barbastro is located 30min by car from Alquezar and 40min from Huesca which is very easy to reach out to. There is a lot of parking around the city free of charge, so do not pay for parking at the hotel or in the very city center. Let's start our visit:
Market square: here is where we book our hotel for the night, there is a good caffe/pastry on one side of the square
Barbastro cathedral
Holy week: the city recreates every year the passion and death of Jesus Christ with 12 religious parades through its streets.
Riverwalk: where you can admire the famous colored houses (that remember me Villajoyosa).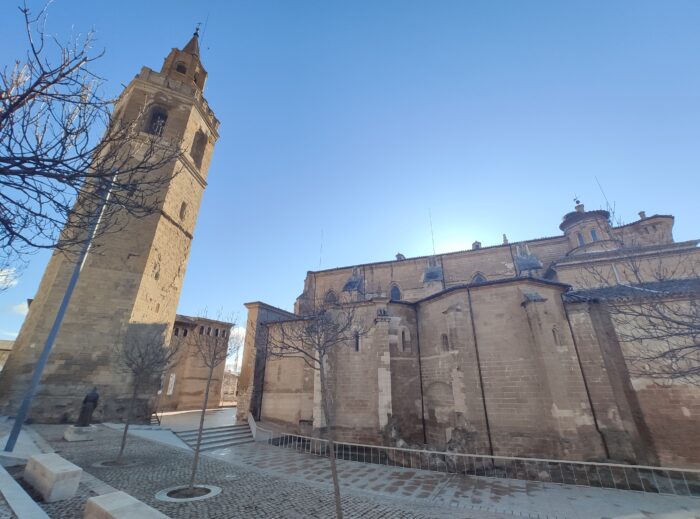 SOMONTANO WINE
Aromatic, fresh wines, with intensity and a fantastic acidity, surprising wines with personality. Among the varieties grown in our territory, we find some native varieties such as Parraleta, Moristel, or white Alcañón in whites that after more than 120 years in our territory are varieties to which Somontano brings its special character. Varieties such as white Garnacha Blanca, Macabeo, Riesling, Sauvignon Blanc, and other reds such as Tempranillo, Syrah, Garnacha Tinta or Pinot Noir. Here is the map for a Somontano road experience.
Sommos is one of the most famous wineries in the area, you can admire its architectonical structure from the motorway too, don't miss it.
AROUND BARBASTRO
Very close to Barbastro are remarkable places: the Monastery of the Virgin of El Pueyo, the collegiate church of Alquézar, the gorges of Vero, or the Sanctuary of Torreciudad.
The beauty of its natural environment allows hiking and skiing. The Park of the Sierra and Canyons of Guara has outstanding specimens of fauna and flora, and there is also one of the largest populations of scavenger birds in Europe, in an area declared of special protection by the EC.
(Visited 107 times, 1 visits today)