The Isola di Wight B&B is immersed in greenery, surrounded by the wonderful Venetian countryside, but very close to the beaches that are easily accessible. The B&B was built in an old farmhouse dating back to 1700 of the first construction, subsequently modified over the years and now completely restored. I knew Erika (the owner) since 10years, I know how much it costs this place to her and she is doing an amazing job with her mum. Book here your room (from 90€ breakfast included).
WHERE IS THE ISOLA DI WIGHT
Isola di Wight B&B is located in San Michele al Tagliamento, 22.5 km from Lignano Sabbiadoro and 25km from Caorle.
Lido di Jesolo is 41.8 km from Isola Di Wight, while Bibione is 16.1 km away. The nearest airport is Trieste Airport, 56.3 km from the bed and breakfast.
Free private parking is possible on site (reservation is not needed).
OUTDOOR SERVICE AND FOOD
All pools are free of charge Seasonal, beach chairs/loungers and pool bar. Pool closed from Sat, Sept 26, 2020 until Sun, May 09, 2021. The garden it's pretty big, you can find a little farm, ponies and goats.
Food is amazing here, especially if you like food made by love. The menu changes every day due to fresh food. All the vegetable and fruit come from the garden, eggs from her hens. Beer it's ecological too, produced close to the establishement.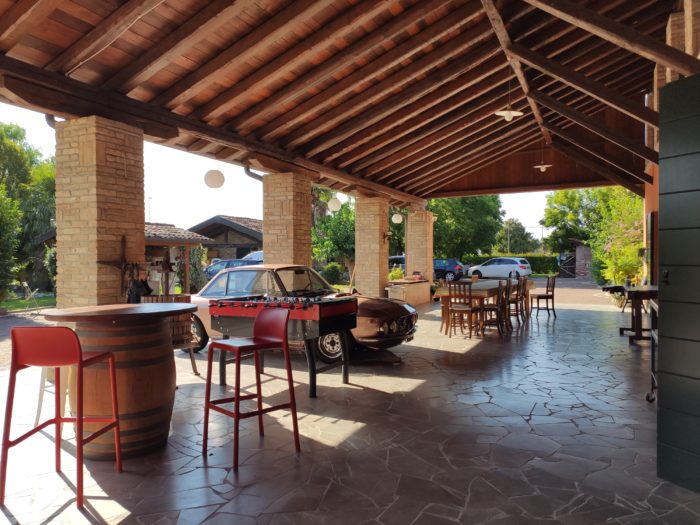 AROUND THE B&B
Just 10 minutes from here you can reach the beaches of Bibione and Brussa (Valle Vecchia), a beach with a retro, naturalistic. In fact it is a beach that is not equipped and allows access even to our pets, it is also possible to walk in the midst of nature, through nature trails.
In about 15 minutes you arrive in Lignano Sabbiadoro and in just 20 minutes you reach Caorle a splendid fishing town that looks like a small Venice, where you can see the ancient fishermen's houses, the "Casoni di Caorle".
From here it is easy to reach in a 'now also Venice by train, for a day trip, or always by train, you can reach Trieste. There are many sites of interest in the hinterland, you can easily and quickly reach Treviso, Concordia, but also Aquileia, Palmanova also known as the star city, Grado, which are located in Friuli, or decide to take a picnic between the vineyards of the Friulian Collio area.
CONCLUSION
Location: 

Breakfast: 

Price: 

Comfort: 

Facilities: 

Cleanliness: 
(Visited 125 times, 1 visits today)