Caorle is a coastal town in the Metropolitan City of Venice, Veneto. Situated on the Adriatic Sea between two other tourist towns, Eraclea and Bibione is a very beautiful town to visit in this area. Caorle was founded in the 1st century BC by Romans and became one of the nine important cities of the Republic of Venice. His colors remind me of a lot of Burano and Murano.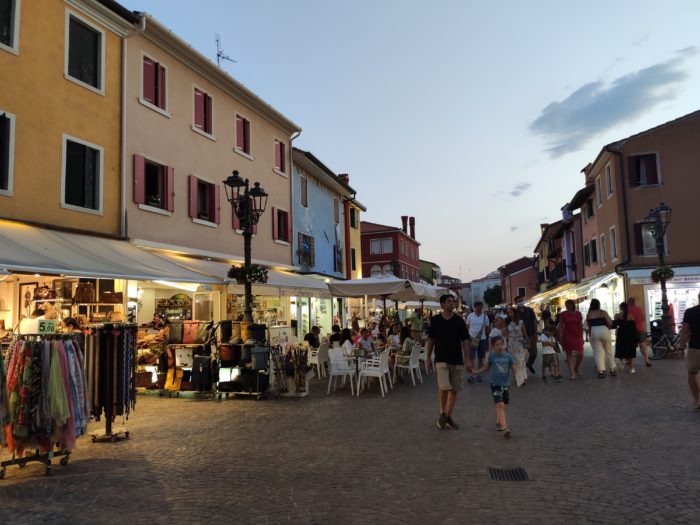 HOW TO GET TO CAORLE
By car is very easy, Caorle is so known in this area. From Venice are 80km (1h), from Bibione 40km and Liniano Sabbiadoro 45km. Arrived at Caorle now it's time for parking, free parking is here, it's about 10min by walk from the city center. If you want to leave the car closer to the center, is expensive and normally parking is very small, so take care of your car.
By public transport, take the train from Venice to Portogruaro-Caorle and the bus line 2 to Caorle (45min).
WHAT TO SEE
The old town center is still structured as a little Venetian corner, with its colored houses, its "calli" (alleys) and "campielli" (squares). During the summer many family-oriented activities take place on its long beach.
Take a walk and take a look at the "Scogliera Viva" (Living Reef). The main feature of Caorle is definitely the living cliff whose rocks that compose it are sculpted and decorated very carefully by artists from all over the world, great masters who meet in July to give life to their wonderful works. This "natural" art runs along the entire seafront, thus creating a wonderful effect standing out on the clear sea behind it.
The Cathedral of St. Stephen was built in 1038, an example of Romanesque and of the Byzantine-Ravennate style. Its façade is simple. Outside, the characteristic bell tower, dating to 1048, rises to a height of 48 meters. It is a typical example of the Romanesque style, but it has a cylindrical structure.
WHERE TO EAT AND SLEEP
Seafood is so typical in this area, without forgetting the Polenta (made by cornfloor), so restaurants aren't cheap. I suggest you to made a short research before taking a seat. I try the Nappa restaurant, was good, fresh seafood, and good pasta.
Sleep in Caorle can be very expensive, so I know a beautiful place in the middle of the countryside, Isola the Wight B&B. The place is amazing, good food, and outside pools and good people. Don't miss it!
(Visited 216 times, 1 visits today)