Warning: Trying to access array offset on value of type null in /customers/8/a/2/mytravelingcam.com/httpd.www/wp-content/plugins/contextual-related-posts/includes/content.php on line 49
Alsace is one of my favorite regions of France, and here you find a small town a few km from Colmar, Eguisheim. Hidden among the vineyards and little known than Strasbourg or Colmar, this small town attracts tourists for its charm. Colorful and very quiet it is perfect for a day. Check the Pass'Alsace tourist card to visit the best museums and attractions in the area.
HOW TO GET TO EGUISHEIM
The nearest airport is Basel or Strasbourg, both offer a direct bus to Colmar, if you want from Strasbourg you can take a train. Once in Colmar, I recommend you book your hotel here and visit Eguisheim during the day.
For bus timetables from Colmar to Eguisheim, you can ask the Tourist Office of Colmar, (in Place des Unterlinden) for departure times. The bus takes you right into a corner of the square a few km from the Tourist Office of Colmar. The bus takes an hour or so makes several stops, and leaves you Placa Charles de Gaulle, which is where you take for the return. You can buy the ticket on the bus (in cash), it is € 10 per person approx.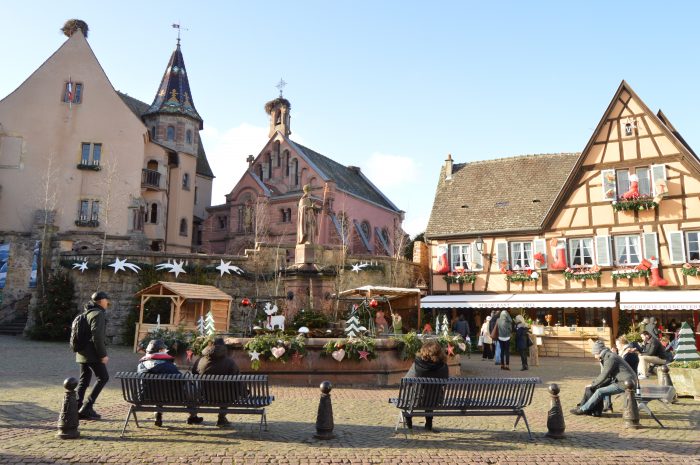 EGUISHEIM DAY TRIP
Eguisheim is very small but very pretty, seen from above is a circle inside another. Once there, take a tour of the center until you reach the Château de Saint-Léon-Pfalz. The most popular attraction is Le Pigeonnier a home where you will surely queue to take a picture.
For lunch, I recommend the KAS'FRATZ restaurant, just a few steps from the church. Here you can try various types of fondue/raclette, if you are a cheese lover it's perfect, we loved it.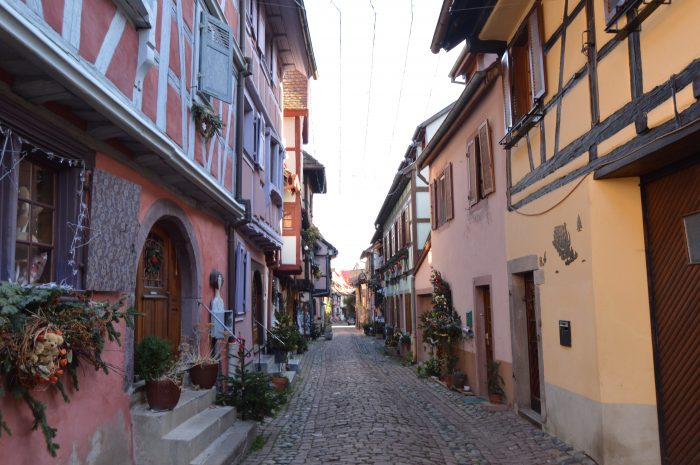 WINE TASTING
Another well-known activity in Alsace is the wine tasting, this area is full of wineries. Some remain closed during the Christmas period, but the Wines of Alsace Eguisheim House Léon Baur is open for tours and wine tastings.
Around Eguisheim it is full of wineries, but if you just want to buy Wolfberger has great prices and lots of choices. The types of wines that you can find here are:
Riesling = This is the king of German wines and, also, among the noble varieties of the Alsace region.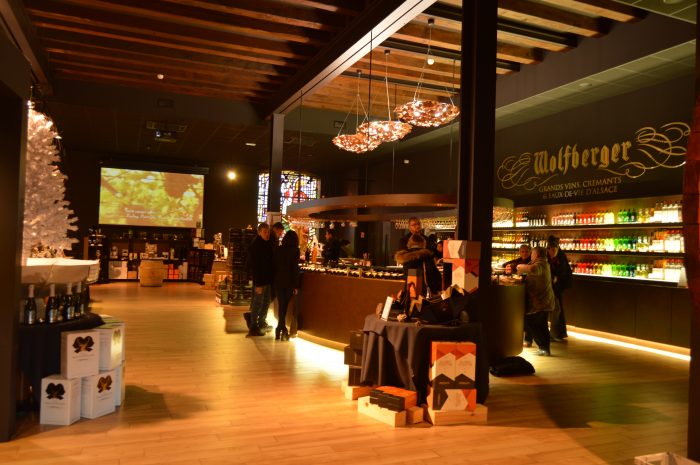 Pinot Gray (my favorite) = In the mouth, Pinot Gris wine has a balanced freshness, there is the Pinot Blanc too. It is a dry and soft white wine, with a medium body and fruity tones. 
Pinot Noir = Pinot Noir wine is the only grape variety in the Alsace region that is used to make red and rosé wines.
Muscat d'Alsace = Made with muscat grapes, so it is an extremely aromatic wine that is best enjoyed while younger.
And now discover Colmar in Christmas time.