Christmas time in Colmar undoubtedly remains one of the destinations where Christmas is not just a tradition, but a strong point in terms of tourism. Millions of tourists visit the city at this time just to enjoy the decorations and Christmas markets. Considered the best Christmas markets of France in 2017 is not just a legend, in my opinion, is the best. Check my Top 10 Christmas markets in Europe.
CHRISTMAS TIME IN COLMAR
The hours and days of the Christmas markets for 2019 are the following:
From 22nd November to 29th December 2019
From Monday to Thursday: 10:00am to 7:00pm
Friday and Saturday & Sunday: 10:00am to 8:00pm
Christmas eve: 10:00am to 5:00pm
Christmas: 2:00pm to 7:00pm
Even if they end on 29/12, the city, however, will remain decorated at least until mid-month. Among the 6 markets, you will find a gastronomic one with street food (including oysters and champagne), the one in Place de la Cathédrale.
If you have decided to spend New Year's Eve in Colmar, unfortunately, apart from some fireworks in the city you will not find so much. For these dates always remember to book restaurants for both lunch and dinner, they are always full.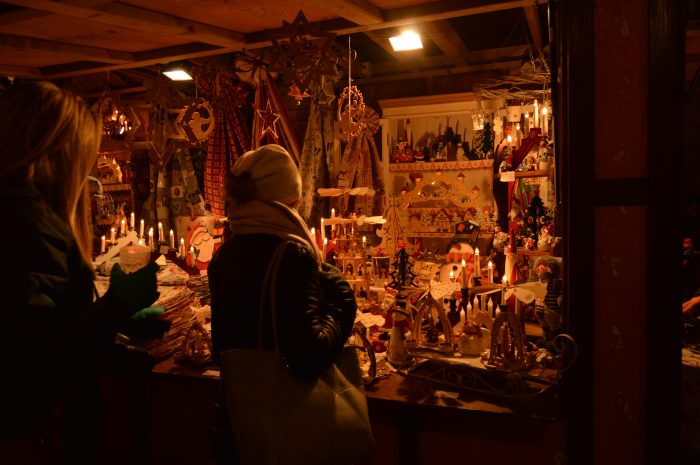 SIX CHRISTMAS MARKETS 
La Cathédrale (Gourmet market) = since 2018, the Christmas market of Colmar will propose a new village entirely dedicated to the feast of your taste buds. 9 cabins, 9 chefs, from the starter to dessert, oysters, Alsatian specialties. Marché Gourmand will be open every day from 10:00 to 22:00, and until 23:00 on Fridays and Saturdays. Open from November 23 to December 29, 2019.
Place des Dominicains = the elegant Eglise des Dominicains lights up at night with its spectacular 14th century stained glass windows, making this remarkable square even more stunning. 
Place de l'Ancienne Douane = in the heart of the old city, once night comes, the imposing old customs building or Koïfhus is adorned with lights illuminating a magnificent Renaissance stairway. 
Jeanne d'Arc = this Market recreates the atmosphere of a traditional Alsace village. Dedicated to local products, it offers a whole host of tasty treats like foie gras, cold meats, biscuits (bredalas), and many other temptations
Children's Christmas Market (The Petite Venise) = The original alignment of the half-timbered houses on either side of the River Lauch gave this emblematic area of Colmar its name, la Petite Venise, which is transformed into a real kids' paradise at Christmas. 
Indoor Craft Market (The Koïfhus) = This impressive medieval building, here, you'll be able to admire the creations of about twenty local craftsmen and women. Ceramicists, potters, master glass-makers, wood sculptors, hat-makers and jewelry makers. 
HOW TO GET TO COLMAR 
Celebrating Christmas time in Colmar is very easy, thanks to the Railway network that passes from the city connects it with a lot of cities France, Germany, and Switzerland.
PARIS -> COLMAR = price 58€ one way, duration 2h20
BASEL -> COLMAR = price 16€ one way, duration 44min
STRASBOURG  -> COLMAR = price 14€ one way, duration 30min 
LUXEMBOURG -> COLMAR = price 53€ one way, duration 2h
Very easy to reach departing from other European cities, for example, 58€ one-way ticket by train from Paris. In the station, you will find the Lockers to leave your suitcase in case you are in transit. The cost per day starting from 4 to 10 € approx depending on the size of your luggage. To move there will not need to use public transport, the historic center is small and all the attractions are located next to each other. Check the Pass'Alsace tourist card to visit the best museums and attractions in the area.
More Christmas destinations: Copenhagen, Montpellier, Oslo, Luxembourg, Milan, Bruges, Ghent, Aosta, Strasbourg.