Warning: Trying to access array offset on value of type null in /customers/8/a/2/mytravelingcam.com/httpd.www/wp-content/plugins/contextual-related-posts/includes/content.php on line 49
Whether it's summer or winter 3 Days in Colmar are always a good option. The Alsace region of France offers the best in this small country on the border with Germany and Switzerland. Famous for its pastel colors that turn into the city of Santa Claus at Christmas. If you have chosen to visit it under Christmas, you will be amazed by its decorations. Check the Pass'Alsace tourist card to visit the best museums and attractions in the area.
Do you want to discover other Christmas destinations? Here we go.
HOW TO GET TO COLMAR
Very easy to reach from other European cities, for example, € 58 one-way ticket by train from Paris. In the station, you will find the Lockers to leave your suitcase in case you are in transit. The cost per day starting from 4 to 10 € approx. The historic center is small and all the attractions are located next to each other.
I started from Milan, I changed trains in Basel where I was all afternoon and then in the evening we left for Colmar. I love traveling by train and I must say that the view is worth seeing. The nearest airport is Basel, there is a good connection by train or bus (Flixbus is the cheapest). Renting a car is not necessary i suggest you visit the area by train is very nice, but if you want to rent is better doing it in the train station.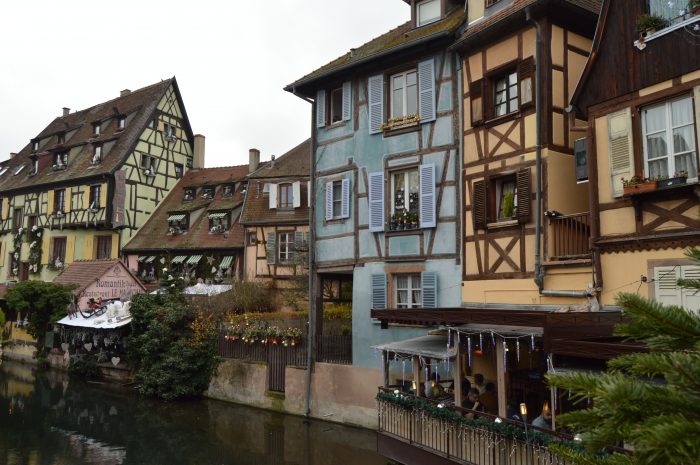 WHERE TO SLEEP AND EAT
To sleep in Colmar we have chosen an apartment in the center. We had a great time, we paid € 350 approx for 4 nights, the kitchen and bathroom very comfortable. The kitchen was comfortable, allowing us to have breakfast and some dinner at home since Colmar is not so cheap.
For the rest of the dinners and lunches, we tried some restaurant in Colmar, in particular, the JYs. 2 * Michelin restaurant that made us fall in love, delicious and with menus starting from € 86 with 8 courses. During Christmas instead, you can always eat street food at the Christmas markets in the Cathedral square. A gastronomic market where you can find oysters and typical products of the area.
AROUND COLMAR
Our trip was 5 days and we chose to sleep every night in Colmar and move with transport. Some examples of cities that you can visit during the day:
Basel to Colmar 10 € by bus / 16 € by train
Strasbourg to Colmar € 8 by bus / € 14 by train
Zurich to Colmar 7 € by bus
If you want to visit the small town of Eguisheim there are buses that take you every hour. You can ask the Tourist Office of Colmar, (in Place des Unterlinden) they will indicate you the departure times. The bus takes you right into a corner of the square. Eguisheim can be visited in a few hours, and if you have time, wine tasting can be a good option to fill the day. Check Alsace Villages Tour for a complete tour.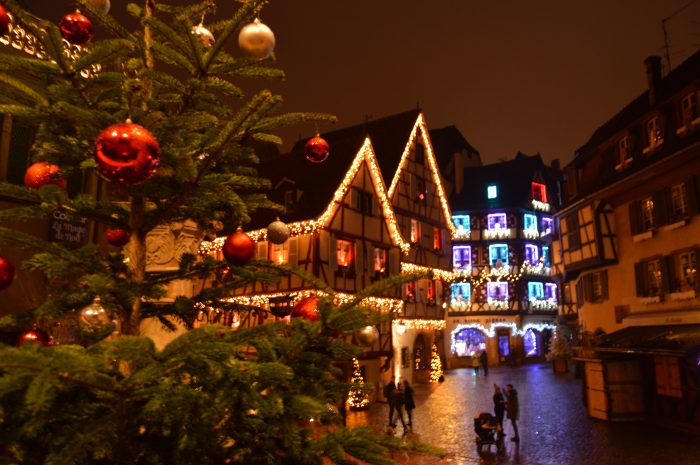 CHRISTMAS IN COLMAR
Christmas time in Colmar undoubtedly it remained one of the destinations where Christmas is not tradition, but a strong point in terms of tourism. Millions of tourists visiting the city at this time Considered the best Christmas markets of France in 2017 is not just a legend, in my opinion, is the best. Check the Christmas markets schedule time here!
If you have decided to spend New Year's Eve in Colmar, unfortunately, apart from some fireworks in the city you will not find so much. They are always full.