In the Region of Valencia, you will find those beaches and coves you have always dreamed of, and here are the top sandy beaches Costa Blanca. From extensive sandy areas to hidden coves, through a wide variety of accessible and natural beaches with an extremely wide tourist offer. Crystal clear waters and infinite sandy areas turn a simple bath into an experience full of sensations.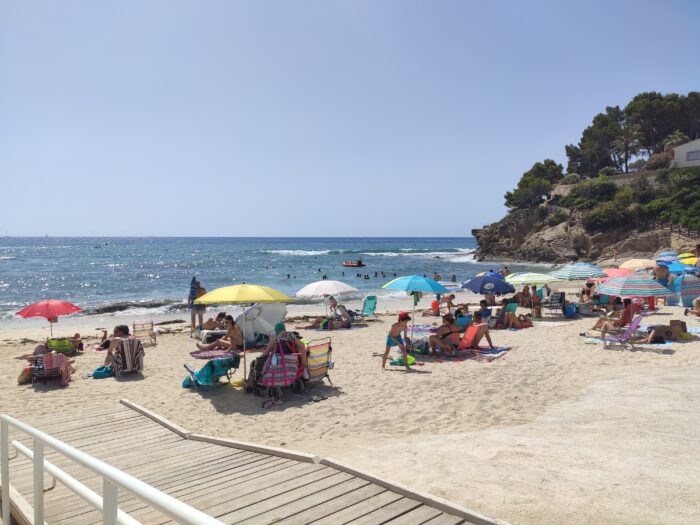 With more than 500 kilometers of coastline, the Region of Valencia has a large number of beaches awarded with the European blue flag. It makes of it the first autonomous region in a number of beaches with a blue flag per square kilometer in Spain.
The variety and quality of the beaches make of the coastline in the Region of Valencia a relevant place in the Mediterranean area. Its beaches and coves are world-widely recognized for their natural beauty, good services and the possibility to enjoy them at any time of the year, thanks to a sunny climate almost all year round.
TOP SANDY BEACHES COSTA BLANCA
Villajoyosa beach: a large sandy beach, more than 1300 metres to enjoy unforgettable walks along the Mediterranean shores. Located in the very town centre, it is perfect for the whole family.
Fossa beach (Calpe)
Bol Nou: This beach of fine pebbles and sand is located two kilometres far from the city centre direction Alicante. With an extension of just over 200 metres, it is flanked by cliffs that isolate it from the urban environment and make it a beach or cove with a lot of charm.
Levante beach (Benidorm) sandy and extended beach, on summery very crowly. Benidorm may be known as the seaside destination that never sleeps, but it's also an ode to the Mediterranean. The peaceful coves and beaches that line the coastline breathe a sense of total tranquillity. Read on to discover the contradictions that define this popular holiday town. Benidorm is, perhaps, best known for its beaches. Levante and Poniente are the most popular, but there are plenty more to be discovered.
L'Ampolla beach (Moraira)
Jávea will awaken your senses and feed your soul. Wander the narrow streets of the historic centre and be whisked back to the Medieval period, hop from terrace to terrace to try the best products in the Mediterranean and stroll to the most breathtaking vistas over the Costa Blanca.
La Fossa (Calpe)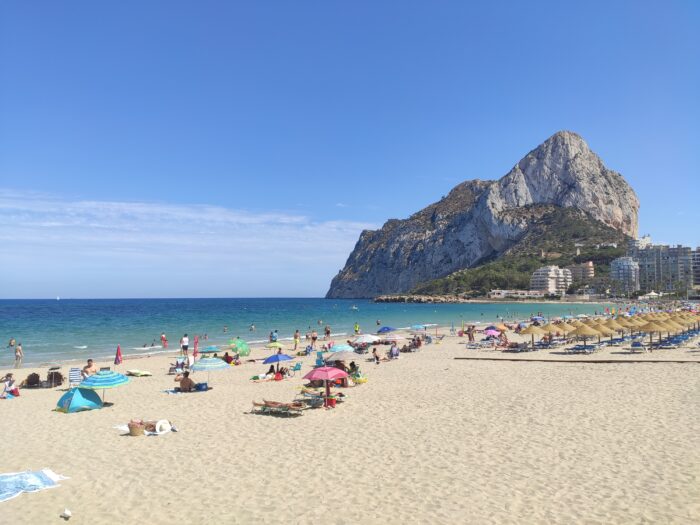 Barraca cove (also known as Portitxol cove) has risen to fame for being the location of the much-photographed pretty blue door. Defined by rugged cliffs and crystalline waters, this is an idyllic spot to dip into the sea, swing from side to side on hammocks and enjoy kisses at sunset.
Granadella or La Caleta, El Tangó or Ambolo beach, El Arenal beach and El Ministro cove are just some of the stunning coves on the Jávea coastline. A Mediterranean oasis where you will be entirely in the moment, forgetting all else. Where the sky turns into vibrant technicolor as the sun starts to set. Where you will get goosebumps from the emotion. And where your tanned skin will be coated in saltwater. Falling in love with Jávea is an experience like no other. So come explore and discover that love at first sight really does exist.
MAP OF COSTA BLANCA
(Visited 55 times, 1 visits today)