Today we go to Girona, the second most visited and populated city of Catalonia. Famous for the Jewish quarter, the Rambla and Gothic style architecture so close to Barcelona but so different. In 2016, the city received the European award to those municipalities that have made significant efforts to promote the idea of European unity. It was the second Spanish city to get the prize, after Santiago de Compostela.
TIPS TIME!! If you see many flies or just notice the magnets, you should know that the fly is the animal that protects the city. 🙂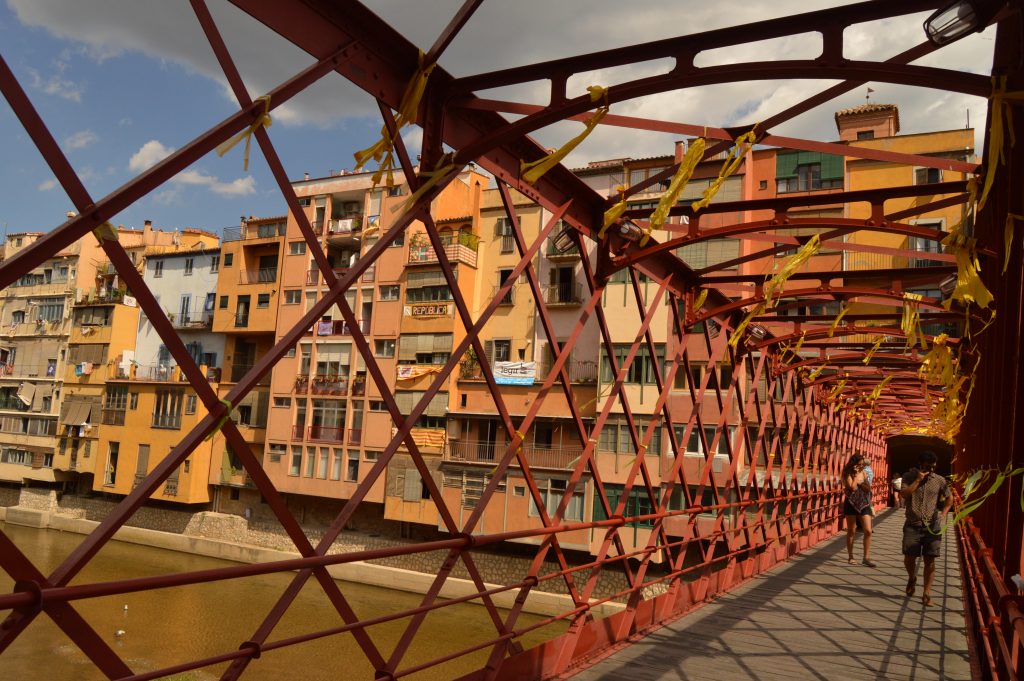 HOW TO GET TO GIRONA
Getting to Girona is very simple and by any means of transport, the Girona-Costa Brava (GRO) airport used only by Ryanair, connects various European cities at very low prices. A great option if you have decided to visit the Costa Brava (north of Barcelona).
Girona city center – Airport = bus to the bus station. Prices and tickets.
Barcelona – Airport = bus to the north station (bus station). Prices and tickets
Costa Brava – Airport = depending on where you chose to go es. Blanes, Tossa de Mar, Cadaques you can consult the company Segales or Moventis. Here for a tour to Cadaques and Cap de Creus.
France – Airport= Girona airport connects with various French cities like Perpiñañ and Montpellier. Prices and tickets.
Another option is the train, just 40min from Barcelona with AVE (high speed) prices and tickets on Renfe.com. While if you choose a regional train or Md, the ticket costs less but instead of 40min is 1h20. You can also reach Girona by bus, 1h30 from Barcelona / El Prat Airport, but I recommend you take the train is more convenient.
WHAT TO SEE IN GIRONA
It's easy to visit Girona in one day, but there are a couple of places you can not miss, such as the Jewish quarter, the Cathedral, or doing the typical walk around the river. For Games of Thrones fans the tour here, Girona is a must-see stop, many of which have been filmed in this city, I recommend watching this video:
I recommend this tour, starting from Plaza de Catalunya and Rambla de la Libertad, passing by the Pont de les Peixateries Velles, Paseo Canalejas, Calle de la Barca. Arriving at the Cathedral,  you can visit the Banys Àrabs (I recommend the visit it just 2€), and then Calle de la Força, Plaza dels Mercaders, Puente del Alférez Huarte and finish with the Santa Caterina hospital.
If you only have one day I recommend you stay in the city center but if you have more days, there are many places to visit in the area, and if you are a nature lover/trekking even better.
FESTIVALS AND EVENTS
Girona is well known for its flower festival, which takes place in mid-May. I advise you not to go at the weekend, during the week is better, and if you can the first week. The amount of tourists every year grows more and more and makes it a very stressful tour.
From 5/07 to 30/08 (every Thursday in July and August) they celebrate the "Jazz a la Fresca", a cycle of free jazz concerts. If you know more about events I suggest you read here!
WHERE TO EAT
Catalonia is the Spanish region with the most Michelin stars restaurants, followed by the Basque Country and Madrid. There are 54 restaurants with at least one Michelin star, including the Can Roca (3* Michelin) located in Girona. The Can Roca has been awarded for several years as the best restaurant in the world. A menu cost 250/300 € and it is almost impossible to book, less the last day of the month when they open the reservation book.
Michelin aside, Catalan cuisine is one of my favorites in Spain, in this area  (and with affordable prices) I can recommend Curcuma restaurant, Kaseus Gastrobar, Probocador, L'Alqueria, and the Brots de Vi.
Are you planning a trip to Costa Brava? Blanes, Tossa de Mar, Cadaques Read it! Or maybe a Medieval trip.
(Visited 119 times, 1 visits today)