Warning: Trying to access array offset on value of type null in /customers/8/a/2/mytravelingcam.com/httpd.www/wp-content/plugins/contextual-related-posts/includes/content.php on line 49
Warm, romantic, youthful and with its style "La vie en rouge" Montpellier is a very underrated city. 2 days in Montpellier and it will be love at first sight, as it was for me, turn around, get lost or just stop in a square to get a coffee I assure you that it will be worth it. In the south of France and just 3h from Spain, what are you waiting for?
HOW TO GET THERE:
It depends on where you're going to get to Montpellier, it's cheaper. If you come from France a simple train/bus is very easy. If you came from Paris maybe the better way is by plane (70€ approx with Air France), buses and trains used to be very expensive.
There is an airport in Montpellier (MLP), but just only french local companies and Air France flights to this airport.
Departing from Barcelona, I choose the high-speed train. Direct ticket starting from €40 one way, if taken with time can cost much less, the bus option was cheaper, on 20 € but longer and obviously more inconvenient.
Starting from other points in Europe, unfortunately, the idea is to take a plane to Marseilles and then rent a car or take local trains. If you are visiting Carcassonne you can reach Montpellier by train for 16€.
HOW TO MOVE TO MONTPELLIER:
Walking around the city is easy and is the best way to get to know it, in every corner you will find a square, a street, or a mural that will fall in love with you. For lovers of public transport, there are buses and trams that cover the entire center. 😉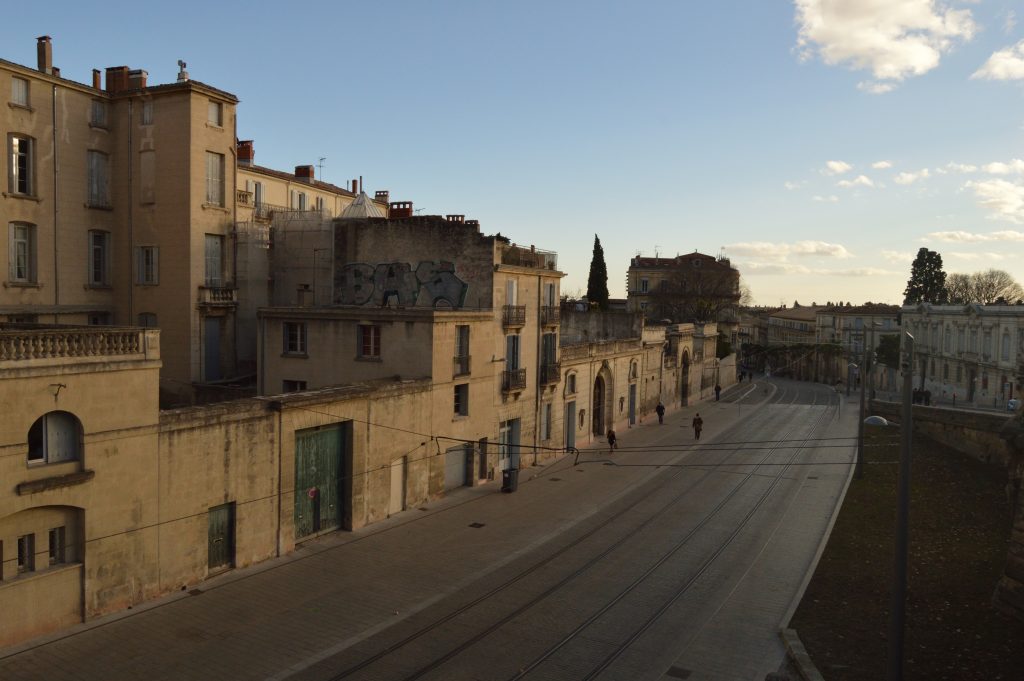 WHERE TO SLEEP:
I would recommend sleeping in the city center or as close as possible to the train station. I recommend my B&B because I found it very very well. Clean, intimate (although with a shared bathroom), excellent breakfast, and very close to the center.
WHAT TO SEE 2 DAYS IN MONTPELLIER:
Walking around the city is really beautiful, stops in some bars to take a glass of wine is the best. Montpellier is full of life and a city famous for street art. Book your Free walking tour here! I hope you may enjoy my top ten list:
Cathedral of Montpellier
The Panacée
Royal Place of Peyrou
Eglise Saint-Roch
Observatory the Babote
Porte du Peyrou
Saint-Clément Aqueduct
Salle Saint Ravy
Carré Sainte Anne
Esplanade Charles-de-Gaulle
TIPS TIME !! For mural lovers and suggest passing through the Place François Jaumes and the Maison Justin Boch.
Book here
the
Graffiti tour
!
MONTPELLIER CHRISTMAS EDITION:
WHERE TO EAT:
Unfortunately, having only been there for two days, I can only recommend these places:
Cafe de la Mairie  ****
Le Labo de la gaufre *** Not cheap
Bistro D'oc **** Not cheap but really good
Did you know what can be your next french destination? Carcassonne. 🙂