Spanish cuisine is known all over the world, each region uses different flavors and ingredients. This post is dedicated to the Spanish capital, you will find out where locals eat in Madrid, where they go dancing and which terrace choose to enjoy this wonderful city.
First of all, in Madrid, we eat and drink many things and always good, but some of their specialties are: Cocido, Patatas Bravas, Bocata de Calamares, Jamón and Lomo ibérico, Huevos rotos, Churros with chocolate, Tinto de verano and Mahou beer.
Yatai Market:

WHERE TO EAT IN MADRID
LUNCH & DINNER:
80 GRADOS: (Calle Manuela Malasaña). Revisited Spanish tapas. Huevos rotos is a must, and to drink the "Tinto de verano".
PEZ TORTILLA: (Calle del Pez). Tortilla and croquettes.
MINGO HOUSE: (Paseo de la Florida). Asturian place (north of Spain) where you can eat the best roast chicken in Madrid. Drink the cider!
LA IDEAL: (Calle Botoneras 4). Bocadillo de calamares (The calamari sandwich is one of the most typical things in Madrid)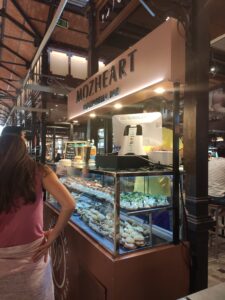 LA BARRACA: (Calle de la Reina). Paella and various very good rice.
THE QCHARA DE PACHI: (Calle Capitán Haya). Basque country cuisine, delicious food.
LA BOLA: (Calle de la Bola). One of the best Cocido in Madrid.
LA GALLETA: (Corredera Alta de San Pablo). A very good and nice modern restaurant.
TAPAS BAR: ¡Madrid beer is the Mahou!
CASA LABRA: Bar of 1674. Bacalao sandwich is the best.
THE COW: We like the one in Malasaña. Croquetas and "pan tumaca" TOP.
LAS BRAVAS: Obviously, you have to ask for the typical "patatas bravas" of Madrid.
LA TABERNA DE LA DANIELA: You have to ask for the "Croquetas de cocido" delicious.
JUANA LA LOCA: La Latina area. Pincho de tortilla with onion caramelized.
LA PEREJILA: Zona La Latina. A spangle-flavored place, the famous "Pan tumaca" (bread with natural tomatoes) and the "Rebanada de lomo de orza" is the top.
LOS GATOS: Barrio de Las Letras. Very good Pinchos in an original place.
CINCO JOTAS: There are several scattered around the Center to eat a quality jamón ibérico.
BREAKFAST & CHURROS:
CHOCOLATERÍA DE SAN GINÉS: Churros with chocolate from San Ginés (since 1894) are a must.
LOLITA VINTAGE: (Malasaña). Very cozy and cute bar in '70s style, to go on cold and dark days.
TERRACES:
DEAR HOTEL: (Gran Vía corner Plaza de España). 360 ° view, open all year (check schedules).
ROOM MATE ÓSCAR: (Chueca area). Trendy terrace with swimming pool (to check opening period and times).
THE PRINCIPAL: (Gran Vía corner Alcalá). Open from April to October approx. Spectacular terrace!
CÍRCULO DE BELLAS ARTES: (Calle Alcalá). One of the most typical photos of Madrid. Admission costs €3.
TERRAZA EL JARDÍN SECRETO: (Calle Montera). Entrance from the Salvador Bachiller's shop.
SOFT DRINKS:
In these areas there are a lot of small and very nice little places where you drink at cheap prices:
Cultural district = BARRIO DE HUERTAS
Young district = BARRIO DE LA LATINA
Gay district = BARRIO DE CHUECA
Hipster district = BARRIO MALASAÑA
(We recommend the OJALÁ: Bar with a basement where the floor is covered with sand)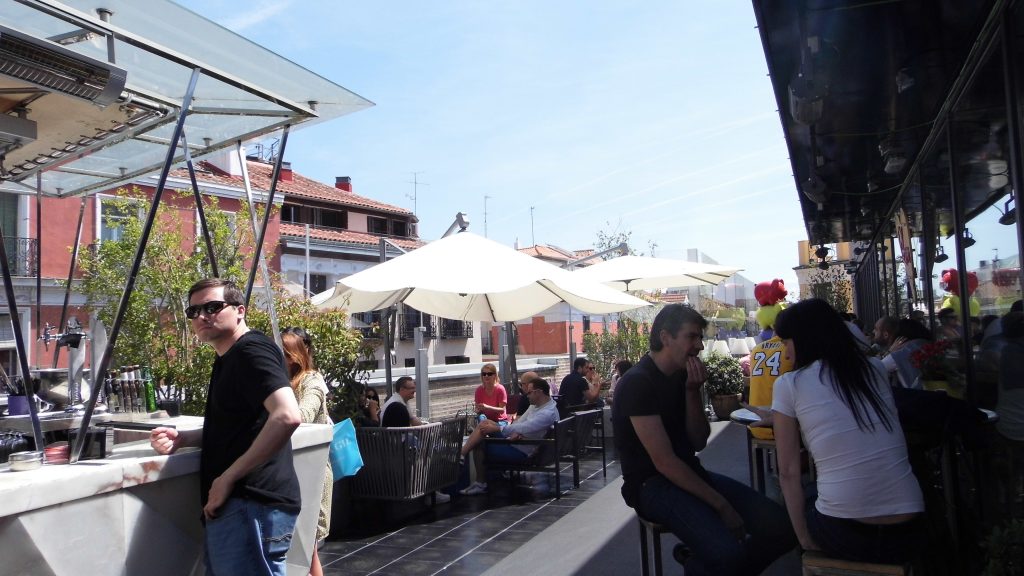 MARKETS:
SAN MIGUEL MARKET: (Calle Mayor).
SAN ANTÓN MARKET: (Barrio de Chueca). My favorite!
SAN ILDEFONSO MARKET: (Calle Fuencarral).
PLATEA MARKET: (Plaza de Colón).
The former theater was converted into a market in which on weekends they make shows with dancers.
FLAMENCO SHOWS:
CORRAL DE LA MORERIA: (Calle de la Moreria, Zona Palacio Real). The best-known tablao de flamenco in Madrid!
LAS TABLAS (Plaza de España). Undoubtedly cheaper but equally very nice.
(Visited 46 times, 1 visits today)