Warning: Trying to access array offset on value of type null in /customers/8/a/2/mytravelingcam.com/httpd.www/wp-content/plugins/contextual-related-posts/includes/content.php on line 49
The mecca of all Harry Potter fans, if you are in London you must visit the Warner Bros Studio Tour London. Opened to the public in 2012, Warner Bros. Studio, Leavesden was home to the filming of all of the Harry Potter films. Just one hour from central London from Victoria station, I have to admit that was one of the best days of my life, it's an amazing park.
GENERAL INFORMATION
Warner Bros Studio Tour London has located 35km from Central London, (Victoria Station). To reach it you can choose two options:
Private transport: you can choose one of the many companies that organize tours to the studios. All buses normally leave Victoria Station, here the ticket with bus included more or less the prices are € 110, without bus the admission is 47€, book here.
Departures start from 8.15, until 15/16 in the afternoon, my advice is to take it at 8.15 to avoid better queues and photos.
Public transport: in this case, you will need to take a train from Euston Station to Watford station. Shuttle buses operated by Mullany's Coaches run regularly from Watford Junction to the studio. The average journey time is around 15 minutes. There should be a bus available every 20 minutes from 9:20 AM onwards. The last return bus will be scheduled when the studio tour closes. The last bus is generally scheduled between 6:00 PM and 8:00 PM.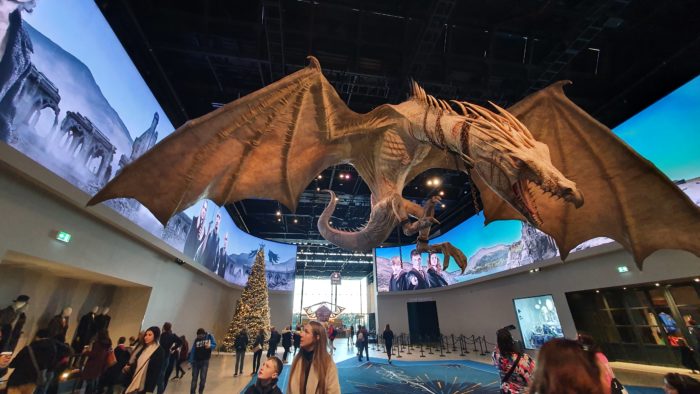 WARNER BROS STUDIO TOUR
The tour lasts about 3 hours, it depends a lot on the turnout, as I said if you go early you will be able to take better photos. Apart from the items that you will find during the tour, there are many rooms that will leave you speechless.
You can take photos and videos of anything, there is no maximum time for each room. I recommend taking the audio guide if your English is not perfect, there are various videos during the tour.
During the visit, there are various spaces for photos (for a fee) such as that of the broom or the train, price per photo € 16. You will also find 2 shops and one giant in the end, I warn you that not everyone sells the same things. Items you can find: magic wands of any character, talking hat, clothes from every home.
As for the dining areas, there are 2 apart from the restaurant bar that you find before starting the tour. Don't forget to try the famous Butterbeer.
HARRY POTTER AND LONDON
If you don't have time to visit Warner Bros Studio Tour London, you can still see key places in the history of Harry Potter. Do you want to book a Harry Potter Tour of London?
King Cross Station: one of the most visited points also for the presence of the 9 3/4 track (also present in the Warner Bros Studio Tour). Get ready because the queues are endless to take a picture, go early in the morning.
Picadilly circus: a very famous scene was shot in this square. This is where Harry, Ron, and Hermione roam the streets of central London in Deathly Hallows – Part 1 when they run away from Ron's older brother's wedding after learning that the Death Eaters are on their heels.
Leadenhall Market: a covered Victorian market in the City of London. It houses a selection of stalls, shops, and restaurants and appears in several of Potter's films. The Diagon Alley was filmed in The Philosopher's Stone.
Westminster metro station: This subway station was one of the main scenarios used by Harry when he was traveling in The Order of the Phoenix. Accompanied by Arthur Weasley, he uses the subway to attend the disciplinary hearing of the Ministry of Magic.
MAP OF THE CITY
Now check my London list: