Salamanca is a tourist experience in a city that is the sum of many things: entering a heritage that excites and puts us at our best, strolling, seeing people, shopping, eating, staying. But above all, to be impregnated with a special atmosphere: that of a city that, as if it were a perfume specially designed for it and for us, accompanies us.
SALAMANCA IN 1 DAY
One day is undoubtedly not enough time for a city like Salamanca, but the important thing is to have the spirit to enjoy and to be surprised. We are convinced that you will come back and with that idea in mind we work and elaborate this "road map".
The Plaza Mayor and the cathedral complex; don't forget to climb the medieval towers of the cathedral through the Ieronimus exhibition, you can stroll along the exterior terraces and the balustrades overlooking the interior of the temple, among gargoyles, pinnacles and bells. The Historic Building of the University, on whose facade you should find the figure of the frog; inside, spaces such as the classroom of Fray Luis, where time seems to have stopped, or the ancient Library. In 2018 the University celebrates its VIII Centenary, a great opportunity to visit the city as numerous activities are held throughout the year.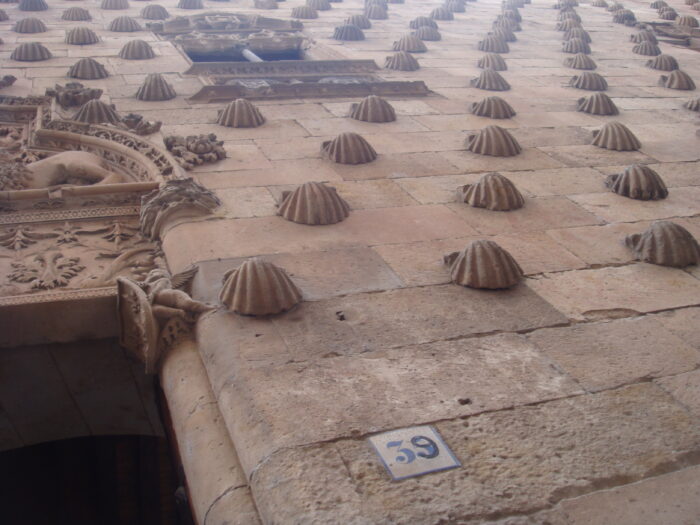 Without rushing you should also visit the Casa de las Conchas, famous for its facade decorated with hundreds of shells and with a beautiful cloister; and the Clerecía and Pontifical University, located just across the street. The towers of La Clerecía are another impressive view of the city through the visit to Scala Coeli.
In the afternoon we can take a walk along the Roman Bridge and enter the Orchard of Calixto and Melibea. The Casa Lis, a modernist mansion with stained glass windows, is one of the treasures of the city. It houses the Art Nouveau Art Deco Museum. Then we can visit the Convent of San Esteban, its cloisters and its viewpoint. You can also visit the Convent of Las Dueñas, we recommend you to taste the sweets made by the nuns and savor them quietly in the cloister, while contemplating the views of the cathedral.
WHERE TO EAT
Excellent restaurants with a quality offer await us. Traditional and creative cuisine with local products, including Guijuelo ham, beef or morucha, lentils from Armuña, chanfaina, roasts… with cheeses, oils and wines from Salamanca. You can eat in a restaurant overlooking the city (the Parador de Turismo) or the Plaza Mayor, also in a contemporary art center or in a typical Castilian inn.
(Visited 21 times, 1 visits today)