Murano is a series of islands linked by bridges in the Venetian Lagoon, northern Italy. It lies about 1.5 kilometers (0.9 miles) north of Venice and obviously if you say Murano I say Glass. Check here the Burano and Murano tour for 20€.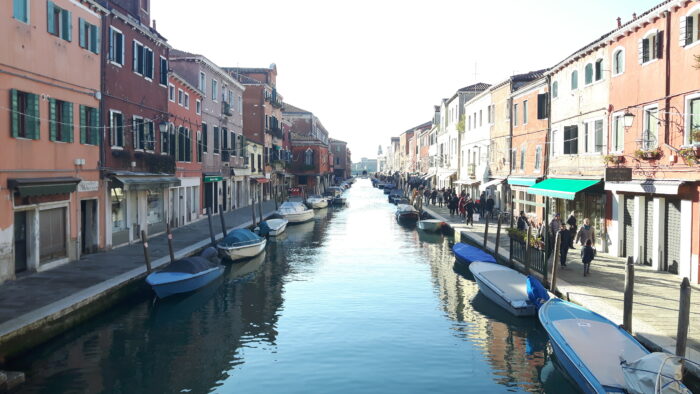 SOME HISTORY
Murano's reputation as a center for glassmaking was born when the Venetian Republic, fearing fire and the destruction of the city's mostly wooden buildings, ordered glassmakers to move their furnaces in 1291. Murano glass is still associated with Venetian glass.
In 1291, all the glassmakers in Venice were required to move to Murano. In the following century, exports began, and the island became famous, initially for glass beads and mirrors. Aventurine glass was invented on the island, and for a while, Murano was the main producer of glass in Europe. The island later became known for chandeliers. Although decline set in during the eighteenth century, glassmaking is still the island's main industry.
HOT TO GET TO THE ISLAND
Although the island is only 4km from Venice, getting there can be really slow. The only means of transport are the Venetian vaporetto (local ferry):
Departure from Venice St. Lucia is direct ferry with line 3 and. If you want to leave from Venice you have to take the line 12 (same line of Murano) from Venezia F.te Nove "A", departure every 30min, duration 40. Departure from Murano Faro the ferry line 12 leaves every 20min from 5 am to 10 pm, duration 40min, fares, and timetable.
WHAT TO DO
Murano is composed of seven islands in the Venetian Lagoon, linked by bridges over eight channels. Attractions on the island include:
The Church of Santa Maria e San Donato (known for its twelfth-century Byzantine mosaic pavement and said to house the bones of the dragon slain by Saint Donatus in the 4th century)
The church of San Pietro Martire with the chapel of the Ballarin family was built in 1506 and artworks by Giovanni Bellini.
Palazzo da Mula.
Glass-related attractions include the many glassworks, some Mediaeval and most open to the public, and the Glass Museum, housed in the large Palazzo Giustinian.
I suggest you visit from Murano, the island of Burano.
The island of Burano is famous for its colors but there is not much more to discover. Read my last post "5 days in Veneto" to discover more about this region.