Montalcino and San Quirico are part of Val d'Orcia one of the most beautiful regions of Tuscany. The Orcia region, located south of Siena (about half an hour away) combines in a small territory a great variety of attractions that have made the area to be included in the UNESCO World Heritage of Humanity.
MONTALCINO
Montalcino, the homeland of Brunello, one of the most famous red wines in Italy, is located in the heart of Tuscany, between Siena and Grosseto. Originally an Etruscan town, it was free until Siena included it in its orbit in 1260, building its castle.
As usual in Tuscany, Montalcino grew on a hill, fortifying the town with its walls. Its medieval appearance and layout has in the Fortezza (also known as the Rocca) its greatest exponent. This bastion was the last stronghold of the Republic of Siena, whose city fell in 1555, causing a flight to Montalcino of 650 families who resisted until 1559. Today it is the site of various gastronomic events in the region.
In the center of the village, the Palazzo dei Priori (13th-14th century) presides over the main square, Piazza del Popolo, with its elegant tower supported by the narrow building. Next to it is il Cappellone, the 14th century Gothic arcaded loggia. If we continue along Via Costa del Municipio we reach Piazza Garibaldi, where the Romanesque-based church of San Egidio is located, but converted in Gothic style. Check about Montalcino wine and the others… 
Quick tips about where to eat: Locanda Demetra (try their wine is amazing) and Enoteca della piazza, is where you can taste a good Brunello and make an aperitivo Toscano. Just remember, Brunello is an expensive wine, good bottles start from 45€.
On your way between Montalcino and San Quirico, you will find the Cypress of D'orcia, is on the motorway, pay attention and be safe!
SAN QUIRICO
In the heart of Val d'Orcia, nestled in hills of incomparable sinuosity, lies an ancient village of probable Etruscan origin, immersed in a landscape of olive groves, vineyards and oak groves. In this territory famous for the harmony of its splendid countryside, San Quirico d'Orcia, with its medieval parishes, is one of those places to absolutely visit once you have arrived in this enchanted setting.
BAGNI VIGNONI
The thermal baths of Bagni Vignoni were used by the civilizations of yore that inhabited the area. The Etruscans used these healing waters, as did the Romans after them. A large rectangular bath is an enchanting frame for this small town: here the thermal waters have flowed for centuries, and the bath faces ancient buildings like the portico of Santa Caterina and the church of San Giovanni Battista.
On the same street, you will find the Poggio Covili house, where you can take the Gladiator picture, don't miss it!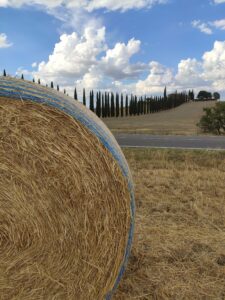 (Visited 67 times, 1 visits today)