This is my 10 days Tuscany itinerary, as you know this is one of the most visited Italian regions at any time of the year. Discover traditions and landscapes in Tuscany that enchant the world: from the sea to the mountains, from the countryside to the cities of art, and of course Gastronomy (which I mention in the Tuscany food guide).
10 days Tuscany itinerary
Pisa
Florencia
Chianti area
San Gimignano
Siena
Val d'Orcia
Saturnia
Castiglione della pescaia
DAY 1 PISA
Unesco Heritage, every year millions and millions of tourists compete to take a picture of the most famous tower in the world. Today we go to Pisa, the second tourist city after Florence. A small city but with a lot of historical/monumental potential. Book Pisa Walking Tour here!
DAY 2-3 FLORENCE
In the middle of Italy, we found one of the most visited city in Europe. Each year almost 15.000 of visitors came to the Tuscany capital to admire this beautiful city. I personally love Florence for its gastronomy and cultural heritage. Hometown of Dante Alighieri, Brunelleschi, Leonardo da Vinci, Galileo Galilei, and many others, which make this city the heart of discoveries and arts. Book here the Free walking tour of Florence.
DAY 4 CHIANTI
Il Chianti, is one of the most famous areas for wine in Tuscany. Characterized by a spectacular landscape, with its rolling green hills with miles of vineyards and olive groves, it is famous for its wines, known and appreciated all over the world.
Charming small Tuscan villages, with narrow winding streets, some with medieval walls, also castles and fortresses decorate the whole area. All these are the things to see and do on a trip to the Chianti Valley, we explain our route. Check more about Tuscan wine…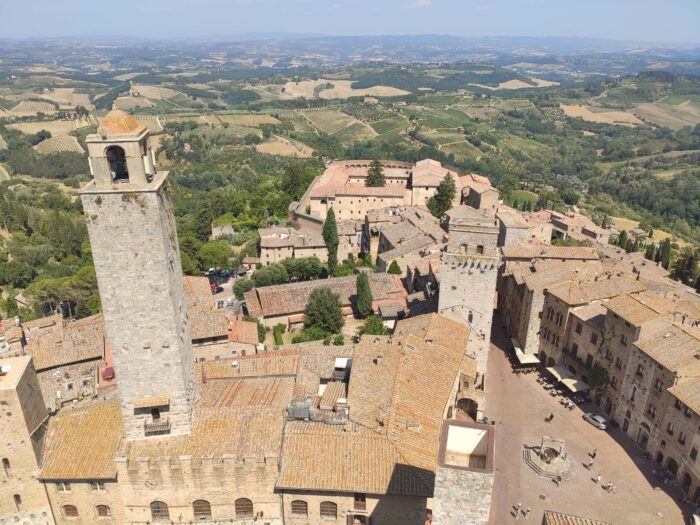 DAY 5 SAN GIMIGNANO
San Gimignano, a town located in the hills of Tuscany, just 60 kilometers from Florence, is primarily known for the 14 medieval towers that are preserved, which were built along with 58 others in a kind of "competition" in which the most influential families tried to demonstrate their power and wealth.
DAY 6 SIENA
The city of Siena, a UNESCO World Heritage Site, is one of the must-see destinations in Italy: a city with medieval history, beautiful architecture, and lively culture. It was my favorite place in Tuscany (yes, even more than San Gimignano). Read more…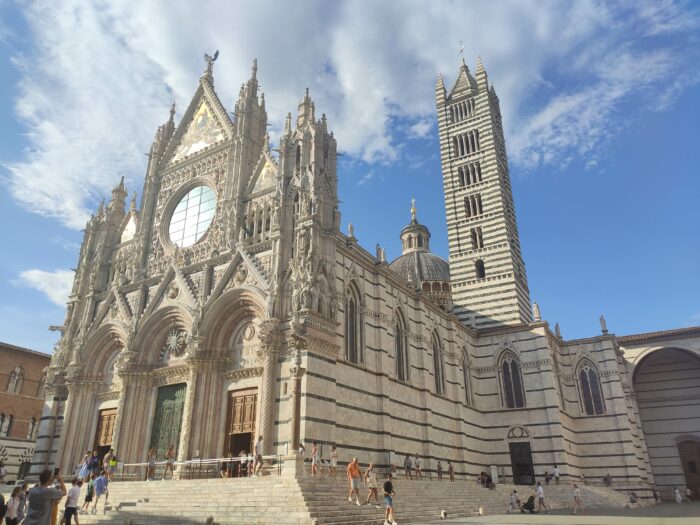 DAY 7-8 VAL D'ORCIA
The Orcia Valley or Val d'Orcia is one of the most beautiful regions of Tuscany. The Orcia region, located south of Siena (about half an hour away) combines in a small territory a great variety of attractions that have made the area to be included in the UNESCO World Heritage of Humanity.
DAY 9 SATURNIA
Terme di Saturnia is one of the best-known thermal baths in Tuscany. It is located in the southernmost part of the Maremma, it is one of the places that receive more tourists throughout the year. Many people visit it in order to get to know it and others in order to take advantage of the medicinal effects that it has on health, thanks to its waters rich in sulfur. Read more…
DAY 10 CASTIGLIONE DELLA PESCAIA
The historic core of Castiglione della Pescaia is a charming medieval village perched on Monte Petriccio, with walls, towers, castle, characteristic corners and panoramic views. Castiglione della Pescaia is the Maremma Grossetana, which brings together lovers of ancient villages and avid fans of seaside vacations. Here you don't have to choose: you can have both. Read more…
MY TUSCANY MAP