The Orcia Valley or Val d'Orcia is one of the most beautiful regions of Tuscany. The Orcia region, located south of Siena (about half an hour away) combines in a small territory a great variety of attractions that have made the area to be included in the UNESCO World Heritage of Humanity.
VAL D'ORCIA
The valley is also an important park, natural, artistic and cultural, and since July 2, 2004 it has been recognized as a UNESCO World Heritage Site because of the excellent state of preservation of the landscape.
Thanks to that, the Val d'Orcia one of the most evocative places in the world, the entire area has repeatedly been chosen as a setting for films of international significance. In this case, one can cite Ridley Scott's The Gladiator. The most famous scene is filmed in the Val d'Orcia: Gladiator's home is the Podere di Poggio Manzuoli, just outside San Quirico d'Orcia, where the bloody scene of the massacre of Maximus' wife and son at the hands of Roman soldiers takes place.
WHAT TO DO
The municipalities that make up the Val d'Orcia Natural and Cultural Artistic Park are the five Sienese municipalities of Castiglione d'Orcia, Montalcino, Pienza, Radicofani, and San Quirico d'Orcia. Other important centers are hamlets of the six municipalities: Contignano, Monticchiello, Bagno Vignoni, Rocca d'Orcia, Campiglia d'Orcia, Bagni San Filippo, Vivo d'Orcia.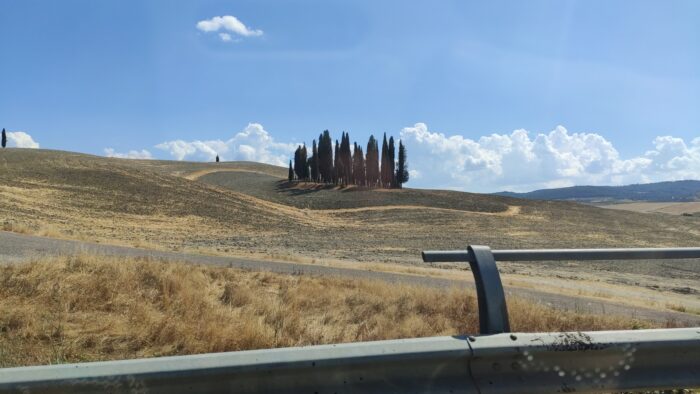 GASTRONOMY
Never as in the case of Tuscan cuisine have the dishes of the so-called cucina povera (poor cuisine) still dominated the table, today I'm to show you the Tuscany food guide. The gastronomy that over the centuries has developed from the few ingredients available, a symbol of boundless misery but also of the ability of the inhabitants to know how to transform simple products into tasty dishes.
THERMAL BATH
The thermal baths of Bagni Vignoni were used by the civilizations of yore that inhabited the area. The Etruscans used these healing waters, as did the Romans after them. A large rectangular bath is the enchanting frame for this small town: here the thermal waters have flowed for centuries, and the bath faces ancient buildings like the portico of Santa Caterina and the church of San Giovanni Battista.
Parco dei mulini e la gora Natural hot springs
The thermal water of Bagno Vignoni flows from the main square (piazza delle Acque) through small channels where the Romans already had their foot bath! In summer nature lovers can bathe in the pool known as the "gora" (mid-warm water) in the Parco dei Mulini below the hamlet of Bagno Vignoni
Bagni San Filippo is known as one of Tuscany's most stunning spa towns. Here you can visit the Terme San Filippo complex or take a bath in one of the free natural pools surrounded by woods. Discover Saturnia thermal bath…
MY TUSCANY MAP
(Visited 34 times, 1 visits today)