San Gimignano, a town located in the hills of Tuscany, just 60 kilometers from Florence, is primarily known for the 14 medieval towers that are preserved, which were built along with 58 others in a kind of "competition" in which the most influential families tried to demonstrate their power and wealth.
WHAT TO SEE IN SAN GIMIGNANO
San Gimignano is a small town that can be comfortably toured in a couple of hours. The heart of the town has two main streets: Via San Matteo and Via San Giovanni; and four pleasant squares: Piazza della Cisterna, Piazza del Duomo, Piazza Pecori, and Piazza delle Erbe.
During the walk through its narrow medieval streets, you will come across interesting buildings such as the Duomo, the Collegiata or the Palazzo Comunale, home of the Civic Museum and from where you can access the Torre Grossa, from which you get excellent views of the town and the beautiful surrounding landscape.
My suggestion in San Gimignano:
Go in the afternoon, especially if you go in the summer
Buy the pass for 13€ includes: church, big tower, and museum
Try the best ice cream in the world (Gelateria dell'Olmo) not expensive 3€ for 2 flavors
Try to eat in restaurants not located far from the square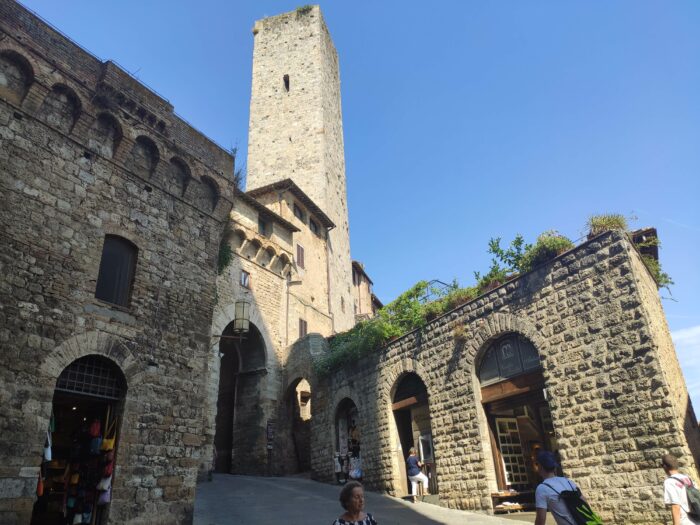 HOW TO GET THERE
There are several ways to get from Florence to San Gimignano:
Bus: Buses between Florence and San Gimignano make a journey that can take between an hour and a half and two hours with a price of 7,10 € each way.
Train: There is no direct train from Florence to San Gimignano and it would have to be combined with a bus, so it seems to us the least recommended option.
Rental car: For those who like to drive, the best option is to rent a car and stop wherever you want during the trip. It is possible to rent a car by clicking here. (From Siena is only 30min)
By car, you have 4 parking areas, go to 3 or the 4th parking, is better and less crowded, the price for one day 12€.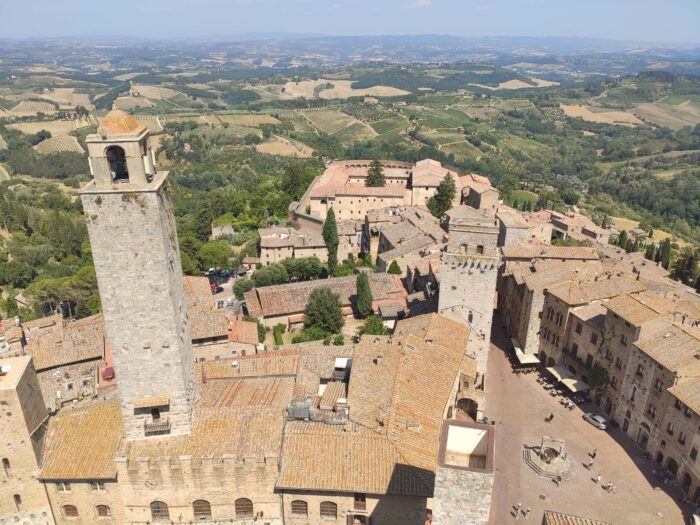 MONTERIGGIONI
San Gimignano is located just 60 kilometers from Florence, making it an ideal destination for a half-day visit on the way to other nearby towns such as Siena or Monteriggioni. Actually, more than a village Monteriggioni, it is a small medieval fortification located on a hill that houses one of the most beautiful villages in Tuscany.
The castle of Monteriggioni is located in the province of Siena occupying one of the many hills that extend over this gentle and beautiful Tuscan landscape. Be sure to enjoy your first panoramic view of Monteriggioni. With an almost round fortification built between 1213 and 1219, this medieval wall preserves its walls and 14 towers.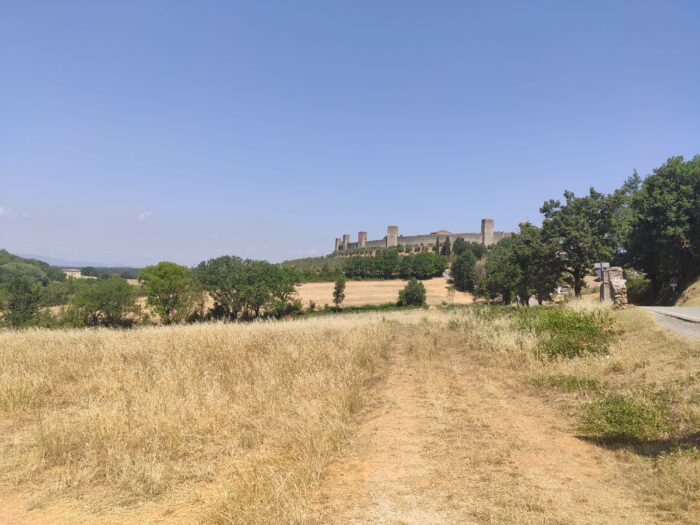 MY TUSCANY MAP
(Visited 47 times, 1 visits today)