Never as in the case of Tuscan cuisine have the dishes of the so-called cucina povera (poor cuisine) still dominated the table, today I'm to show you the Tuscany food guide. The gastronomy that over the centuries has developed from the few ingredients available, a symbol of boundless misery but also of the ability of the inhabitants to know how to transform simple products into tasty dishes.
Entire throughout Central Italy but deeply linked to Tuscany is in fact that strand of recipes born to reuse old and now dry bread. A sacred and precious element to be preserved with care: it is precisely from respect for this ingredient that famous specialties. Such as panzanella, acquacotta, ribollita and all the other delicacies based on stale bread that have made the Tuscan table the emblem of popular cuisine.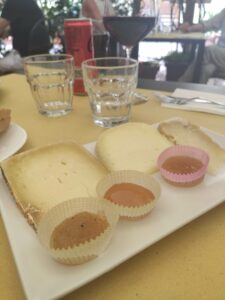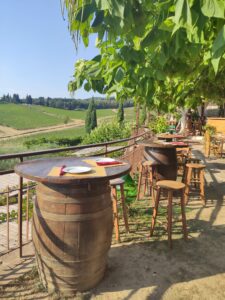 THE MOST FAMOUS DISHES
Bread without salt (don't worry is normal)
Cantuccini con le mandorle (cookies) with vin santo
Fiorentina (meat)
Lardo di Colonnata
Pici (pasta)
Pappardelle (pasta)
Tortelli (pasta)
Crostini toscani
Panzanella (bread salade)
Crostini are a classic Tuscan appetizer and are part, along with cured meats (salami, finocchiona, prosciutto crudo) and cheese (pecorino senese) of the Tuscan antipasto classically served in restaurants. Sometimes there may also be bruschetta with tomato, crostini with beans and new oil… but those listed are the essentials for having a worthy Tuscan antipasto.
Panzanella is stale bread, auburn tomatoes, red onion and basil, all seasoned with olive oil, vinegar and salt. In Tuscany and Umbria, the bread is soaked in water and then squeezed until it is crumbled and broken up to mix with the other ingredients; in the Marche, slices of stale bread are saturated but not crumbled and the other ingredients placed on top as if it were a bruschetta.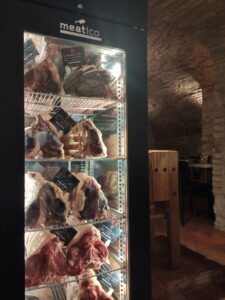 PASTA: PICI
There is no Central-Northern region in Italy that does not include, among its recipes, a first course based on pappardelle. Common to many territories, it is in Tuscany that this format is most developed, in the past in the simpler variant based on water and flour, today also available in an egg version.
Pici, irregular spaghetti noodles that are seasoned differently depending on the area: duck sauce in the Sienese, or simple garlic and oil ("pici all'aglione"), sausage sauce in Montalcino, sometimes even embellished with mushrooms.
Tortello maremmano is the first course of traditional Tuscan cuisine and is particularly appreciated both for its unique taste and for its large size, as it corresponds to about twice the size of classic tortellini.
As for the filling, it can be made with ricotta and spinach or with rum and cinnamon. They go perfectly with not only all types of meat sauce (beef, wild boar, and game), but also butter, sage, and a sprinkling of grated cheese.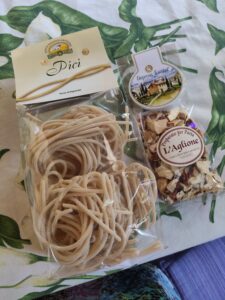 (Visited 50 times, 1 visits today)