London is one of the largest European capitals, there are more than 400 markets only in zone 1 and 2 so it is important that you know what is my ranking of Top 5 best markets in London. One of them is more visited more than a museum. You can find food, handmade product, fashion and so much more let's check the list.
TOP 5 BEST MARKETS IN LONDON
Borough Market
Portobello Road Market
Brick Lane Market
Covent Garden Market
Camden Market
BOROUGH MARKET 
Info: London Bridge metro station, which is serviced by the Jubilee and Northern lines on the London Underground and by mainline trains from all over London and the south of England. Open from 10 to 17 during the week and Saturday 8 am to 17, closed on Sunday
Reason to visit: Good street food, and food product from all over the world. The Borough Market in London is the most important food market. It is a place with history and tradition that maintains and preserves part of its old charm. If the weather does not accompany, it is still a better option, it's cover market, you will be protected from the events of rain. Don't forget It has been used as a setting for films like Harry Potter or Bridget Jones's diary for its special enclave under the arches of the London Bridge railway. Let's check the Warner Bros Studio Tour London: The Making of Harry Potter.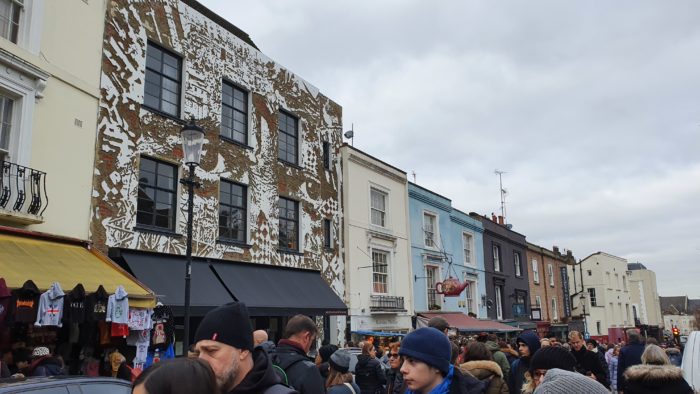 PORTOBELLO ROAD MARKET
Info: Notting Hill Gate Circle, District, and Central line. The following buses stop in or near the market: 7,12, 23, 27, 28, 31, 52, 70, 94, 328 & 452. Main day Friday and Saturday from 9 to 19, closed on Sunday. It is important that you carry cash because many of the positions do not accept cards.
Reason to visit: One of my favorites, I always buy some mugs, are so beautiful. Magnets are expensive in this market (go to Camden for them). 
Secondhand goods – Golborne Road to Westway
Clothing/fashion – Westway area
Household essentials – Westway to Talbot Road
Fruit, veg and other food – Talbot Road to Elgin Crescent
Antiques – Elgin Crescent to Chepstow Villas
BRICK LANE MARKET
Info: Aldgate East stop on the Hammersmith & City line; Liverpool Street stop on the Hammersmith & City, Circle and Metropolitan lines. Bus: lines 8, 55, 242, 26, 48, 57, 388, 35, 47, 78, 149 and 243. Open every day: 10:00 a.m. to 5:00 p.m.
Reason to visit: Historically, Brick Lane has been the place where bricks, beer, and bagels were made. But today it has become the center of the Bengali Hindu community. Currently, there are many shops that sell psychedelic saris and bags of sticky Indian sweets. In addition, the restaurants in Bengal, Pakistan and Bangladesh offer the best cuisine. His curries are reputed to be the best and also the cheapest in London.
COVENT GARDEN MARKET
Info: Covent Garden is on the Piccadilly Line. Covent Garden's tube station is a very short walk from the Market Building at the end of James Street. Covent Garden, the Piazza and the Market Building is always open. The Apple Market is open daily from 10am until 6pm and the East Colonnade Market is open from 10:30am until 7pm. 
Reason to visit: The expensive one, cause the many shops that surrounded the market. Offering a range of world-class fashion, beauty and lifestyle stores, Covent Garden is one of London's hottest luxury shopping destinations. You mush visit it at Christmas, the lights are so beautiful. Good coffee (a little bit expensive) and always live music.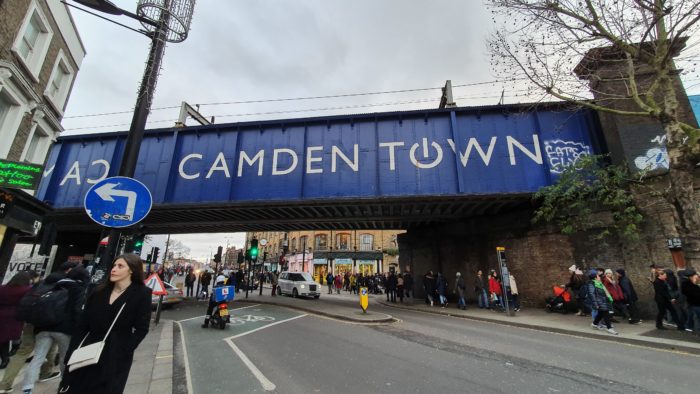 MARKETS OF CAMDEN
Info: Camden town station, open every day from 10 to late, including bank holidays.
Reason to visit: the most famous, you can find everything here, fashion, street food, vintage ect. Due to its peculiar inhabitants, most of the premises that occupy the street are shops of gothic clothes or tattoos and piercings. Within the market itself, you can find more interesting things for the general public. In the building of the plaza of the food stalls, there are many shops and stands with curious objects.
To go to Camden Town you have to book at least one whole morning since it is a fairly large area and so different from the others, that nobody is indifferent. If you can choose, the best day to go is Sunday.
In Camden Town, there are many curious shops, among which we are especially struck by a store called Cyberdog, in which there is a DJ, gogós, full-blown techno music, and very curious clothes, ranging from clothes with cyber implants to suits of an astronaut.
MAP OF THE CITY
Now check my London list:
(Visited 108 times, 1 visits today)