Formentera's pace of life is blissfully measured, guaranteeing a lazy vacation on the most elegant beaches of Europe, this is my Top 10 beaches in Formentera. You might say that Formentera is everything that Ibiza is not. This tiny island has none of Ibiza's disco frenzy, nothing like its excesses of construction and debauchery. Best time to visit the island? May, June, or September.
FORMENTERA TIPS BEACHES
Note that it is advisable to bring food and drink as most of the beaches don't have any service.
Showers are not always present (as in all the Balearic islands, except Ibiza)
Try to avoid cars, parking is very small, bikes and moto are the best methods to visit the island.
If you have a few days to visit the island you can easily visit 2 beaches per day. Check the complete guide of Formentera.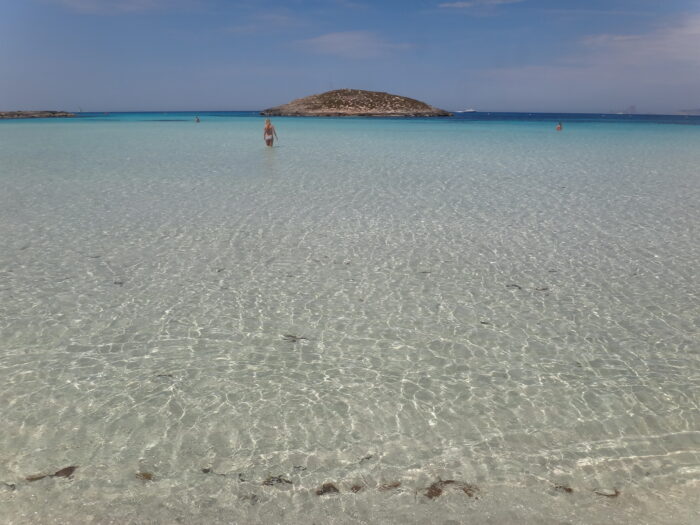 TOP 10 BEACHES IN FORMENTERA
Playa de Ses Illetes
Cala Saona
Calo Des Mort
Platja de Migjorn
Platja de Llevant
Cala en Baster
Platja Es Arenals
Platja des Copinyar
Estany d'Es Peix
Es Calo Beach
Playa de Ses Illetes, located in a protected Natural Area, in the small peninsula Es Trucadors, is another of the most beautiful beaches of Formentera and all of Spain. This paradisiacal beach, marvels for its fine white sand in its 500 meters long and its shallow waters that are a great attraction for families with children. It also has all the services and several beach bars, although if you want to go to eat somewhere special we recommend you to go to Beso Beach, one of the iconic places of Formentera.
Although the beach parking is free, if you arrive by car or motorcycle, you must pay a small fee to access this natural park and thus help in its conservation.
Saona, the only famous beach in the western part of the island, is one of the most beautiful coves of Formentera.
Located in a small bay that protects it from the waves, this cove captivates at first sight by the range of blues of its transparent waters that make it ideal for snorkeling and reminiscent of the typical postcards of the Caribbean.
Caló des Mort, located on the coast of Migjorn, which covers much of the south of the island, is one of the most idyllic coves of Formentera. This beach of 70 meters of white sand and crystal clear waters, is flanked by small rocky cliffs and has on one side several fishermen's huts where they keep the boats and utensils.
Although it is quite isolated, its popularity is increasing and if you want to find a place in summer we recommend you to go early in the morning or at sunset, to see a stunning sunset.
Migjorn Beach, the largest of the island with more than 4 kilometers long, is another of the beaches of Formentera that you can not miss. Its large extension allows you to isolate yourself from the most crowded areas and enjoy long walks along the seashore and a wooden platform. In addition, the clarity of its waters thanks to the presence of Posidonia Oceanica, a marine plant endemic to the Mediterranean and declared a World Heritage Site by UNESCO, make it perfect for snorkeling or diving.
Playa de Llevant, located a few meters from Ses Illetes, on the opposite side, is one of the largest and least crowded beaches of Formentera. With more than a kilometer long, this beach is perfect for those seeking tranquility without sacrificing beauty, something that this peninsula surrounded by turquoise waters and white sands achieves and surpasses.
Another advantage of this beach is that if the wind blows too much, which can make swimming dangerous, you will only have to move a few meters to reach its neighbor Ses Illetes.
If you prefer tranquility and an oasis of peace, one of the best options is to go to Cala en Baster, a small jewel of the island. In this rocky cove, without the presence of sand, you can enjoy excellent snorkeling and magnificent views of the coastline with several dry docks hidden among the caves.
(Visited 50 times, 1 visits today)