Christmas time in Prague is the best thing about the winter, open from November 26 – January 6. Those held in Prague can pride themselves on having been voted one of the most beautiful.
The Prague Christmas markets are also enchanting thanks to their decorations, attractive surroundings and backdrops. However, their most important feature is the true Christmas atmosphere scented with cinnamon and clove.
Check out 3days Prague itinerary!
CHRISTMAS TIME IN PRAGUE
The most popular and largest markets are traditionally held on Old Town Square, which becomes the main centre of pre-Christmas celebrations. Dominated by a huge Christmas tree selected each year from a different region of the Czech Republic, the market is visited by thousands of people every winter.
Holding a cup of mulled wine in their hand, they stroll past dozens of stalls with traditional Czech products, hand-crafted decorations or various types of goodies from sugar-coated roasted nuts to excellent sausages and bratwurst.
In addition, they can admire a display of traditional arts and crafts, such as sword making, or enjoy the extensive additional programme while humming along to the sound of Christmas carols. On Old Town Square and also in many other places in Prague, you can just immerse yourself in the Christmas spirit. And you will wish it could last all year round.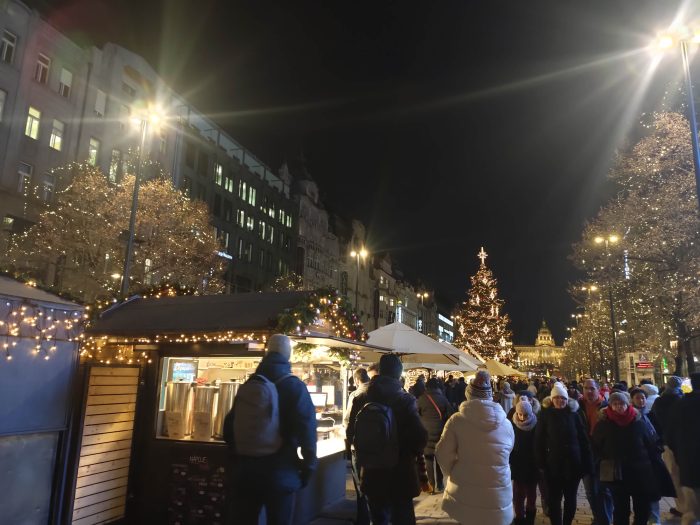 CHRISTMAS MARKETS
Old Town Square (Staroměstské náměstí) 26. 11. 2022 – 6. 1. 2023
Wenceslas Square (Václavské náměstí) 26. 11. 2022 – 6. 1. 2023
Republic Square (náměstí Republiky) 26. 11. 2022 – 24. 12. 2022
Tyl's Square (Tylovo náměstí) 26. 11. 2022 – 24. 12. 2022
Peace Square (náměstí Míru) 20. 11. 2022 – 24. 12. 2022
Prague Castle (Pražský hrad) 23. 11. 2022 – 6. 1. 2023
Smíchov – pedestrian zone Anděl 24. 11. 2022 – 24. 12. 2022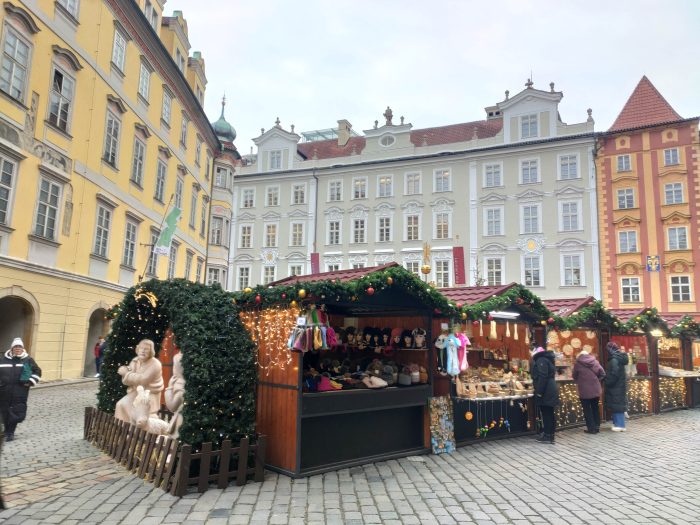 FOOD
When I made a call-out on Instagram stories to see what Czech foods I could not miss at Christmas, almost every response included Trdelník. This popular Czech dessert is a hollowed-out pastry dough covered in cinnamon sugar and is now popularly topped with soft-serve ice cream. You can find a whirlwind of flavour combinations at the Good Food Coffee and Bakery at 8 Karlova (the main street that connects Charles Bridge and the Old Town Square).
While you're darting around town from Christmas Market to Christmas Market, be sure to indulge in all of the food and wine at your disposal. Svařák is the Czech take on English mulled wine or German gluhwein, however with a stronger touch of lemon and citrus flavours to balance out the sugars.