There are many Italian cities you can decide to visit in Winter but if you want to spend some time near the mountains, and don't mind having people around, Bolzano is definitely a popular destination and specially for its famous markets, so this is Christmas time in Bolzano.
Christmas time in Bolzano
The Christmas Market in Bolzano takes place in the heart of the city from November to January, when Piazza Walther is lit up in bright and gaudy colors. In this city where North and South meet you will find about 80 traditional multicolored wooden houses, with genuine products prepared according to the South Tyrolean tradition. Like every year, many events are organized to entertain adults and children.
Trento is another city famous for its Christmas markets, don't miss it.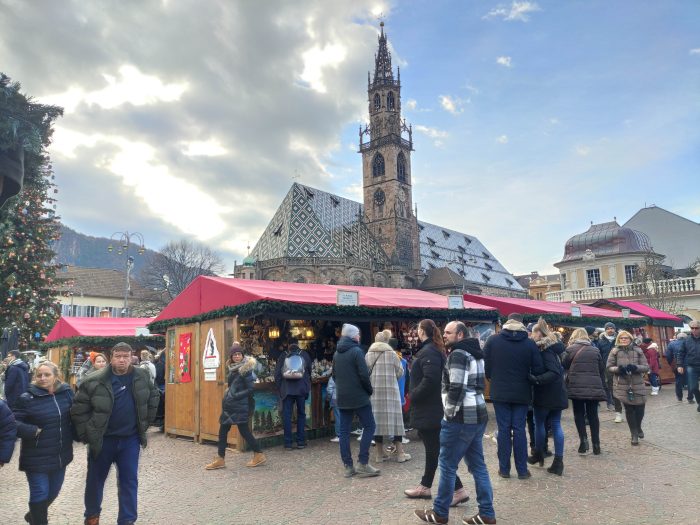 Original Christmas tree decorations, wood, glass or pottery craftmade objects, loden clothes, but also tasty food such as speck, strudel, mulled wine and Zelten… all this and much more is offered in the Christmas Market of Bolzano. You will enjoy strolling among the romantic arcades and streets listening to the bands playing Christmas music and admiring the wonderful Advent decorations.
OPENING HOURS
Opening 24.11.2022 5:00 p.m.-7:00 p.m.
24.12.2022 10:00 a.m.-02:00 p.m.
25.12.2022 closed
31.12.2022 10:00 a.m.-06:00 p.m.
1.1.2023 12:00 p.m.-07:00 p.m.
On 25.12.2021 the Christmas market is closed
TYPICAL FOOD
Christmas markets are the perfect opportunity to find the right gifts to put under the tree While enjoying warm and hearty dishes and sweets of all kinds, these are the typical Christmas food at Christmas markets. What to try. Lots of German-style products, after all, the tradition of the markets originated there, hot and sugary drinks, as well as an array of irresistible sweets. Read more…
And now discover the Vipiteno Christmas market!