Christmas markets are the perfect opportunity to find the right gifts to put under the tree While enjoying warm and hearty dishes and sweets of all kinds, these are the typical Christmas food at Christmas markets. What to try. Lots of German-style products, after all, the tradition of the markets originated there, hot and sugary drinks, as well as an array of irresistible sweets.
Bombardino
It is the skiers' drink par excellence, but also a good way to warm up while strolling among the market stalls: bombardino is a specialty of Trentino originally made with milk, whiskey and eggnog, now made with cream, brandy and coffee.
Strauben
Sweet snail-shaped pancakes typical of Trentino Alto Adige, made from flour, butter, milk, grappa, eggs and oil. The name comes from the German straub, meaning "curled," "mussed," to emphasize the particular shape of the dessert, a long batter rolled on itself and fried in hot oil. It is eaten in combination with a cranberry jam.
Bratwurst
Typical German sausages, created to recover the remains of the pig but currently also made from other types of meat, such as beef or veal. They are usually grilled, cooked in a pan or boiled in broth or beer and served hot, either on their own or inside a sandwich like a hot dog.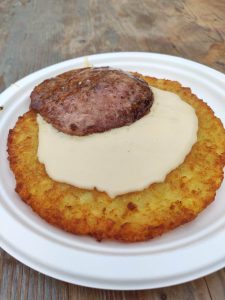 Brezel
Often associated with German cuisine, the pretzel is actually a bread of Alsatian origin that is widespread throughout the Germanic countries and South Tyrol. Crossing the Alps and Germany, the brachiole eventually became known as pretzels, first eaten half-raw, and then-only later-toasted thanks to the mistake of a baker, who fell asleep on the job causing them to burn. Entirely covered with coarse salt, these loaves with their amber color and knotted shape are perfect as a snack or even as an accompaniment for cold cuts and cheese.
Mulled wine/Vin brulé
No Christmas market is complete without mulled wine, a millennia-old recipe that traces its origins to Ancient Rome. A wine sweetened with plenty of honey, heated several times and flavored with pepper, spikenard leaves, saffron and dates, usually offered to guests at the end of the meal.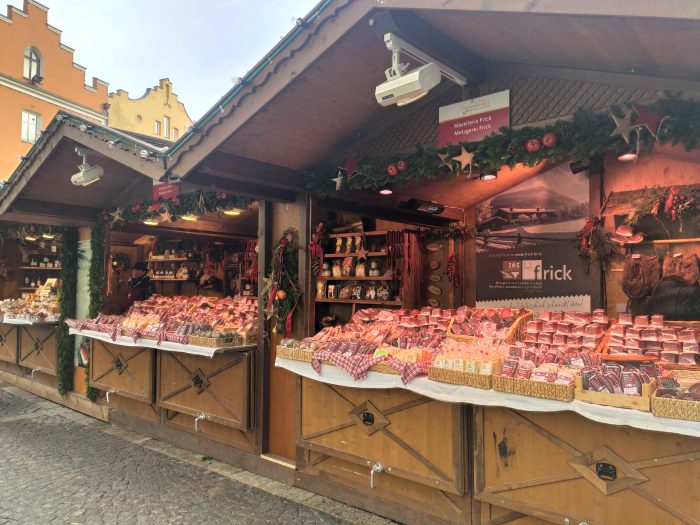 Strudel
Thin pastry roll stuffed with apples, raisins, pine nuts and cinnamon, ideal for a snack or even to end a meal, accompanied by some cream, vanilla ice cream or whipped cream.
Food tour: Bolzano food tour