Warning: Trying to access array offset on value of type null in /customers/8/a/2/mytravelingcam.com/httpd.www/wp-content/plugins/contextual-related-posts/includes/content.php on line 49
The Christmas time in Vienna truly is an age-old tradition. Vienna's prettiest squares transform into magical Christmas markets from mid-November to Christmas. The forerunners of the present-day events date back to the Middle Ages, when in 1296 Albrecht I granted Vienna's citizens the privilege of holding a December Market or "Krippenmarkt". Since then, the character and prevalence of these markets has changed considerably. Nowadays, over 20 official Advent markets sell a vast array of seasonal gifts and mouth-watering treats. Don't forget the 3days Vienna itinerary!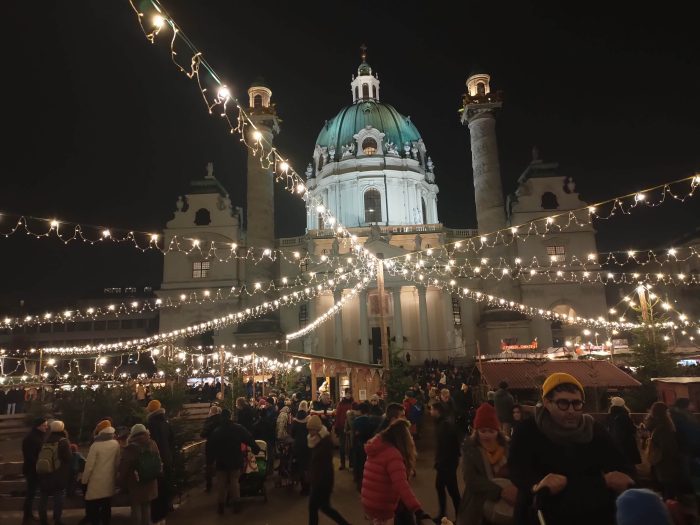 Christmas time in Vienna
One of the most well-known Christmas Markets is the traditional "Vienna Magic of Advent", which turns the City Hall Square into a shining fairytale land. Gifts, tree decorations, sweets, and warming drinks are awaiting you as well as a carousel and craft fun Christmas Workshops for kids. The trees of the surrounding City Hall park are festively decorated and radiate in a sea of lights – a Viennese experience, you'll definitely don't want to miss!
Another hot spot before Christmas is the cultural and Christmas market in front of Schönbrunn Palace. It offers sheer romance in front of an imperial backdrop, and is converted into a New Year's market after Christmas. The atmospheric market offers traditional handicrafts, hand-made Christmas decorations, concerts, and an extensive children's program, including workshop.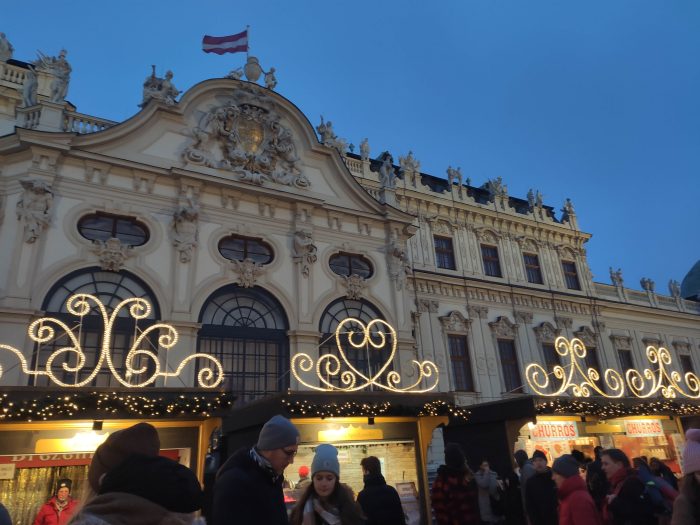 Complete Christmas market list:
Christkindlmarkt on the Rathausplatz (the biggest and most famous)
Spittelberg (winds through narrow Biedermeier streets)
Karlsplatz (excellent for unusual gifts)
Freyung (surrounded by historical buildings)
Schönbrunn (gorgeous location in front of the palace)
Am Hof (also good for unique art)
Maria-Theresien-Platz (another big one, sandwiched between two 19th-century museums)
Belvedere (the best photo opportunity)
Stephansplatz (by the great cathedral)
Altes AKH (good for kids)
Michaelerplatz (in front of the mighty domed entrance to the Hofburg)
Genussmarkt bei der Oper (a smaller one near the state opera house)
Wintermarkt (food and drink out by the giant Ferris wheel)
Medieval Advent market (think mead and roast boar)
Palais Niederösterreich Advent market (lovely, but only opens for a couple of days)
Stallburg Advent market (in the stables of the Spanish Riding School)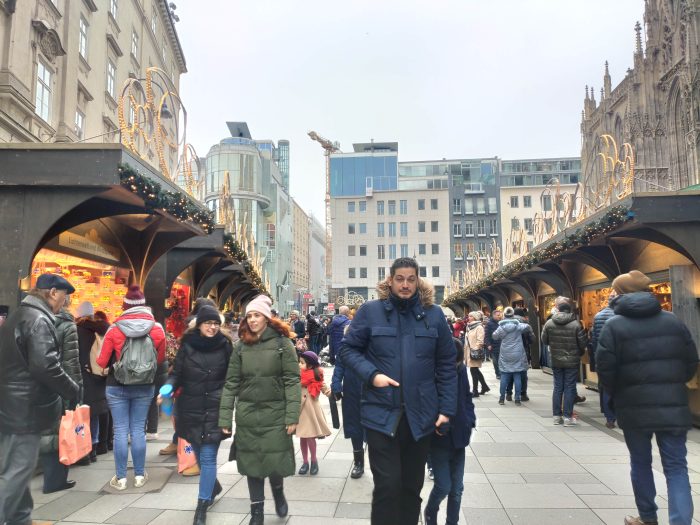 FOOD
Breathe in the aroma of fried sausages and goulash soup, the tang of roasted almonds and toffee apples, and the sweet fragrance of countless scented soaps and candles. Wreathe yourself in wisps of steam from a mug of hot Christmas punch and fill your eyes with the dazzling displays of artists, craftspeople, cooks, and shopkeepers.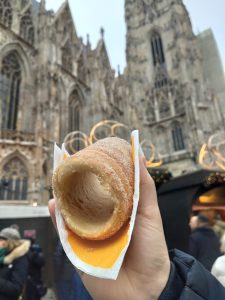 TIPS FOR THE AUSTRIAN MARKETS
They only accept cash but don't worry ATMs are always around
Mugs cost 4/5€ but you can keep it or get a refund (every market has its own mug)
Markets usually close at 8pm, don't count on them for dinner
They basically sell the same souvenirs for every market