We are in the heart of Priorat, more specifically in Gratallops, where lays claim to no less than 23 officially certified cellars, but today we focus on Buil & Giné winery. Since 1996, Buil & Giné have been putting big efforts on his grapes production, in fact, their history started six generations ago in the vineyards.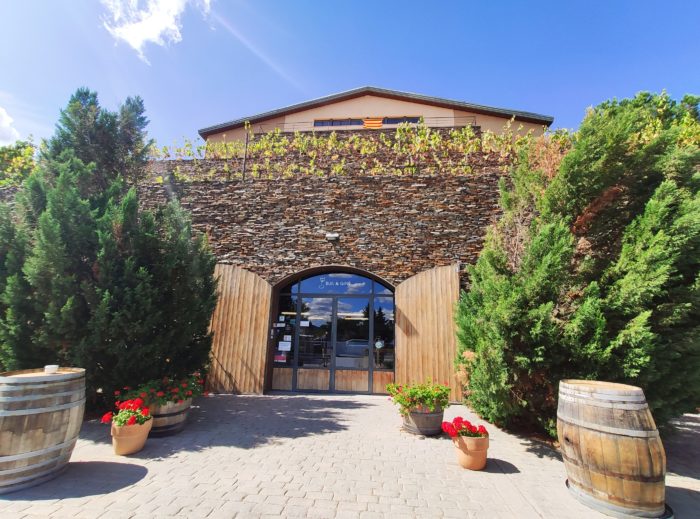 ABOUT BUIL & GINÉ
Not just a winery, but a hotel and restaurant. Book here Hotel-Celler Buil & Gine.
The restaurant offers regional cuisine in a classy dining room with large arched windows.
The first result of the hard work that began in 2003, which is the first production of Mas Giné.
They currently produce 2 wines in this area: DO Monsant, DOQ Priorat.
And two more types out of Priorat: DO Rueda (Castilla y León) and DO Toro (Valladolid).
The made oil too.
TOURS
They offer different types of visits, however, at the moment they do not offer the possibility to visit the winery (they are made some changes). Here the price of their tours.
TASTING SESSION = The tasting will be organized at the shop of the winery and it will be guided by a professional of our cellar in order to provide guidelines to assess and understand better each wine. It will be included four of our wines. Price: €25/person / Approximate duration: 1,5 hours.
WINE & TAPAS VISIT = Some tapas to pairing the best Buil and Giné wine.
LUNCH AND WINE = This package includes the visit and the tasting session described above, and lunch in his "Amics" restaurant located in the winery itself, which offers traditional cooking with a modern touch.
Even if you decide to make the simple tasting I suggest you stay for lunch, red wines are very strong XD.
BUIL & GINÉ WINE TASTING
We start with the Rosé and the White wine, like every winery they decided to mix different types of grapes (coupage), so maybe you find some south flavors in these wines. Then we pass to the red wine, Granatxa is one of my favorite grapes for red wine. The best part of the tasting was tasted the DOQ Priorat vs DO Monsant which is much stronger was a great experience to taste the differences.
I appreciated the visit and the experience and I really recommend to visit them. Check my Post "3 days in Priorat".
(Visited 151 times, 1 visits today)