I dedicate this post to the lovers of Nyc but especially to food, in a week I found 10 best things to eat in New York. I'm a fan of food and always try new things when I travel, I'm not happy with the usual hot-dog or hamburger. New York is a city that offers everything and more if you have little time you need to be selective.
10 BEST THINGS TO EAT IN NEW YORK
Luke's Lobster
Clinton St. Baking Company & Restaurant
Caracas Arepa Bar
Levain Bakery
Doughnut Plant
Shake Shack
Beyond Sushi
The Halal Guys
Korilla
Magnolia Bakery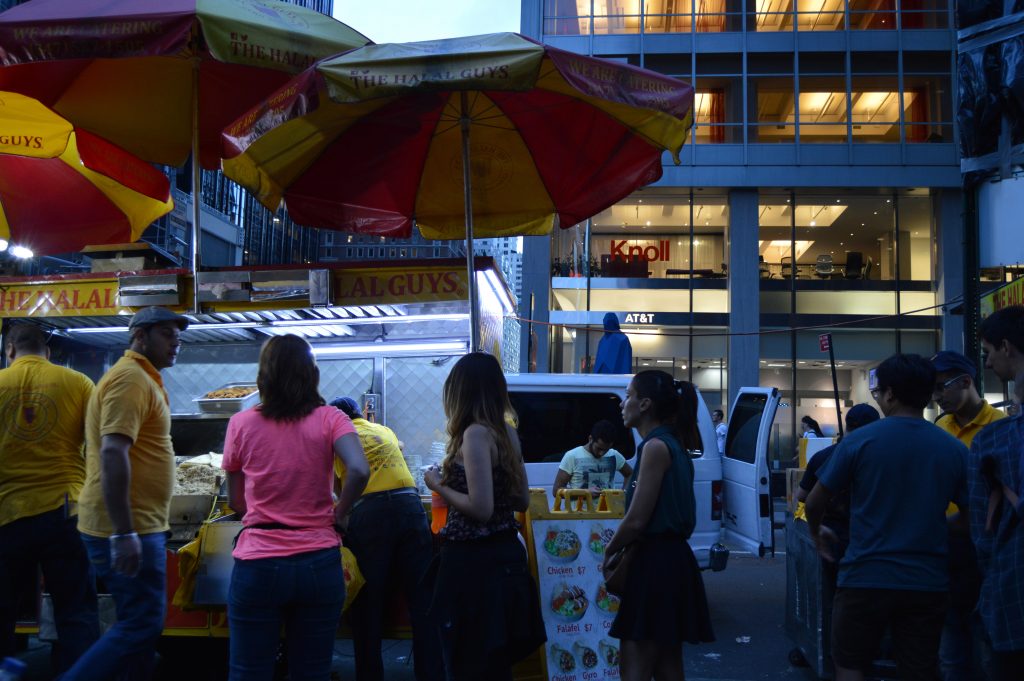 STREET FOOD
New York street food is considered one of the first but above all one of the best. I must say that you can find everything on the street, but sometimes a simple hot dog does not fill your stomach, so there are The Halal Guys.
The Halal Guys are located a few minutes by walk from the MoMa (remember on Friday, the museum is Free). A mix between oriental and vegetarian, you can always find them here between the 6th Avenue At 53rd. There is always a queue, but it's really worth it, dishes starting from 8USD.
Another place I recommend is Korilla, different and very spicy. Korean, Asian cuisine can be found on 6th Avenue At 53rd, combined dishes starting at 7 / 8USD.
SWEET FOOD
My favorite part, desserts, New York is famous for its patisseries and pancakes of all kinds. How to find the mile brunch or cupcakes of the city? Google is the solution. For cupcakes, you can always count on Magnolia Bakery, while if you are a fan of cookies you have to try Levain Bakery. There is one Levain Bakery a few minutes by walk from the American Museum of Natural History (the museum is Free).
Another piece of advice I give you is to try Doughnut Plant (379 Grand St), the best ones I've ever had in my life. Instead for brunch, try the Clinton St. Baking Company & Restaurant on Clinton St 4, there is always a queue but once seated its pancakes will leave you speechless.
SOMETHING DIFFERENT
If you want to try something different because the pancakes have got fed up with you, you can always count on Shake Shack. The best one for me is in front of the Flatiron Building. Even if I have to admit I'm not a fan like that, you have to try it.
Luke's Lobster instead has been a great discovery, you can choose between crab, lobster or shrimp roll. Quality/price among the best I've tried, sandwiches from 9USD, my favorite is the Crab roll. Recently they opened one also in San Francisco.
For my vegan/vegetarian friends we have the Beyond Sushi, instead of for the South American food lovers the Caracas Arepa Bar. Both with an excellent quality/price.
Do you want to know more than 10 things for free in NYC? Read here! More info about New York you can find here! New York in one week.
OTHERS YUMMY ACTIVITIES
(Visited 26 times, 1 visits today)