Warning: Trying to access array offset on value of type null in /customers/8/a/2/mytravelingcam.com/httpd.www/wp-content/plugins/contextual-related-posts/includes/content.php on line 49
Castro and Mission District, are two of the most historic and artsy neighborhoods in San Francisco. Each San Francisco neighborhood has its own unique charm and culture, and the Mission District stands out as one of the best, a longtime favorite for travelers visiting the city.
MISSION
The Mission District's name is derived from San Francisco de Asís, built-in 1776 by the Spanish, for this reason historically one of the most notable centers of the city's Chicano/Mexican-American community.
We'll first stroll down Clarion Alley, an alley filled with beautiful murals that have become the hallmark of these streets. We'll also see art displays outside the Women's Building, a women-run non-profit arts and education community center.
Check the 5 most beautiful murals of SF
This district is in San Francisco County and is one of the best places to live in California. Living there offers residents a dense urban feel and most residents rent their homes and there are a lot of bars, restaurants, coffee shops, and parks.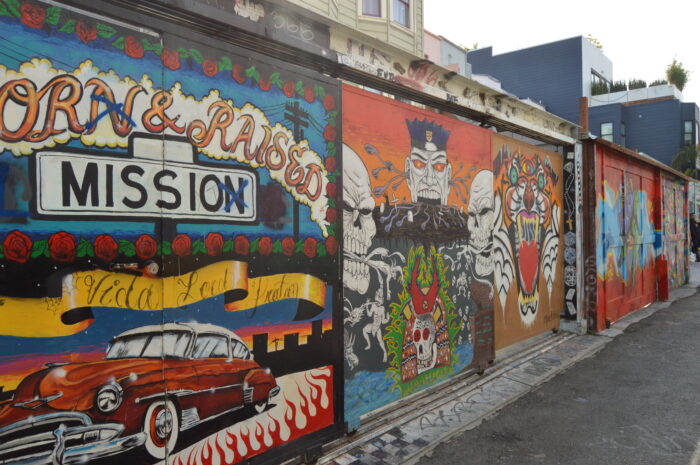 Then, as we head to Dolores Park, the district's main green space, we'll discuss the Spanish missions through California and explain their ties to the name of this neighborhood. From the park, we'll enjoy the picture-perfect view of San Francisco's skyline and see the famous Golden Fire Hydrant. It is said that, thanks to this hydrant, the District was saved from the flames after the 1906 earthquake.
The closest stations to reach the District are:
18th St & Guerrero St is 91 yards away, 2 min walk.
Mission St & 22nd St is 199 yards away, 3 min walk.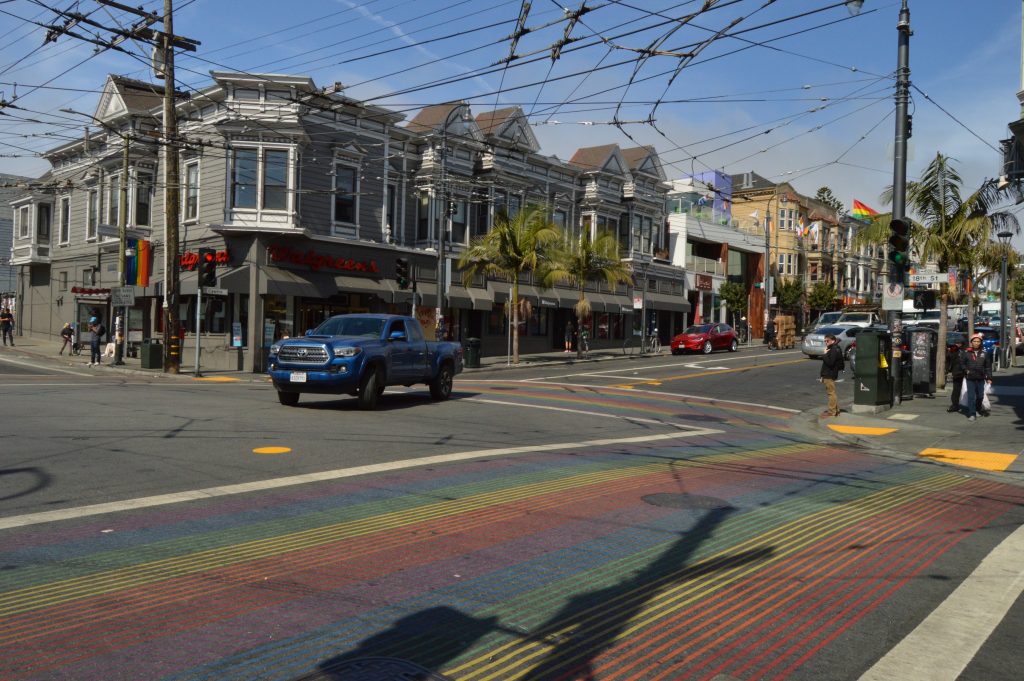 CASTRO
Gradually we'll make our way into The Castro, a district very famous for its open spirit and defense of minority rights. In fact, it's home to the largest LGBTQ+ community in San Francisco!
During the tour, we'll explore the most important places in the Castro and remember the thousands of soldiers who were discharged from the U.S. Army in World War II because of their sexuality. Of course, we'll also talk about Councilman Harvey Milk, a key historical figure in understanding the activist character of the neighborhood, and check out the façade of the Castro's most iconic bar, Twin Peaks Tavern.