Cardona is a small city in the middle of Catalonia, known for its castle and the saltmine, now abandoned, and use only for touristic purposes. Cardona Town Council has made recovering its heritage one of the focal points of the town's social and economic development. In order to ensure its projects fulfill its commitment to managing heritage and to promote cultural tourism, the Historic Cardona Foundation, a private foundation based on a municipal initiative, was established in 2006.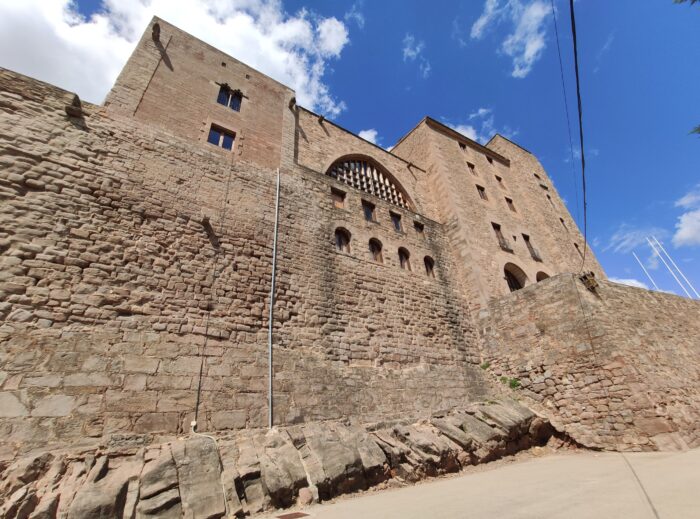 HOW TO GET THERE
By car 20km from Solsona and 90km from Barcelona, same direction for Montserrat area. 
By bus, the bus line Alsina Graells links Andorra and Barcelona passing through Solsona and Cardona.
WHAT TO SEE
The Castle of Cardona, which is set high on a hill and contains a Parador hotel: The castle of Cardona was built in 886 by Wilfred the Hairy; of Romanesque and Gothic styles, it includes the so-called Golden Room and the Entresols Room. Its jewel is the Minyona tower (from the 11th century), 15 meters high and more than 10 meters in diameter, and the Romanesque church of San Vicente de Cardona. (entrance: 8€ / tour approximate duration: 1 hour 30 min.). During the tour, you can visit the 11th-century Romanesque Church of St. Vincenç.
The Salt Mountain is a unique natural phenomenon in the world and is still growing as the rain erodes it. Its height of 120 meters is just the tip of an enormous diapir with a depth of nearly two kilometers. For one hour, you will descend to a depth of 86 meters and enjoy the spectacle of the shapes and textures of the salt massif. (entrance: 12€).
The Church of Sant Miquel, built in the 11th century and rebuilt in the 14th century in Gothic style. It houses a precious polyptych by Pere Vall, depicting St. Anne, the Virgin, and St. Amador, and a 15th-century baptismal font. 
WHERE TO SLEEP AND EAT
Inside the castle as we said there is the beautiful Parador hotel. With a magical setting inside a 9th-century castle and boasting a 2nd-century tower, this Parador is straight out of a fairytale and has panoramic views over the Catalonian countryside. Set beside the River Cardoner, this Parador offers the best views in the area. Admire them from the Romanesque church.
Interiors are faithful to Cardona's history with Medieval styling complementing the castles vaulted ceilings, stone walls and gorgeous courtyards. Bedrooms have charming canopy beds and gothic features. Furnishings are inspired from the Catalan Medieval period and are highlighted by theatrical lighting and rich fabrics.
For lunch, I suggest Cal Borrasca, which is a perfect combination of local cuisine, excellent quality, and good presentation (35€ p/person with wine). 
On Sunday you can visit the local food market and buy some fuet, sobrasada or other local salami.