Belcastel is a French commune, located in the Aveyron department in the Occitanie region. It was once part of the ancient province of Rouergue and is now part of the association of the Most Beautiful Villages in France, with Rocamadour.
BELCASTEL
No much to say or see in this beautiful village, but it is worth it the visit. In the 1970s, the village was practically uninhabited, with many buildings in ruins, most notably its castle or fortress, located on the hill. Today the village is a small village, home to approximately 50 people, which has become a place of rest for families during the summer season.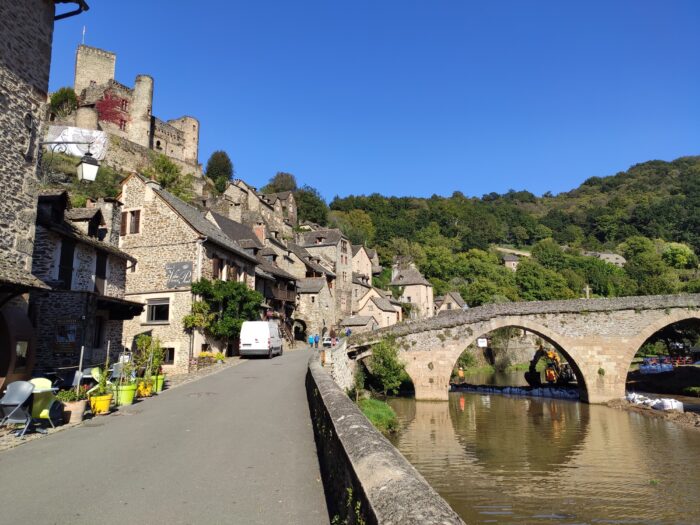 The beautiful medieval bridge, with 5 arches and approximately 60 metres long, dates from the 15th century and was built at the same time as the church, by the Saunhac family. The small church of Santa Magdalena was built in the 15th century, at the same time as the bridge, by order of Alzias de Saunhac. The best thing to do in Belcastel is to stroll through its cobbled streets and enjoy the beautifully preserved houses.
THE CASTLE
Built 1,000 years ago on a gigantic rock, the Château de Belcastel was original, in the 9th century, a chapel. It remained from generation to generation the legacy of the Nobility, the Knights and Knaves, becoming a great fortress.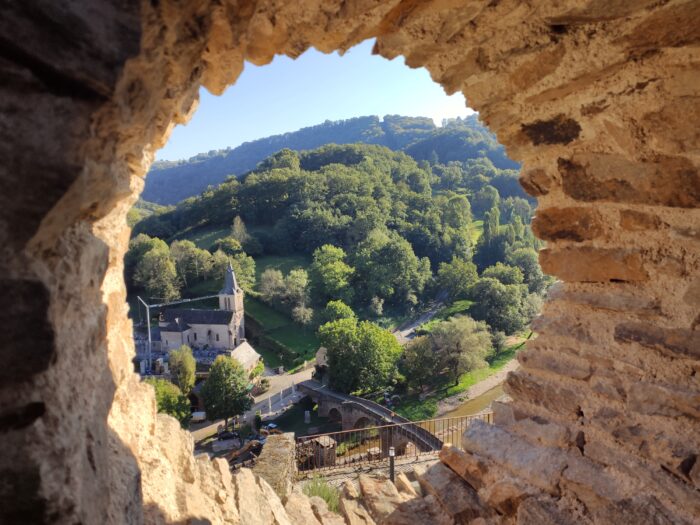 Hundreds of years later, in the 16th century, its history was abruptly interrupted and it was left in ruins and totally abandoned. By 1973, in the 20th century, the renowned architect Fernand Pouillon discovered this historic site and decided to restore it to its former splendour.
Today, the Chateau remains a private residence, but the public is also welcome to tour it, as it is a National Monument and a magnificent art gallery. You'll find authentic antique artefacts, an original freshwater moat, art exhibits and panoramic views.
10€ entry
free parking
no bar or restaurant inside
open 19 May 2021 to 15 September 2021 and 16 June 2021 to 31 October 2021
CASTLE OF OCCITANIE
With around 300 castles to visit, Occitania opens the doors to a kingdom full of heroic figures, warlike architecture, corridors you will love to lose yourself in, and towers you will lose count of.
Cathar castles are THE speciality of Occitania, its emblem. They are concentrated in the Aude and Ariège. Montségur, Foix, Roquefixade, Lastours as well as Quéribus, Peyrepertuse, Puilaurens, Termes and Aguilar (the "5 sons of Carcassonne"): these castles perched high above overlook breathtaking landscapes.
In Gascony, the region of D'Artagnan's birthplace, the castles stand majestically in the famous gorges of the Gers. The castles of Flamarens, Plieux, Lavardens… are proof of this.
In the Lot (the former province of Quercy), your appetite for history will also be satisfied with the sumptuous castles of Castelnau-Bretenoux and Montal in the Dordogne Valley, and the castles of Larroque-Toirac and Cénevières in the Lot Valley, for example.
MIDI-PYRÉNÉES ROADTRIP
(Visited 91 times, 1 visits today)