Warning: Trying to access array offset on value of type null in /customers/8/a/2/mytravelingcam.com/httpd.www/wp-content/plugins/contextual-related-posts/includes/content.php on line 49
Altos de Chavón is a place like no other a replica 16th-century Mediterranean village in the heart of the Dominican countryside. Located atop the Chavón River in the city of La Romana, Dominican Republic, it is the most popular attraction in the city and hosts a cultural center, an archeological museum, and an amphitheater.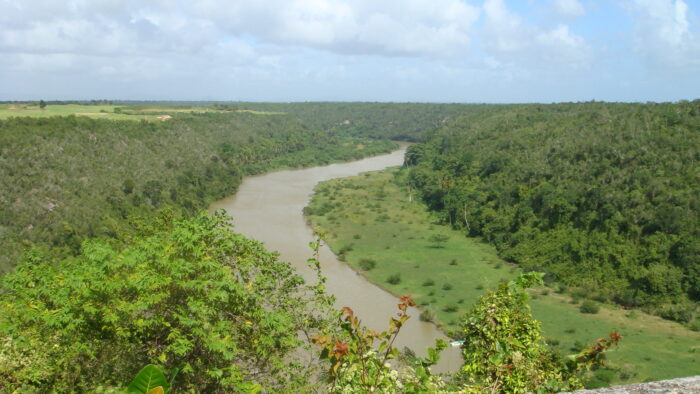 ALTOS DE CHAVÓN HISTORY
Meticulously designed by Dominican architect, Jose Antonio Caro, and Italian master designer and cinematographer, Roberto Coppa, every detail was handcrafted by local artisans.
The village is a cultural center for residents, tourists, and working artists from all over the world. Active studios for artists of every medium from pottery to weaving, silk screening, and everything in between line the cobblestone streets alongside shops and boutiques showcasing their unique creations.
WHAT TO DO
At the center of the historic 16th century replica Mediterranean village is the stunning 5,000-seat Grecian-style amphitheater. This architectural wonder has been the setting for countless concerts, events, and performances since its inauguration in 1982.
History buffs and the curious alike will find lots of see at the Archaeological Regional Museum. Located in the heart of Altos de Chavón, the museum features an extraordinary collection of indigenous objects that help tell the story of the early history of the Dominican Republic. The museum holds more than 3,000 pieces, some of which have been featured in international exhibits at places like the Museo del Barrio in New York, the Petite Palais in Paris, and as part of the Quincentenary of the Discovery of America exhibit in Seville, Spain.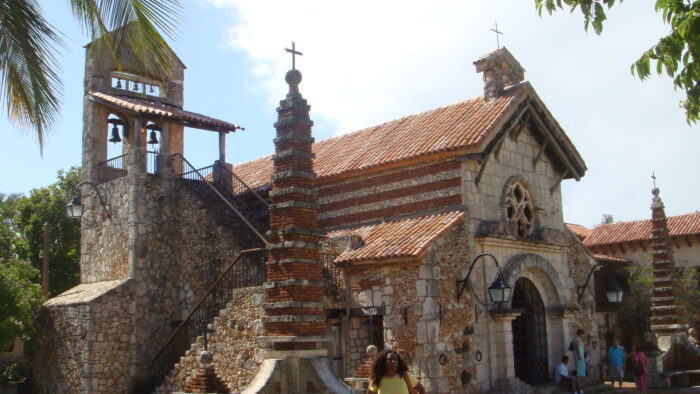 St. Stanislaus church is a charming stone building in the center of the village of Altos de Chavón. Consecrated in 1979, Pope John Paul II sent the ashes of Poland's patron saint, St. Stanislaus, and a hand-carved statue from Krakow to commemorate the church's inauguration. Today, the church is the site for weekly Catholic masses as well as a treasured destination for weddings.
HOW TO GET THERE
Rent or hire a car to get to Casa de Campo Resort & Villas, you will be required to pay a US$30.00-entrance fee, per adult | US$15 per child (4-12 years old) at the main entrance and the entrance near the La Romana International Airport. The village is located 1h40 min from Santo Domingo city and 4h from Puerto Plata.
Contact the hotel or tour operator, and request a visit to Altos de Chavon, either on a private tour or a combined excursion to one of the many available activities in the area.
MAP OF THE ISLAND