Spanish cuisine is known all over the world, each region uses different flavors and ingredients. This post is about the 10 best Spanish dishes and where to eat them. You will find out where locals eat, where they go dancing and which terrace choose to enjoy this wonderful city.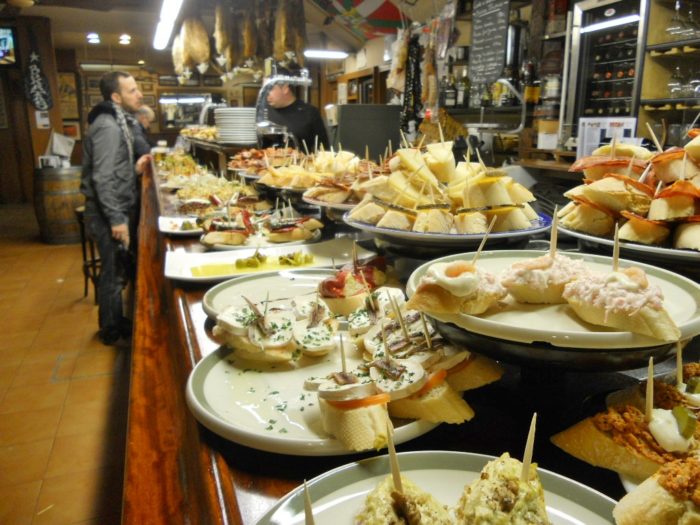 10 BEST SPANISH DISHES
Paella
Fideua
Cim i tomba
Pinchos
Torreznos
Calçot
Tortilla de patata
Pulpo con patatas
Bocata de calamares
Sobrasada con miel
WHERE TO FIND THEM
Who has never eaten a Paella? ok, but the real one… Valencia of course is where you can eat the best Paella. Some special tip to try the real Paella that. you need to know:
The real one is made with rabbit and chicken meat and snails
The seafood one normally is the most eaten, but try the original one you will love it.
Here the list of 5 best places to eat paella in Valencia.
Are you not planning to visit Valencia? ok, so keep reading for other Spanish dishes.
I'm not a Paella lover, because I prefer Fideua, that it came from Gandia (close to Valencia). A good Fideua is easier to find because it's made with pasta (specific broken spaghetti) and seafood. You can add Alioli, another great invention of Spain, but do not exaggerate it's very hard to born. Here you can find some places to taste it in Barcelona.
Pinchos (or Pintxos) are the most typical at Basque Country there are so many types. They consist in a piece of bread with something above, which can be meat or tortilla. There are a lot of places where you can eat them, and it's very cheap, starting from 1€ each, Bilbao and San Sebastian are the best places.
Cim i Tomba is one of my favorite Spanish dishes as always. Difficult to find it, but Tossa de Mar is the place. Go to La Rocca de Tossa, maybe not the best location, but you can eat typical fish dishes cooked at the moment with taste in the sea (try the Zarzuela and Cim i Tomba). Tossa is considered one of the pearls of Catalonia, with Cadaques, for its lifestyle and for the cost of the houses.
Tortilla de patata is one of the best known, normally made with onions too. There are so many places to eat good Tortilla and one the most famous is located in Cordoba the Bar Santo.
Pulpo con patatas is the Galicia dish's most known, boiled octopus with boiled potatoes with pimenton powder. Coruña and Lugo are the best places to eat this dish.
Torrezno is a piece of fried bacon, so typical in the center of Spain, but if you want to taste the real Soria is the destination. No easy to digest, but so delicious.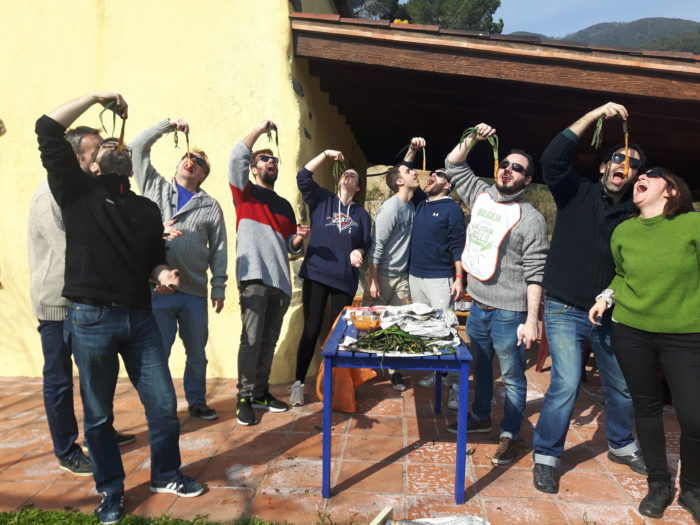 Calçot is a type of green onion known as calçot in the Catalan language. The calçot from Valls is the most famous but you can try it in a lot of rural restaurant in Catalonia. The period to find it it's January to march if you go to Valls in this period you can find the calçot festival. Normally you eat calçot with a typical Catalan sauce they call Romesco.
Bocata de calamares (squid sandwich) LA IDEAL is the most loved place in Madrid to eat and if you want more tips about where to eat in Madrid read here.
Sobrasada con miel (hot sausage with honey) is the product most buy-in Mallorca. Eating well in Mallorca is very simple, products such as "Sobrasada" or "Ensaimadas" make gastronomy famous throughout Europe. Across the island, there are 9 Michelin restaurants, most of which are located in Palma. For the famous "Ensaimadas" there are many places but one of the oldest are those of Can Joan de S'Aigo. I recommend going in the morning, you will have much more choice.
(Visited 123 times, 1 visits today)