Let's go to the natural area known as Collsacabra, in the region of Osona, where we can find Rupit, and adjacent to the Garrotxa, in the province of Girona. Here you find a lot if interesting villages, activities and wait for it… Vulcanos.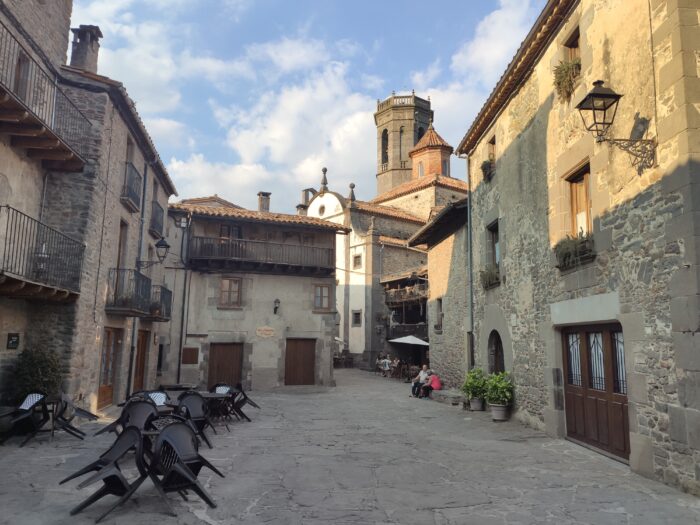 RUPIT
If there is a place that has really surprised us during our recent trip through the interior of the province of Barcelona, that is Rupit. In fact, beyond the charm of this village of Catalonia with an unusual location on the slopes of a cliff that falls on a winding valley, just to enjoy the scenery that you find on the route to Rupit is worth a getaway.
In this natural region that extends along the plain of Vic, you find plateau landscapes with huge rocky cliffs that fall into the valleys and the Sau reservoir, and where you will find other interesting villages, such as Tavertet.
On the other hand you have at your disposal a large paid parking lot (from 2 to 24 hours, 3 euros) that in long weekends and high season you can imagine with several buses. In the parking lot you will find a tourist information booth with a map of the town you are going to visit.
GARROXTA VULCANOS
La Garrotxa Volcanic Zone Natural Park is composed by eleven municipalities. At La Garrotxa Volcanic Zone Natural Park there are several walking routes that pass through the Natural Park's most interesting places. The majority are signposted, except some of the longest that, if you are used to it, can be followed easily with the help of the guide map for the Natural Park.
Ninety-eight percent of the Natural Park territory is private property. Try not to make annoying noises or disturb the people that live there or are visiting. The capturing of animals and the collecting of plants, rocks and minerals are not allowed in the area of the Natural Park.
Parking areas are signposted. Between Olot and Santa Pau, there are two large car parks enabled for the reception of visitors: "Santa Margarita", located between Croscat and Santa Margarida volcanoes.  At the car parks, you will find rest areas equipped with toilets, rubbish bins, and drinking water, if you need to take a break. Avoid having picnics beyond these areas. It is prohibited in natural reserves.
WHERE TO SLEEP
Situated in Tavertet, L'Avenc Benestar Rural has a restaurant, bar, garden, and a beautiful relaxing view for nature lovers. Just 10km from Rupit, a cozy little town close to the Pantano de Sau. Perfect to relax and enjoy a friend or love weekend. L'Avenc was pioneering in becoming one of the first places to stay focused on sustainability and respect for the environment you have to see it.