Rennes, known for its university and cultural dynamism, unites reason with the heart to become lively, leisurely and surprising. Its collection of historic streets, its majestic facades or perhaps a concert hall, or a trendy restaurant or a designer boutique… it has everything to seduce the visitor.
WHAT TO SEE IN ONE DAY
The history of the art of this city extends from the vestiges of the 1st century BC to the contemporaries of Champs Libres. Centuries of history shape the city. Around the two royal squares (the Parliament and the Town Hall) stand the medieval half-timbered houses and Renaissance mansions. In the cobblestone streets, the architectural heritage is elegantly displayed. Its creative soul harbors other influences as can be seen in the Art Deco mosaics of Odorico or in the Thabor park.
The Cathedral of St. Peter.
Oldest houses in Rennes: Rue de la Psalette.
Place de la Mairie.
The Parliament of Brittany.
Saint Sauveur Basilica.
Botanical Garden Parc du Thabor.
La Criée Marché Central.
Lices Marché
WHERE TO EAT
The Lices Market, one of the most beautiful in France, is bursting with colors and flavors: is there any greater pleasure than sharing a few oysters on a terrace facing the market?
Apart from the restaurants that masterfully renew the traditional and local ingredients, you can stop in a bar or pub or, why not, in a traditional creperie. The outing can continue with a café-concert or a nightclub in the city center. The inhabitants of Rennes seem to have found a magic potion. My favorite restaurants are:
Chez Brume (fish restaurant)
La table de Balthazar
Racines
La Fontaine aux perles
Café Breton
Colibri creperie
AROUND RENNES
You will discover labyrinths of narrow streets typical of the Middle Ages, picturesque half-timbered houses, granite, schist, mud… You will find gardens hidden behind a wall, artisans' stalls, or artists' workshops… If you want to feel the atmosphere of these Small Villages with Character, wander aimlessly and with a wandering spirit. At the corner of every alley, a surprise beats. Day trips you can do around Rennes are: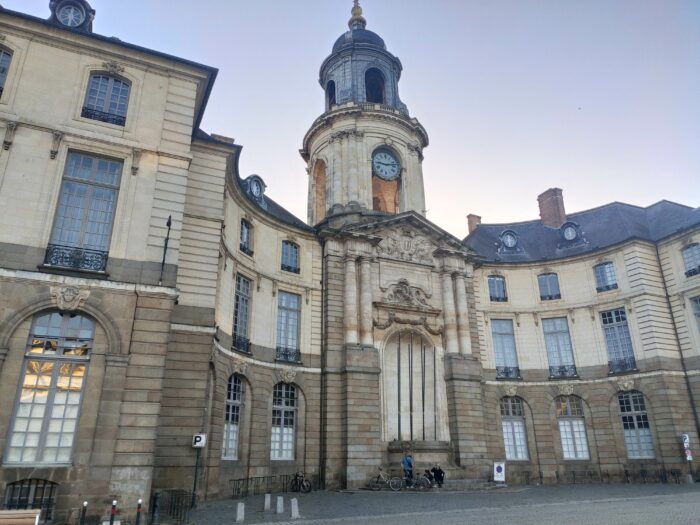 (Visited 52 times, 1 visits today)