Osaka was a discovery for me, it is one of the cities that I liked most about our trip to Japan. Many discard it for a short time, I advise you to add it absolutely to your itinerary. Osaka is a beautiful city by day and by night, perfect for shopping and good food. Check my 15 days itinerary in Japan to know everything about my Japanese trip. Interested in the Osaka amazing pass? Here info and tickets!
HOW TO GET TO OSAKA
There are 3 principal train stations in this city, Shin-Osaka, Umeda and Tennōji Station. These 3 stations are very important to move between this city, especially if you have bought Japan Rail Pass. 
From Kyoto Station in 3 stops, 30min, you are in Osaka Umeda with the Tokaido-Sanyo Line, remember to take the RAPID train, the local does all the stops. Nara (JR station) is located at 15 stops, 45min you are at Tennōji Station with the Yamatoji Line.
From Tokyo Station, the best way is to take Tokaido-Sanyo Shinkansen which takes you to Shin-Osaka in 2h30 you have arrived at your destination.
Don't forget there is an airport in Osaka, the nearest airport is 10km away and is Osaka International Airport. Easily accessible by the direct train that arrives at the Umeda Station. Book the tickets for the train here!
WHAT TO SEE IN 1 DAY
Osaka Castle, open from 9:30 am to 5:00 pm, admission 600 yen. Nearest metro/train stop: Morinomiya Station, Temmabashi or Osaka Business park. The visit is divided into 5 floors plus the rooftop terrace for a spectacular view of the city of Osaka. I absolutely recommend a visit to both the park and the castle.
Just one tip to see the castle from the high and take good pictures, to go up to the terrace of the building to the right of the castle. Compulsory consumption of 1500 yen but having visited the castle becomes 1000 yen, it may seem expensive but worth it. Another beautiful view is from the 58th floor of the Harukas 300 Observatory. Japan's highest skyscraper is an unmissable experience if you're in Osaka, tickets here!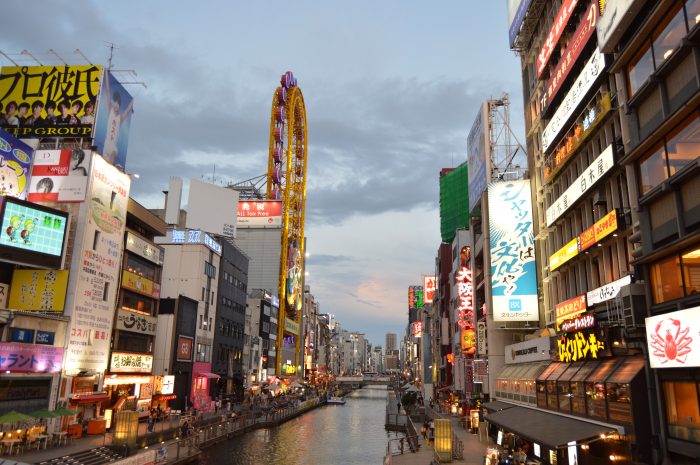 Dotonbori is the most famous street in the city, for its lights, shops, and restaurants that make it the Camden Town of Osaka. I advise you to go during the day and stay up late when all the lights come on. For shopping lovers, in the middle of Dotonbori street, you will find an 8-story Don Quijote, easy to recognize for its Ferris wheel. Want to know everything about where and what to buy in Japan? Read here!
Kuromon Ichiba Market, the most famous market in the city, free admission, and open from 9am to 6pm every day. My advice is to go for lunch, as in all markets in Japan. You can find specialties like Takoyaki or Okonomiyaki.
WHAT TO EAT 
Takoyaki: is a ball-shaped Japanese snack or appetizer made of wheat flour-based batter and cooked in a special molded pan. It is typically filled with minced or diced octopus, really good. You can find the best one at the Kuromon Ichiba Market. 
Okonomiyaki: is a Japanese savory pancake containing a variety of ingredients in a wheat-flour-based batter. Is normally vegetarian flavor, but my favorite one is with seafood or shrimp in the middle it's delicious. There are restaurants that serve that, or the Kuromon Ichiba Market is always a good idea. 
Kushikatsu: is normally fish or chicken fried, is street food, you can find it normally at the market, not in restaurants. Kitzune Udon: not my favorite one, but it's very typical. You can find it everywhere in Osaka. 
Rikuro cheesecake: is it definitely the best cheesecake I ever tried, is so soft. Rikuro is very famous in Osaka, is located in the Osaka-Umeda station, in Osaka Station South Gate Building (b1 floor). There is always a long queue but it fast, cheesecakes cost 700yen.  
MAP OF MY JAPAN TRIP

(Visited 109 times, 1 visits today)