During my stay in the Mt. Fuji area, I decided to visit the Fuji Yurari Hot Spring. I absolutely recommend it. The Onsen is one of the most popular activities in this area, they are thermal water pools very typical in Japan. You can find outside or inside Onsen in the various hotels around Mt. Fuji. My advice is to stay in a hotel without an onsen (it's cheaper) and pay the admission the same day. Check my last post 5 things to do around Mt. Fuji area! Check my 15 days itinerary in Japan to know everything about my Japanese trip.
FARES
The price includes Shampoo, Conditioner and Body Soap, Makeup Remover, Cleansing Facial Cleansing, Skin Care Products, Hair Brush and towels. The spa onsen is separated by gender, if you go with your partner I recommend the Special Package for couples.
Includes Admission fee (1,300 yen × 2 persons) + A private room (1,700 yen / 50 min). Book at the reception desk and apply for the package (no advance reservation). You can choose your favorite type of baths, they have 6 and then use the public one. The package is only available for weekdays. They can accept your applications until 20:00.
HOW TO GET TO FUJI YURARI HOT SPRING
Fuji Yurari Hot Spring is located in Narusawa neighborhood, at 9km from Kawaguchiko Station. How to get to Kawaguchiko Station from Tokyo? Read here!
Reservations are not required unless you want to use the free shuttle from Kawaguchiko Station. Don't worry, if you still want to use the free shuttle you can ask the tourist office to call for you and book.
The free shuttle leaves every day at 11: 00/13: 00/15: 00/18: 00 from Kawaguchiko Station, to the left of the Tourist Information office. Start again from the Onsen at 12: 30/14: 30/17: 30/20: 30, always remember to book at least 30min before departure.
Outside those hours, take a taxi or fixed-route bus, as the bus for Lake Motosu or the Sightseeing Bus (blue line). Get off at Fuji-Midori-no-Kyukamura-Mae bus stop, which takes about 20 min.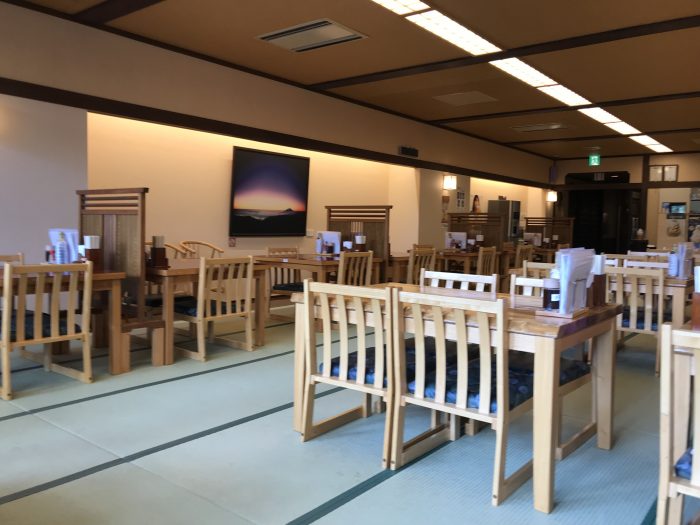 FACILITIES
The Fuji Yurari Hot Spring offers many relaxation areas, but you cannot bring drinks or food. For this, you can go to the restaurant (open from 11 am to 9 pm), which is located on the lower floor, with excellent prices even if very simple dishes.
The thermal circuit included in the price includes Aromatherapy bath, Cave bath, Steam bath, Carbonated spring, Sauna, and Sacred peak spring water bath. Then almost 2 inside pools and 3 outside (Water temperature 42) 1 of them with a panoramic view of Mt. Fuji.
ONSEN RULES
You need to know that to join an Onsen you must comply with the following rules:
Women and men go to separate pools.

It is not allowed to wear swimsuits, you can only enter naked
It is not allowed if you have tattoos.

Don't soak long hair, towels, and underwear in the bathing pools.

Respect others and talk quietly, silence is really appreciated.

No Mobile phone or Camera is permitted.
(Visited 1,286 times, 1 visits today)