Taormina is one of the most beautiful and famous cities in Sicily, full of history and flavors that you can find in a few places. If you organize a 5-day trip to Sicily, Taormina is an obligatory stop, look here at the itinerary I have chosen. In the province of Messina, its position on the sea makes it even more beautiful.
HOW TO GET TO TAORMINA
The nearest airport is in Catania at 65km, while Palermo airport is 305km away. To reach Taormina you can rent a car or take a bus that takes you to the Catania train station, and from there take a regional train, duration 2h.
You have chosen to land in Palermo, you will have to take the Palermo – Catania train and change trains from there to Taormina, duration 4h40. Public transport in Sicily is not very reliable, my advice is always to rent a car, read here for more info.
WHAT TO DO
ANCIENT THEATER = today this beautiful outdoor theater is the location of many concerts or plays. It is the second-largest ancient theater in Sicily after the Greek Theater of Syracuse. To visit this beautiful place the full rate is 10 euros, while a number of protected categories pay 5 euros (under 25 for example). The structure is open every day including holidays. Times vary greatly depending on the period.
BELLA ISLAND = island or peninsula due to the tide. In 1990 the island was finally purchased by the Department of Cultural Heritage of the Sicilian Region. In 1998 a nature reserve was established, managed by the WWF, then by the Province of Messina. To photograph the beautiful island from the top I recommend the terrace of Via Pirandello.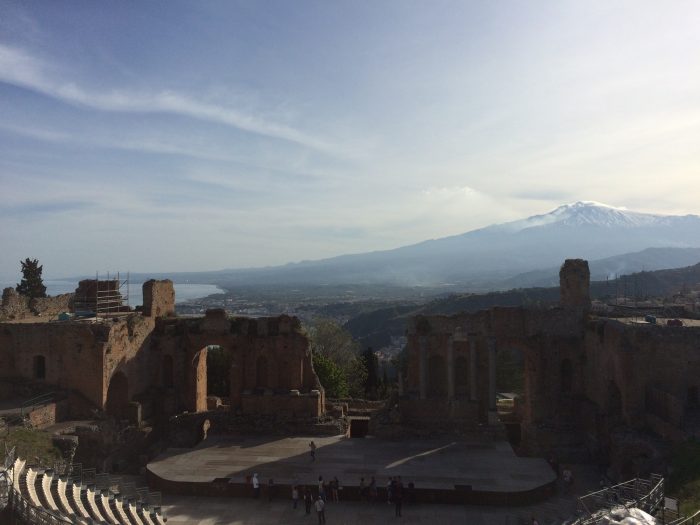 CABLE CAR = The cable car connects the old city to the beach. It is a beautiful view and very fast to take it (3min duration), I highly recommend to do it. In summer the cable car is open until 1:00 am at night and it costs 3€ per person. 
In the historic center of Taormina, you can see, the Messina Dorr, the Naumachie (Ancient Roman Gymnasium) and Corvaja Palace. Another point of interest is the garden of the Villa Comunale. Free admission, open from 9 to 24 in summer and 20 in winter.
AROUND TAORMINA
Taormina is a city of passage, located between Messina and Catania. Given the proximity to Catania, you can visit the city or organize an excursion on Mount Etna, read here for more info.
North of Taormina, you can pass by Messina, even if for tourism it doesn't have much to offer or stop in the beautiful Cefalú. Cefalú – Taormina is 200km of motorway, very easy to get around in a day.